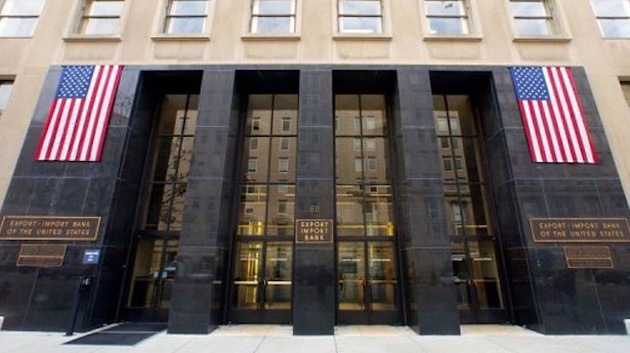 A fight is brewing in the nation's capitol over whether to reauthorize the Export-Import Bank, and K Street and Wall Street have decided to gang up on Main Street to ensure they win it. Last year, the revolving door that has become the Export-Import Bank was almost slammed shut by conservatives in Congress, but this year supporting politicians, lobbyists and their friends who benefit from the Ex-Im Bank plan to strike early.
The Export-Import Bank, which was established in 1934 by Franklin D. Roosevelt, is supposedly in existence to "facilitate exports and imports and the exchange of commodities between the United States and other Nations." But five minutes of actual investigative journalism tells a very, very different story.
The bank fully supported and helped to advance funding for some not-so bipartisan or nationalistic ventures, including Solyndra, the now-infamous solar company headed-up by an Obama donor and bundler. The company filed for Chapter 11 bankruptcy after securing a speedy loan from the Department of Energy, costing taxpayers over $500 million. Solyndra received a hefty loan guarantee to the tune of $10.3 million from the Export-Import Bank.
Another blatantly partisan venture, which was brought to light by Katherine Rosario at Heritage Action, a grassroots group opposed to reauthorization, involves embattled North Carolina Democrat incumbent, Kay Hagan. Sen. Hagan helped to funnel money from the Ex-Im Bank in 2013 to supporter and small business owner, Jenny Fulton, of Miss Jenny's Pickles. While Hagan stated in a press release in March 2014 that the original justification for funding the company was so Ms. Fulton could "start shipping [her] product label to countries overseas," the timeline just doesn't add up.
When introducing Vice President Joe Biden at the Bank's annual conference, Fulton admitted her company had already been exporting pickles for over two years to countries abroad, including China and the United Kingdom. She went on to say her company was on pace to do $1,000,000 in gross sales by the end of 2013.
So, why exactly did she need taxpayer money from the Export-Import Bank?
As it turns out, Sen. Hagan met Fulton at an event she hosted, which was a campaign/fundraiser event disguised as a small business exporter forum.
But political and business relationships related to the bank are known to be far darker than what Sen. Hagan is involved in.
"The Export-Import Bank is nothing more than a slush fund for corporate welfare," Club for Growth Spokesman Barney Keller told People's Pundit Daily. And it gets even worse. The bank "has given subsidies to everything from Mexican drug cartels and Enron, and it should be eliminated," he added.
In truth, if many of the Ex-Im Bank's dealings were known, the American people would likely be disgusted by the lack of loyalty to country and the failure by politicians to be good stewards of their taxpayer money.
Gennady Timchenko, one of Russia's richest billionaire oligarchs and long-time friend of President Vladimir Putin, sought a U.S. government-backed loan from the Ex-Im Bank to purchase 11 luxury Gulfstream jets for himself.
"To smooth the path for financial backing from the U.S. Export-Import Bank and allay possible U.S. government concerns about him, Timchenko hired lobbyists from powerhouse Washington law firm Patton Boggs, according to emails and documents viewed by Reuters," the news agency reported back in July of 2013.
The Club for Growth will not be alone in their effort to oppose the reauthorization, with FreedomWorks and Heritage Action for America also committed to fighting the cronyism that has become so prevalent at the Ex-Im Bank. Yet the struggle to close the revolving door between lobbyists on K Street, many of whom serve at the behest of investors on Wall Street, underscores a deeply disturbing political reality.
Democrats might be gleefully able to point out that Americans' views of the Tea Party have declined over the years, just as the Republican Party took a hit for daring to oppose a deeply unpopular health care law during the partial shutdown, Main Street America is more closely aligned with the views of the Tea Party than the modern Democratic Party. Though just 31 percent say they have a favorable opinion of the Tea Party movement, which is down from last year's high of 44 percent just after the IRS scandal, more Americans than not say they are aligned with their values when specifically asked about those values.
A Rasmussen survey found that 42 percent think the president's views are closest to their own when it comes to the major issues facing the country, but 42 percent also say their views come closest to those of the "average Tea Party member." However, when asked about those issues specifically, such as the growth of government, spending and cronyism, it becomes apparent that the millions of dollars in lobbying and media bias are paying off. To be sure, favorables for the Tea Party movement are significantly down from the 2009 high of 51 percent, when widespread Tea Party and Main Street protests against President Obama's big government spending policies first began.
Still, in reality, the Tea Party and other ideologically aligned conservatives are clearly the only ones willing to fight K Street and Wall Street for the protection of Main Street. Considering the amount of money behind the effort to smear opponents, all to protect their money train, it isn't at all surprising it is having an effect.
And, the fight over the Export-Import Bank, is no different.
"This is an all-hands-on-deck effort," Linda Dempsey told Bloomberg. Dempsey is the National Association of Manufacturers' Vice President for international economic affairs and, in this fight, happens to be an ally of Christopher Wenk, the senior director for international policy at the U.S. Chamber of Commerce.
"We're going to be doing our damnedest to focus some minds," Wenk said of the intense lobbying effort underway.
For many conservatives, the fight is a staunch reminder of the Chamber's reversal on immigration. The Chamber once opposed amnesty and unrestricted illegal immigration, unwilling to bear the tax burden needed in a welfare state with open borders, as was the case with Majority Leader Harry Reid (D-NV). Now, with the promise of a never-ending flow of cheap labor at an expense to human rights, the Chamber of Commerce has decided to spend million upon millions of dollars to lobby Republican leadership in the House to grant amnesty to tens of millions of illegal immigrants, despite the fact unemployment is still chronically high and Americans have strongly swung away from supporting a supposed "path to citizenship" to now widely opposing it.
Still, despite what is a seemingly insurmountable task, conservatives may just have a secret weapon this time around in the form of House Financial Services Committee Chairman Jeb Hensarling, the Texas Republican who has been a staunch Ex-Im critic. Rep. Hensarling heads-up the committee where legislation to reauthorize the Ex-Im Bank must pass through, and he could stall reauthorization if not squash it altogether.
Hensarling is on recess until April 28, as is the rest of Congress, thus wasn't available for comment. But his office did tweet a link to a video on April 17. In the video Hensarling described the bank as the "face of cronyism." His "RT," or retweet, just so happened to be directed at former Sen. Jim DeMint, who is now president of the Heritage Foundation, the policy think-tank wing of Heritage Action.
Thanks for having me. RT @JimDeMint: .@genevievewood & @RepHensarling talk about the Ex-Im Bank and cronyism: https://t.co/HdBIvV7bUI

— Jeb Hensarling (@RepHensarling) April 17, 2014