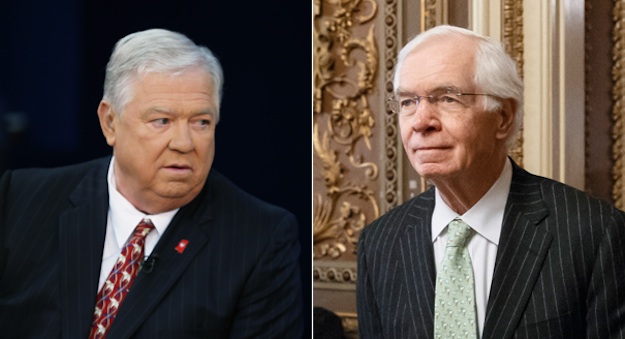 Former Mississippi Governor Haley Barbour is a staunch supporter of incumbent Sen. Thad Cochran, who not only failed to reach the 50 percent threshold on TUesday, but trailed the insurgent challenger Chris McDaniel by roughly 1400 votes at last count. Barbour made some comments after the race that has McDaniel's supporters responding ever-so candidly.
"You'd be hard pressed to find a more desperate person than a Washington lobbyist who thinks his fees are being threatened," Club for Growth Spokesman Barney Keller said in an email to PPD.
"Haley Barbour is supposed to be all powerful, but he's losing a race in his own backyard, and his influence business in Washington will take a big hit when he no longer has a Mississippi senator in his back pocket. It would be nice if Haley Barbour thought more about the country's fiscal condition than about his own."
Barbour was once and in many ways still is a beloved political figure in his state, and according to Alexander Burns at Politico "remains a Godfather-like figure in Mississippi politics" today. He is ironically attempting to frame the Mississippi Senate race as an insider versus outsider contest, but rather than McDaniel playing the role of insurgent, it is Cochran who is supposedly representative of the people of the state.
"This has been portrayed as the Tea Party grassroots versus the establishment, but in Mississippi it's actuality about some out-of-state outside groups run by political gunslingers who have put millions and millions of dollars in here to get a scalp," he said to RCP. "Cochran is their last chance to beat a Republican in a Republican primary."
However, when we look at the voting totals, it would appear that Mr. Keller is on to something. Actually, he's on to two somethings.
The Club for Growth had framed the race as "a choice" between the old guard and the new guard. Or, perhaps better put as " a time for choosing" between the same old broken Washington that rewards its friends and a new Washington held accountable to the people. If we look at the vote totals by county, as well as the demographics groups voted, it's clear that the Club for Growth has the more valid argument.
First, the demographic data by age shows the younger the electorate the better the results were for McDaniel. Despite what Barbour and other supporters of Cochran say leading up to the runoff, young to middle age Mississippi voters agree with the insurgent's supporters when they say "in with the old and out with the new." On average, polling showed McDaniel enjoyed a more than 20-point advantage over Cochran among voters under 45, and a 7-point lead among voter 45 to 65. Cochran, however, only won with voters 65 and older.
Second, if we overlay a map of the state of Mississippi breaking down each county by their vote totals, with a map of the state breaking down the counties who are benefitting from lobbyists' efforts, then we easily conclude Cochran's ability to deliver pork kept him from getting outright clobbered.
Voting results show Cochran's main support came from his home county, Lafayette, where he took just over 64 percent of the vote. Hinds county, a wealthier and more populated area, also voted 2 to 1 for Cochran. Rankin and Madison counties around the city of Jackson also went big for Cochran, as did Harrison counties along the Gulf Coast.
What do all of these counties have in common? They are all nursing off of Mother-Washington's forced reallocation of taxpayer dollars.
Remember, it is extremely difficult to unseat an incumbent for a reason, and barring a disastrous scandal it is even less likely to see one completely blown out of the water. Yet, the anti-incumbent sentiment was strong on Tuesday, so strong that even Jackson County, which also benefits greatly from Cochran's pork, voted for McDaniel by just under 2 percentage points.
While the voting behavior of Jackson County was a surprise, it wasn't the biggest surprise. That belongs to Lee County, which was widely expected to go for McDaniel. It didn't. Cochran took Lee County by a 56.8 to 42.2 percent margin. The heavily populated region has voted for more conservative candidates in the past, which made my eyebrows raise when totals were counted. That is, until PPD confirmed that there was a premeditated effort on the part of the Cochran campaign to convince large numbers of Democrats to cross over and vote for their guy.
When asked to comment about the activists' allegations, they brushed off our inquiry by claiming they had openly said they would so weeks before Election Day. Contrary to recent speculation, conventional Democratic wisdom held that the seat was nearly impossible for Travis Childers to win, regardless. And if they had to choose between Chris McDaniel, a conservative, and Haley Barbour's choice, Sen. Thad Cochran, then they felt Cochran was someone they could work with. Worth noting, Democrats may be looking at polling that shows either Cochran or McDaniel would decimate Travis Childers.
If there was any doubt that conservative groups had a good reason to oppose Cochran, Barbour recently made a comment that explains it all.
"Cochran has a lot more opportunity to increase his support," he started. Regarding McDaniel's support for eliminating the Department of Education, Barbour noted the state receives "more than 15 percent of our education budget from the federal government. When Mississippians find out he said, out of his own mouth, that we shouldn't get this money, then I think we can increase the electorate."
And there you have it. Conservatives believe the Department of Education is an obstacle to education reform, which should focus more on parent control and charter schools, not sending more taxpayer dollars to greedy unions in failing school districts. Of course, "increase the electorate" translates into asking more Democrats to switch over and vote for Cochran.
"Senator Cochran has served honorably, but the rationale for his candidacy ended yesterday," President Chris Chocola said. "He said he didn't want to run again, but everyone asked him to. Well, a plurality of Mississippi Republican voters just proved that they don't want him to."
Because of the amount of money at stake and the number of lobbyists waiting to collect it, I wouldn't hold me breathe. But I also would be shocked if they found their efforts were successful after the June 24 runoff. And truth be told, so would Cochran, which is why he didn't even bother to show up to speak to supporters on election night.
(UPDATE: A prior version of this article stated the runoff was on June 26. The primary is on June 24, as we first stated here. It has been updated to reflect those changes.)