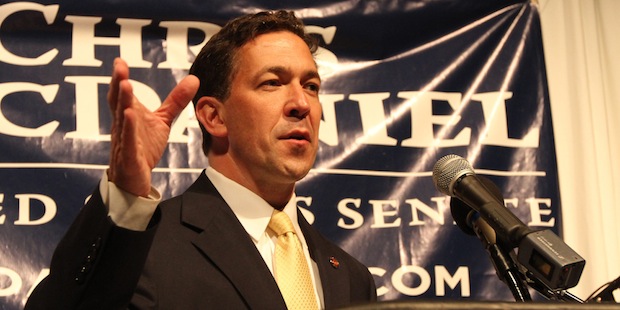 People's Pundit Daily projected last night that no one will outright win the Mississippi Republican primary for U.S. Senate. A candidate needed to earn more than 50 percent of the vote to avoid a runoff, which the Cochran camp desperately hoped to do tonight.
However, with roughly 100 percent of the vote tallied, Chris McDaniel edged-out Sen. Thad Cochran with 151,842 votes (49.6%) to 151,842 votes (48.9%). The two will square off again in three weeks in if the numbers holds steady after absentee and affidavits are counts and considered.
Senator Thad Cochran and his supporters posted up at Jackson Hilton Hotel while they awaited voting results, while state Senator Chris McDaniel and his supporters gathered at Hattiesburg Convention Center.
Speaking to supporters, McDaniel said he expects to win, "whether it's tomorrow or three weeks from tonight. This is a historic moment in this state's history. And because of your hard work, because of your dedication, we sit here tonight leading a 42-year incumbent." Cochran did not speak to supporters Tuesday night.
In Jackson County, election commissioner Danny Glaskox said Republican turnout has been heavy while Democratic turnout in some precincts was "non-existent." Republicans had cast 400 absentee ballots in Jackson County to roughly 40 Democratic absentee ballots. McDaniel carried Jackson county 50 – 48 percent. Fast-growing DeSoto County and Jones County were was all McDaniel country, with a 63 – 36 percent margin separating the two in DeSoto.
Another factor in the race that received little attention from pundits took place in the southeastern region of the state, which was ground zero for a competitive Republican congressional primary.
History also suggested that the northeast corner of the state, primarily the heavily populated Lee County, should have been prime territory for Chris McDaniel. Cochran carried Lee County by a 57 – 42 percent margin. We have confirmed that Democrats crossed over in large numbers to support Cochran, and that the incumbent welcomed the meddling in this county and others. A Democratic activist described the thinking behind the effort.
"If it's North Carolina or Missouri, two states we know we can win with an extreme right-wing candidate, then we'd help them," she said. "But Mississippi is still red, and we'll take Cochran because we believe we can work with him on immigration reform, and such."
The Cochran camp didn't even bother to deny it, claiming they had welcomed Democratic cross-over votes openly for weeks. Whether or not those voters helped Cochran keep McDaniel under 50 percent, can never truly be known, despite the credit Democrats are quietly taking. There moment of happiness as a result of their meddling will likely not last, as the lower turnout will almost certainly benefit McDaniel on June 24.
Cochran's base of support came from his home county, Lafayette, which is in the northern region of the state, where the wealthier population centers of Hinds, Rankin and Madison counties border up around Jackson and Harrison counties along the Gulf Coast. Cochran also performed well in the city of Jackson, which was expected considering the entire region has benefitted greatly from Cochran's decades-long pork projects.
McDaniel had been gaining momentum in the race until a campaign bomb came in the form of an arrest of a 28-year-old political blogger accused of taking a photo of Cochran's bed-ridden wife at the nursing home where she has lived since 2000. Three others were also later charged, including a tea party official connected to McDaniel, though all claimed he had no knowledge.
Cochran first rode Richard Nixon's coattails to Washington in 1972. After over 41 years in the Senate — coupled with his time in the House gives him the distinction of the longest-serving Republican lawmaker ever — it appeared he wasn't interested in running for a seventh term. At 76, Cochran underscored that he was drafted into the race by party heads, claiming Senate leaders felt Mississippi would likely elect a anti-establishment candidate to send Washington.
Worth noting, this was Mississippi's first election since the new voter ID law took effect, and predictably there were no major incidents reported.
The Mississippi Senate race is rated "Safe Republican" on PPD's 2014 Senate Map Predictions.