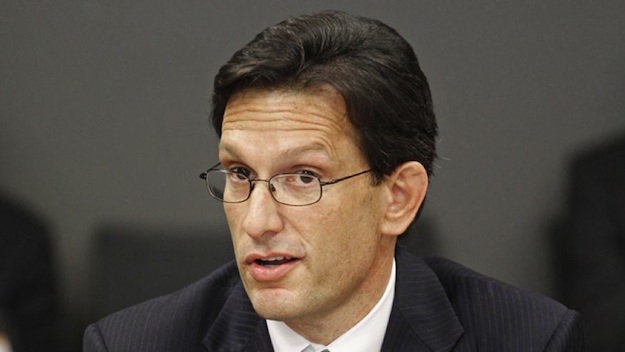 House Majority Leader Eric Cantor has been defeated handily by insurgent Dave Brat, an economics professor and first-time politician. While the liberal media has pumped the presses with stories headlining the death of the conservative movement, Cantor's loss marks the second upset of a powerful incumbent politician in less than a month.
With nearly 100 percent of the precincts reporting, Cantor trailed Brat by roughly 55.5 to 44.5 percent.
The stunning upset — well, for liberal pundits — came in Virginia's 7th District, which is a decently conservative area near Richmond. Even Fox News ran a last-minute piece in what appeared to be an effort to deter Brat's supporters. "Despite the attacks, Cantor appears well positioned for reelection," the column read.
Brat had little money, but now has a huge victory for the conservative movement, which supported Cantor just a few years ago. But immigration was at the forefront of this campaign, and Cantor had attempted to sell-out his base several times on amnesty. He attended several confirmed meetings, particularly one during spring break with other members of the House leadership, who plotted to ram an amnesty bill down the throats of the conservative base after their votes helped the party take the Senate.
However, nothing less than a refugee crisis is occurring at America's southern border, but Republican leadership has refused to go head-to-head with the Democrats on this issue, despite having the majority of the American people on their side. Last week, we learned that the Obama administration has been dumping off women and minors at bus stops in various cities with nothing, after their immigration policy has caused a mass migration from people who have traveled over 1200 miles to the Texas border.
Now, for the first time in U.S. political history, the base has made a House majority leader regret it. The movement was simply detected too late by the Cantor camp, who felt a sense of false comfort reading flawed polls. A poll commissioned by The Daily Caller showed Cantor leading 52-40 percent. The poll of 583 primary voters was taken June 2, and had a margin of error of 4 percentage points.
Worth noting, the media has continuously painted this matchup as a Tea Party versus Establishment race, but Dave Brat won this race, not the Tea Party. I will have more on this tomorrow in a detailed column, but no national Tea Party presence inserted themselves in this race. The people of the 7th District voted for Dave Brat, not the Tea Party, because they believed him and agreed with him.
The most recent campaign finance reports showed Cantor spent more than $1 million in April and May, but still has more than $1.5 million in the bank. Brat, on the other hand, has raised just a bit more than $200,000 for his campaign. But endorsements from radio host Laura Ingraham and others helped Brat's name recognition.
But it wasn't simply a greater-than-usual activist turnout that defeated Eric Cantor, but he performed poorly in areas around the district he was expected to fair well in. His base abandoned him.
Meanwhile, in order to answer the charges, Cantor went negative on Brat. A mailer even accused Brat of being a "liberal professor" in the week leading up to the election. The American Chemistry Council, whose members include many blue chip companies, spent more than $300,000 on TV ads promoting Cantor. And the American College of Radiology political action committee paid nearly $23,000 for fliers touting Cantor as better qualified than Brat at "ending business-as-usual in Washington."
Cantor was and will remain for a few more months the second-most powerful member of the U.S. House and was seen by some as a possible successor to the House speaker. Cantor was in the House of Representatives for twelve years. A former state legislator, Cantor was elected to Congress in 2000. He became majority leader in 2011.