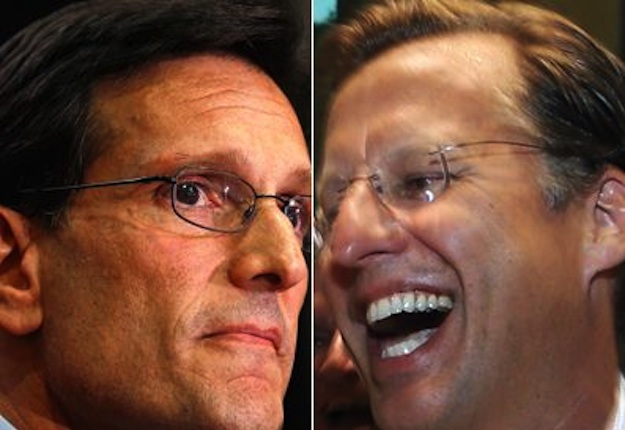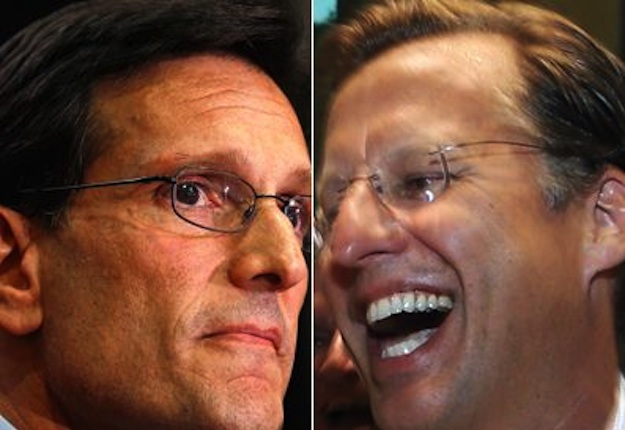 Dave Brat defeated Eric Cantor, the House majority leader and man widely believed to be next in line for the speakership. And he did so handily. Brat won 56 percent of the vote, compared with 44 percent for Cantor, with all precincts reporting.
But the post-election analysis from commentators, establishment politicians, and media pundits was striking. The how and why a little-known political newcomer defeated a House majority leader for the first time in the history of the American republic, was completely lost on them. Let's begin with the commentator reaction from last nigh.
While I have an infinite amount of cable news commentators to choose from, "Campaign" Carl Cameron of Fox News took the cake for absurd analysis last night. After inaccurately framing the contest as an Establishment versus Tea Party battle, he went on to characterize the contest as a one-issue race focused on immigration and diminished the results by claiming voter turnout was low. I will get to immigration in a moment, because it ties all of this together, but let's begin with voter turnout.
Voter turnout, which is always low in primaries compared to general elections, actually increased by a rather significant number from the last primary in the district. Roughly 18,000 more votes were cast in Tuesday's primary than in 2012, when Cantor easily defeated a candidate who was actually backed by the Tea Party, Floyd Bayne. Further, a surge in activist support alone couldn't have been the only cause for Cantor's defeat, because he was rejected across the board in the district, underperforming in areas where activist groups were not as prevalent.
Even though Brat himself acknowledged his strong grassroots support, there wasn't a single nationwide Tea Party group backing Dave Brat. Laura Ingraham, a conservative talk radio host who backed Brat early on in the contest, openly criticized Jenny Beth Martin, the co-founder and national coordinator for the Tea Party Patriots, for not even bothering to return Brat's phone calls during the campaign. In fact, Judson Phillips of Tea Party Nation wrote an op-ed in the Washington Times back in March, in which she argued for widespread Tea Party support in the race.
It never came.
Yet, every segment on "The Kelly File" still began with "Tea Party-backed candidate" defeated Eric Cantor.
That's simply not true. Dave Brat defeated Eric Cantor, and he did so running a shoestring, retail politic campaign giving 30-minute long stump speeches on actual policy prescriptions to save a nation everyone knows is heading in the wrong direction. On the PPD average, the negative spread on the number who say the country is headed in the wrong direction is consistently around -30. And while the country is headed off a fiscal and moral cliff, Eric Cantor was too busy catering to Wall Street and K Street to have time to listen to the concerns of the citizens living in the 7th Congressional District.
A darling of big Wall Street donors and K Street, Cantor had the support of 377 political action committees all vying for a slice of the taxpayer pie. He filled the pockets of every major corporate and special interest from nearly every sector of the American economy, including the airlines, telecom industries, the energy sector, food, and manufacturing groups. Cantor and his staff were known for their hubris and arrogance, an attitude that became evident when he attended his little spring break getaway in the Sunshine State, where he plotted to defeat conservatives rather than work with them. He neglected the interests of Main Street America and his real constituents, which brings me to immigration.
Nothing less than a refugee crisis is occurring right now on America's southern border, with military installations being used to house women and children illegally entering the country. The Obama administration has literally been dumping thousands of unaccompanied minors and vulnerable women in various U.S. cities with no food and water, all as a part of an effort to deal with a problem they created by incentivizing more illegal immigration. Yet, the Republican leadership has refused to go head-to-head with the Democrats on this issue, because they would rather take money from the corrupt Chamber of Commerce.
Brat, an economics professor, effectively articulated the negative impact this influx will have on working Americans on Main Street. Fictitious and corrupt economic studies bought and paid-for by the Chamber of Commerce and printed in the Wall Street Journal cannot mitigate basic economic principles. An influx of labor will reduce wages and hurt the American people, who year-after-year never experience an increase in their quality of life. Unlike Cantor and others in the Beltway, Brat doesn't believe the voters are too stupid to know that.
As we have previously examined here at PPD, Americans are not particularly supportive of the particulars of so-called immigration reform. Despite the media constantly citing polls that are about as credible as the polls that showed Cantor leading Brat 2 to 1, or the studies showing a massive influx of cheap labor is good for the economy, voters do not support the bill in its current form, which is amnesty (Uhum, Mr. Brit Hume).
When the issue is actually debated in an open and truthful discussion, amnesty is a political loser every time. And all one has to do is dissect the comments from Democrats responding to Cantor's loss to know that is true of immigration and other political realities.
"Cantor's defeat does not change the fundamental fact that Republicans will become a minority party if they don't address our broken immigration system," Sen. Chuck Schumer (D-NY) said in a statement.
Does anyone in the Republican Party, or all of America, believe that Sen. Schumer is concerned about the political survival of the Republican Party? If you do, then I have a green card and a subprime mortgage to sell you.
"Eric Cantor has long been the face of House Republicans' extreme policies, debilitating dysfunction and manufactured crises. Tonight is a major victory for the tea party as they yet again pull the Republican Party further to the radical right," said House Minority Leader Nancy Pelosi, D-Calif. "As far as the midterm elections are concerned, it's a whole new ballgame."
That's just ridiculous. First, Virginia's 7th Congressional District is heavily Republican, R+15 to be exact. Democrats have next to a zero percent chance to win that seat. Nationwide, what Democrats' comments should tell everyone is that Democrats are petrified, and for good reason. It is precisely because this was not simply the result of voters on the "radical right" that they have reason to fear. The only "manufactured crisis" is the one on the border Democrats and President Obama created by not enforcing immigration law so that they may increase America's permanent and dependent underclass for votes.
Second, Brat is a 49-year-old professor of economics at Randolph-Macon College, a small liberal arts school north of Richmond. He received his doctorate from American University, his master's from Princeton Theological Seminary and his bachelor's from Hope College. In addition to teaching, he has served on the state Joint Advisory Board of Economists and served as the president of the Virginia Association of Economists. This is hardly the resume of an unhinged "radical right" extremist, and the voters who resonated with his campaign message knew that, even in spite of the atrocious media coverage.
It is expected to hear the reaction from the Democratic Party, who find themselves in a tough spot this cycle. However, immigration was not the only issue in this campaign, and if the Republican Establishment insists on taking the position they outlined on Fox News last night, then they will be shocked by the outcomes of many more elections to come.