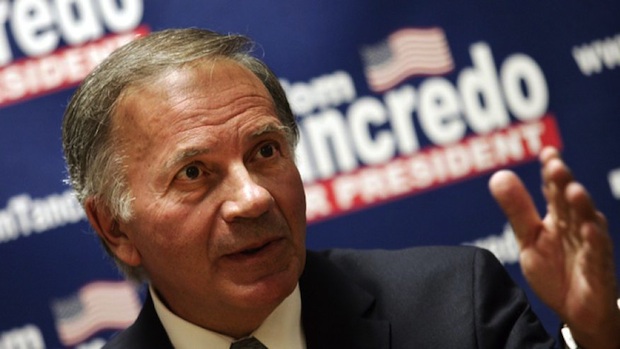 A left-wing political group is being accused of meddling in the Colorado Republican primary for governor by running TV ads favoring Republican candidate Tom Tancredo. The former 2010 Constitution Party candidate was viewed by many as a spoiler for Republican Dan Maes.
Though Tancredo took roughly 36 percent of the vote in a three-way race, while Maes earned just 11 percent, the liberal group believes he is the weaker candidate to face vulnerable incumbent Gov. John Hickenlooper in November. Tancredo's only real primary opponent, former Rep. Bob Beauprez, has been seen by many as the stronger candidate. The leftist group, Protect Colorado Values, has a TV ad that depicts the former Republican congressman as the only candidate voters can trust to fight ObamaCare, a law that remains deeply unpopular in the state of Colorado.
"He's still of the country's strongest opponents of ObamaCare" says the ad's narrator, who closes by saying Tancredo is "too conservative for Colorado." Democrats believe the ad, entitled "Futile," which says Tancredo is "too conservative," will convince Republican primary voters to support Tancredo at the polls on June 24.
http://youtu.be/Z9Ad23MIYwk
Still, the group is hedging their bets with another ad targeting Beauprez, entitled "Both Ways," because Democrats openly fear Beauprez as a threat to Gov. John Hickenlooper. The ad points out Beauprez once backed the individual mandate that's now part of ObamaCare and attacks his fiscal-conservative credentials by saying he supports spending bills while the national debt "ballooned $2 trillion."
http://youtu.be/BgdHrL7x-Jg
Beauprez has criticized Hickenlooper and called on him to stop the "desperate attempt" to manipulate Republican voters. "Hickenlooper and his allies have resorted to dishonest, negative attacks and underhanded tactics intended to do one thing – take away the right of honest Republicans to choose their own nominee for Colorado governor," Beauprez said Monday.
"The simple fact is that Hickenlooper and these liberal attack groups believe I can beat Hickenlooper in November."
Despite Tancredo's opposition to amnesty in a state with a significant Hispanic voting bloc, he is the only candidate to have matched the incumbent in early polling. Beauprez will have to make the case for his electability with the latest public poll conducted by Republican polling firm Magellan Strategies showing him trailing the governor by 15 points. And, of course, he will have to first get past Tancredo to do it.
Internal polling from the Beauprez camp shows him trailing Tancredo 25-to-27 percent, which is a statistical dead heat. But in a four-way race with Secretary of State Scott Gessler and former state Senate Minority Leader Mike Kopp, activist voters backing Tancredo will likely show up with more enthusiasm than traditional Republican voters.
Meanwhile, the Colorado State Republican Party called Protect Colorado Values a "shadowy" and "liberal" special interest group. In a statement, they accused the group of attempting to influence the primary outcome with money from rich liberals.
Tancredo has publicly commented on the fact he's just fine with the free advertising, though he understands the "too conservative" narrative has the potential to cause him real trouble in the general election. Yet his 2010 showing suggests e may not be the candidate the Republican Establishment and liberal groups view him to be. Demographically, the state is beginning to look like New Mexico, where libertarian-leaning Republicans – such as Gary Johnson – actually appeal to voters and surprise the pundits. Rand Paul, for instance, has consistently led Hillary Clinton in early 2016 presidential polling in the state, and he is the only candidate to do so.
Protect Colorado Values was started just days ago with the stated purpose of supporting and opposing Republican and Democratic candidates in the governor's race, according to documents filed with the Colorado campaign finance office.
However, the registering agents are listed as Julie Well and Jim Alexee. Wells has registered at least 27 liberal-leaning political groups in Colorado and is a registered Democrat, according to the group MediaTrackers.com
Alexee has worked for the Ohio Democratic Party and was a presidential program comptroller for powerful Democratic supporter Service Employees International Union, according to his online resume.
The news website Complete Colorado claims the group has invested — on the low end — $89,000 in ads on a Denver-area TV station.
There is no doubt Gov. Hickenlooper's chances of reelection have increased this year. Whispers from the Democrat Governor's Association were contemplating writing him off last year, but now the race was recently changed to "Leans Democrat" on PPD's 2014 Governor Map Predictions. Fundraising improvements, polling, and developments in the potentially toxic primary have all suggested that the race is beginning to move in the incumbents favor, even as the U.S. Senate race slips from Democrat hands.
The Republican primary for Colorado governor is rated a "Toss-Up" on PPD's 2014 Governor Map Predictions.