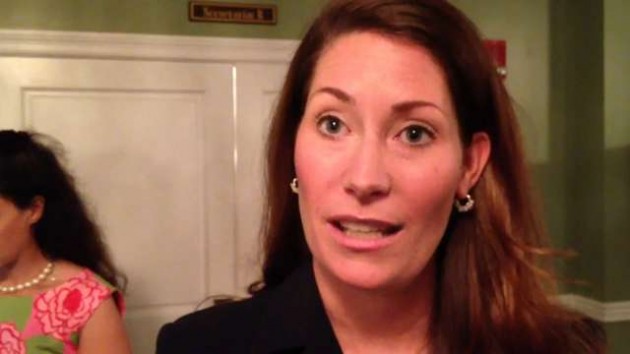 This is bad, very bad, for U.S. Senate candidate Alison Lundergan Grimes, the Democrat running against Minority Leader Mitch McConnell in Kentucky. Grimes' campaign claimed last week that she would use the high-dollar fundraiser she attended with Majority Leader Harry Reid to fight for the Kentucky coal industry. Now, a leaked audio from the event shows Grimes had no intention of doing so, breaking her promise she has repeatedly made to the people of Kentucky.
"Alison Grimes already has a credibility problem with Kentuckians," the NRSC said in an email to PPD. "This leaves little doubt that Grimes will say whatever it takes back home but do little to stop Obama's anti-coal agenda in DC."
The fundraiser took place amid the Obama administration unilaterally issuing regulations on existing power plants that would undoubtedly cripple economies in states like Kentucky. The first-ever nationwide restriction on carbon emissions was a controversial move that is key to President Obama's climate change agenda, and aims to use the Environmental Protection Agency to force existing plants to cut pollution by 30 percent by 2030.
Aside from the new regulation bypassing Congress — which was met with fierce criticism from Republican and embattled Democratic lawmakers claiming he didn't have such an authority — the economic costs to the American people will be severe. The U.S. Chamber of Commerce released a study that concluded the new rule will kill 224,000 jobs every year through the year 2030, and will impose at least $50 billion in annual costs. Among the states that will be severely affected by the new regulation are Kansas, Virginia, West Virginia, Pennsylvania, Ohio and Kentucky.
The McConnell camp immediately took the opportunity to pounce on Grimes, who is shaping up to be a less-than-average candidate.
"Alison Lundergan Grimes just did exactly what every Kentuckian knew she would — tell them one thing and do another with Harry Reid," Allison Moore, McConnell's campaign spokeswoman said in a statement. "If there was any question about what she would do as a senator, this tape erased all doubt."
The leaked audio reenforces suspicions that Grimes says whatever she needs to say in Kentucky to the people of the state, but then acts and speaks very differently when in Washington. D.C. Though the Kentucky Senate race was never really contested ground on PPD's 2014 Senate Map Predictions, despite what some other pundits have suggested, Democrats had high hopes for Grimes.
Many Democrats believed that Kentucky was one of two red states that they may have had an opportunity to play offense in during the upcoming battle for control of the U.S. Senate in November. However, we previously reported on what were clearly early warning signs with the over-hyped Democratic candidates in this race back in May, as well as the other state the party had hoped for an upset — Georgia. Grimes has shown a relatively lackluster ability to fundraise and offer depth, but her take on the race is showing signs of detachment from political reality.
"I had the opportunity to drive by the Capitol, Leader [Reid]; I just like to give Mitch McConnell a heart attack every time I come to D.C. to check out where my new office will be next year," Grimes said in the audio. "I stand here today where no individual has ever been before. And that's with over 18 polls that have been taken, the majority of which show we run even or ahead of the minority leader."
Yet, the latest polling surveys conducted on the Kentucky Senate race are beginning to reflect the political reality in the conservative state, with Mitch McConnell starting to pull away from Alison Lundergan Grimes even before these latest revelations.
The Grimes campaign and the majority leader's office attempted to push back on the report, claiming Grimes had a "private conversation" with Harry Reid regarding the new EPA regulations.