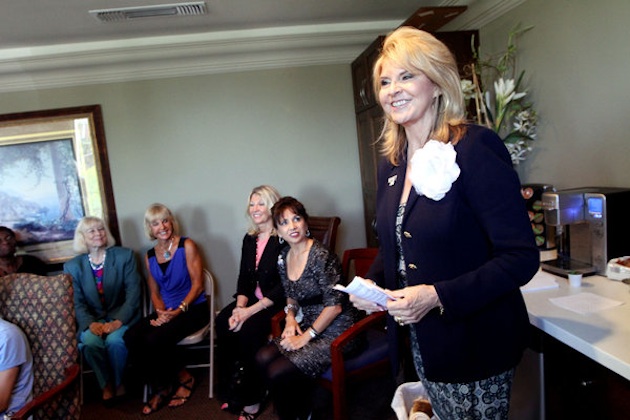 On Tuesday, RNC Co-Chair Sharon Day held what the party has dubbed a "14 in '14" women's initiative event in Oakland County, Michigan, which is the beginning of a massive effort to recruit and train women under 40 to be a part of the political process. The state chosen to kick off the party's new outreach program just happens to be the scene of a competitive race set for this fall between Republican Terry Lynn Land and Democrat Rep. Gary Peters.
"I am delighted to bring 14 in '14 to Oakland County. Between women losing their doctors due to ObamaCare and feeling the anemic Obama economy every day, it's important the Republican Party has female messengers across the country heading into November," said RNC Co-Chair Day. "14 in '14 will encourage Michigan women to stand up for Republican candidates and principled values in a way that fits their schedules. I'm proud to take part in a program that will complement the RNC's other women's initiatives, such as candidate and volunteer training, staff and precinct captain recruitment, and mentorship and networking events."
Closing or even tightening the gender gap in the fall could make all of the difference between victory and defeat in the Michigan Senate race, among other contests that may prove pivotal in determining the balance of power in the U.S. Senate. Strong candidate recruitment efforts have paid off to the tune of expanding the 2014 Senate map into Blue and Blue-leaning states previously thought off limits.
However, with Democrats gearing up to hammer Republicans on wedge issues to mobilize single women, including the repetition of falsehoods surrounding the recent Hobby Lobby decision, equal pay or "a day in life of (blank) featuring President Obama in nearby Lansing, Republicans are fighting back with a plan of their own.
The "14 in '14" initiative aims to mobilize female volunteers who are committed to spending 30 minutes a week during the 14 weeks leading up to the November election. Volunteers will reach out to other women in 25 key strategic counties containing high numbers of those identified as "independent" and "swing" women voters. This key voting bloc, which also includes married women, played a pivotal role in the upset defeat of Democrat Alex Sink at the hands of David Jolly in the special election in Florida's 13th Congressional District back in March.
""14′ in '14 will train these volunteers to recruit other women, identify voters, support other get-out-the-vote efforts, and be Republican messengers in their communities," according to the RNC press release.
The initiative has identified various counties in various states, including the battleground states of Colorado; where Democrat incumbent Sen. Mark Udall is tied with Rep. Cory Gardner in the polls; Arkansas, where Rep. Tom Cotton has a better than 50/50 shot to defeat Democrat incumbent Sen. Mark Pryor; and North Carolina, where Thom Tillis currently leads Democrat incumbent Sen. Kay Hagan.
First Round Of States And Counties Targeted By "14 in '14"
Arkansas (Pulaski)
Colorado (Arapahoe, Jefferson)
Florida (Miami-Dade, Palm Beach, Leon, Pinellas)
Georgia (Cobb, Gwinnett)
Louisiana (East Baton Rouge, Jefferson, Orleans)
Michigan (Oakland, Wayne)
Montana (Yellowstone)
North Carolina (Mecklenberg, Wake)
Ohio (Cuyahoga, Lake, Mahoning)
Pennsylvania (Allegheny, Berks, Bucks, Chester, Montgomery)
West Virginia (Kanawha, Cabell)