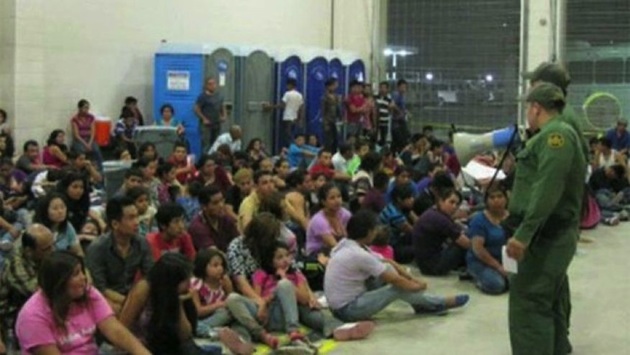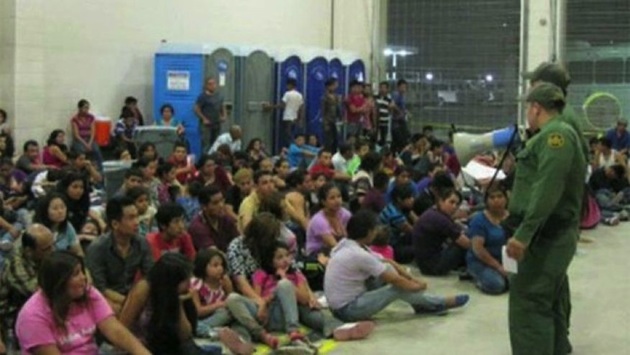 A new intelligence report obtained by Catherine Herridge at Fox News concluded that the border crisis is being caused by illegals seeking amnesty misunderstanding U.S. immigration policy, not violence in Central America.
The 10-page report conducted on July 7 was by the El Paso Intelligence Center (EPIC), which is headed up by the DEA and includes the Department of Homeland Security. "Its focus is on the collection and distribution of tactical intelligence, information which can immediately be acted on by law enforcement," according to Herridge.
"Of the 230 migrants interviewed, 219 cited the primary reason for migrating to the United States was the perception of U.S. immigration laws granting free passes or permisos to UAC (unaccompanied children) and adult females OTMs (other than Mexicans) traveling with minors," the report said.
PPD spoke to Guatemalan officials when the story first broke in early June, who told us that the Catholic Church and state-run media outlets had been advertising Obama's policies as a "free pass" for them. Officials contacted the Obama administration last year to warn them of the imminent influx of illegal immigration, but the White House didn't respond.
President Obama and other Democrats who have openly admitted their support for open borders have attempted to sell a false bill of goods to the American people, again. Since reports first began to surface, the left has claimed the border crisis was the result of violence in Central American countries that have been violent for decades, and that we should classify those who have crossed the border illegally as refugees.
"The violence isn't new. The situation in those countries is not new," Rep. Mario Diaz-Balart (R-FL) told reporters Tuesday. "These cartels have seen a weakness in the system. They've seen statements coming from the administration that they have used in order to just frankly increase the number of people coming over.
Democratic Rep. Henry Cuellar and Republican Sen. John Cornyn, both lawmakers from Texas, introduced bipartisan legislation on Monday that would make the process of determining whether illegals should be deported quicker by reforming an antiquated immigration law.
The Helping Unaccompanied Minors and Alleviating National Emergency (HUMANE) Act would rewrite the 2008 bill signed into law by President George W. Bush. Under existing law, the William Wilberforce Trafficking Victims Protection and Reauthorization Act, or TVPRA, illegal immigrants from countries other than Canada and Mexico are turned over to the Department of Health and Human Services, which then release them to the custody of relatives or other caregivers as they wait for their cases to come up in immigration court.
However, over 90 percent of "unaccompanied minors" never show up and simply disappear, according to San Diego Border Patrol union representative Gabe Pacheco. Arizona Sens. John McCain and Jeff Flake were recently criticized by the mainstream media for using the 90 percent figure loosely, but the reality is the government's record-keeping practices are suspect to lawmakers. In 2012, alone, ICE was looking for more than 469,000 people who failed to appear.
Nationwide, according to immigration court officials in San Diego, roughly 33 percent of immigrants released by U.S. Customs and Border Enforcement (ICE) did not show up for their immigration hearings.
"It would provide a deterrence and stop the vast majority of these children and their families from initiating this journey in the first place only to find out it would not be successful by and large, and this would be the fix to solve that problem." Cornyn said during a conference call Tuesday morning with reporters.
The intelligence assessment was not intended to be seen by anyone outside of relevant law enforcement officials, but suspiciously, the report cited data from the United Nations office on Drugs and Crime Statistics that found violent crime for Central America actually decreased. The United Nations earlier this week publicly pushed U.S. lawmakers to classify the illegal immigrants as refugees, despite knowing full-well the recent surge in border crossings had nothing to do with violence, which would make them eligible for such a status.
"There's no doubt the message went out- go across border now the United States won't do anything about it," Rep. Kay Granger (R-TX) told Fox News.
The report was released as lawmakers who just visited Central America returned, and their statements also suggest that the prior criticisms of President Obama's policies were valid.
Rep. Mario Diaz-Balart (R-FL) and others told reporters Tuesday that human smugglers — also known as coyotes – are exploiting Obama's changes and refusal to enforce U.S. immigration law. The Obama administration decided in 2012 to practice prosecutorial discretion in cases where individuals were brought into the U.S. illegally as minors.
"It's a critical situation and if we don't deal with it urgently but well- done right- then we're facing a crisis of just huge proportions," Diaz-Balart warned.
The report represents the latest crumbling of a manufactured, D.C.-based narrative on the issue of immigration.
In June, the National Association of Former Border Patrol Officers called the border crisis an "orchestrated and contrived assault" by a government with an agenda. But new polling shows the government's agenda doesn't mirror the interests of the American people.
"In fact, more Americans think immigration should be decreased than increased, and by a nearly two-to-one margin, 41 percent vs. 22 percent," said Lydia Saad of Gallup.
Similarly, a new Rasmussen Reports poll found just 31 percent of Americans favor legal immigration, and that's only if the border is secured first and the government effectively stops the flow of illegal immigrants. Further, 52 percent of Americans say the U.S. is not strict enough on illegal immigrants and companies who hire them, while a small 14 percent minority disagree.