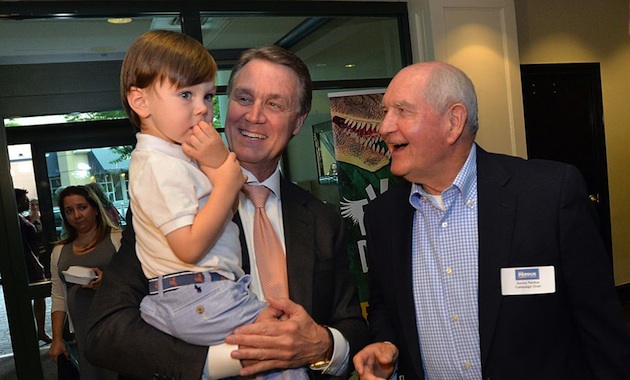 While he emerged with more votes than any other candidate in May, Georgia Businessman David Perdue scored an upset victory in the Georgia Republican primary run-off Tuesday. Perdue, a political new-comer, defeated 11-term Rep. Jack Kingston, capturing the party's nomination and chance to go up against Democrat nominee Michelle Nunn.
The former CEO of Reebok and Dollar General topped the ally of Gov. Nathan Deal by 50.9 – 49.1 percent, shaping a fall contest between two candidates with ties to two well-liked political figures in the Peach State. David Perdue is the cousin of Sonny Perdue, a popular two-term governor. Michelle Nunn is the daughter of Sam Nunn, a four-term Democratic senator.
Even though we favored Perdue in the May primary, Kingston was favored to win the run-off in the latest polls, and had endorsements ranging from the Chamber of Commerce to local tea party groups. However, Perdue had a few things going for him that were over-looked. First, he was able to self-fund his campaign to the tune of $3,000,000. In the final weeks of the campaign, he hammered Kingston on a questionable donation involving a felon and highlighted his private-sector experience, capturing what was an under-estimated, anti-establishment sentiment among the electorate.
Still, he was outspent by Kingston. But his famous last name and the remaining political network from his cousin played a role in countering the money disadvantage. Late-reporting metro Atlanta counties propelled Perdue to his narrow win, as Kingston's southern Georgia and coastal county base saw lighter-than-expected turnout rates. Also, even though Karen Handel threw her support behind Jack Kingston, her voters didn't follow her suggestion, as was evident in Fulton County.
A recent poll conducted by Landmark Communications found Nunn with a 6-point lead over Perdue, but those results are more than even Democratic operatives admit is possible this fall. They hoped to have a stronger-than-average candidate in Georgia, but Nunn has been coddled by the media and the Republican Party up until now, and yet still has already shown signs of not being ready for primetime. During an interview on liberal MSNBC, Nunn was wholly unprepared to answer a question about one of the predominant issues of the election cycle — ObamaCare. Even a favorable editing job couldn't mask the disastrous moment, which has now been made into a video by the opposition.
Nunn was "unaware" that one of her co-hosts for a fundraising event was Virtual Murrell, an early militant leader of the Black Panther Party. Murrell embraced the organization's radical platform, calling the United States government racist and threatening to retaliate against the police and the military "by whatever means necessary." Murrell also went on to become a political consultant and, in the mid 1990s, spent time in jail for using corrupt government influence to extort local businesses.
"Our campaign was unaware of Mr. Murrell's criminal history and disagrees with his comments," Nunn communications director Nathan Click told National Review Online.
Democrats plan to hammer Perdue in the same fashion they hammered Mitt Romney. That might become problematic, as another story strikes at the heart of both the idea Nunn has bipartisan credibility and the Left's anti-venture capitalist message.
Michelle Nunn made a ton of cash in 2007 when her nonprofit organization, Hands On Atlanta, merged with the Points of Light Foundation, former President George H.W. Bush's project. There is certainly nothing wrong with being rewarded for hard work, particularly when communities are better off as a result of that work. However, from 2007 to 2010, under the direction of Michelle Nunn, the organization played the role of vulture capitalists, cutting 175 jobs down to 80 to offset her more-than generous annual salary.
PPD's 2014 Senate Map Predictions model still rates the Georgia Senate race "Likely Republican."
The bottom line is that Georgia is not quite purple yet, which we have previously demonstrated. Both Nunn and state senator Jason Carter, the grandson of former President Jimmy Carter, hoped the increase in black voters' percentage of the electorate would end the Republican Party's domination of statewide office. There are several problems with that claim.
First, we have seen these claims go down in flames when black voters actually voted at a rate higher than white voters — the 2012 presidential election. One of the major reasons Georgia is only modestly moving toward the left is due to the fact black voters in Georgia are more conservative than in other southern states, for exame Mississippi. Democrats will have to find another message to win in November now that David Perdue has secured the nomination, which they believe they have.
It may yet work, but then again, Mitt Romney carried Georgia by a 53.30 – 45.38 percent margin.