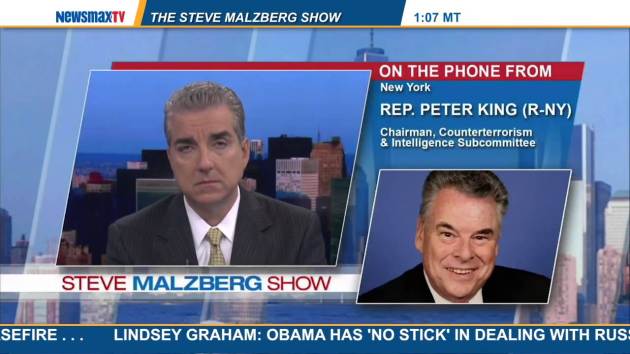 Rep. Peter King (R-NY) told Newsmax TV's Steve Malzberg that the hot mic moment with Secretary of State John Kerry on "FOX News Sunday" exposed his "true feelings" of the Obama administration.
Sunday, Sec. John Kerry was challenged only by Chris Wallace to explain his comments.
"It's a hell of a pinpoint operation. It's a hell of a pinpoint operation," he said in a sarcastic tone, in a clip aired on Fox News Sunday. But he also expressed clear frustration with the decision-making leadership in the White House, stating that he should have already been headed to the Middle East before he was okayed to go by Obama. Kerry said that sitting around Washington was getting nothing done.
Kerry also said Israel had the right to target the terror tunnels and the U.S. supported those efforts.
"You have a right to go in and take out those tunnels," he said. "We completely support that and we support Israel's right to defend itself against rockets that are continuing to come in."
The "terror tunnels" used by Hamas, the Israeli military said in a statement on Friday, are "complex and advanced." Hamas uses the tunnels "to carry out attacks such as abductions of Israeli civilians and soldiers alike; infiltrations into Israeli communities, mass murders and hostage-taking scenarios."
Kerry said it is up to Hamas to agree to a truce, but with the reality of the situation on the ground being what it is, Kerry's
"It is important for Hamas to now step up and be reasonable and understand that you accept the cease-fire, you save lives," he said "And that's the way we can proceed to have a discussion about all of the underlying issues."