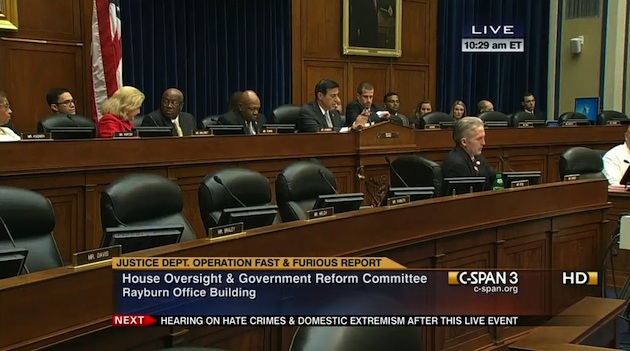 [wzslider info="true" lightbox="true"]
Representative Bruce Braley, the Iowa Democratic nominee for U.S. Senate, is again under fire over revelations he skipped Veterans' Affairs Committee hearings. Yet, what has already been a bad week for the once-favored Iowa Senate candidate, has just gotten worse.
Not only did Braley attend just 4 out of 19 hearings of the full Veterans' Affairs Committee from 2011 to 2012, according to minutes from the U.S. Government Printing Office, but subsequent explanations for why he missed a whopping 78 percent of those hearings are turning out to be false.
A report from the Des Moines Register claimed Braley attended three fundraisers for his own campaign on Sept. 20, 2012, a day the committee was slated to address VA backlogs and a gross lack of oversight at the Veterans Administration.
Braley's campaign spokesman Jeff Giertz told Jennifer Jacobs at DMR that Braley missed the 10 AM ET. Veterans Affairs Committee meeting because he was at a 9:36 AM ET Oversight and Government Reform Committee meeting. Technically, the House Veterans Affairs Committee started at 10:19 AM ET and ended at 11:54 AM ET. However, a transcript of the hearing shows he didn't say a word if he did attend and, an attached CSPAN video viewable below clearly shows an empty chair behind the nameplate indicating where Braley should have been sitting.
Now, the Iowa Republican Party is asking, "Does Bruce Braley really attend his committee hearings in Washington or does he check some box to fool voters back in Iowa that he's doing his job?"
The topic of the Oversight and Government Reform Committee hearing may give some insight as to why Braley didn't show up for that hearing, either. That was the day Michael Horowitz testified on the findings from the Department of Justice Inspector General's report on the FBI's "Fast and Furious" operation, a gun-walking operation that resulted in the death of Arizona Border Patrol agent Brian Terry in December, 2010. The weapon used to kill Terry was traced back to Fast and Furious, an operation Attorney General Eric Holder outrageously claimed he first learned about from Congress.
If providing political cover for President Obama and Eric Holder was Braley's motive for missing that hearing, then was Braley choosing politics over veterans, as well?
Over the last decade, nearly two dozen reports from the agency's inspector general and the Government Accountability Office found veterans were dying because of long wait times for health care. Worse still, the reports found that they were covered up by bogus and corrupt record-keeping bureaucrats at the Department of Veterans Affairs hospitals.
These revelations first forced the resignation of Robert Petzel, the undersecretary for veterans' health care, and shortly after the resignation of former head of the Department of Veterans Affairs, Eric Shinseki. Yet, it is precisely the Washington D.C. culture exemplified by Bruce Braley that drains the American people of confidence in their government. Rather than doing his job, which is to protect the taxpayer and provide oversight, Bruce Braley instead decided to spend the day fundraising.
From 8:30 a.m. to 9:30 a.m., Braley was attending a $2,500 breakfast at Johnny's Half Shell, a fresh from the Chesapeake Bay seafood restaurant. Still, the restaurant is roughly 10 minutes away from the location of the hearing, giving Braley plenty of time to attend. However, as shown in the slideshow above, time-stamped images from the CSPAN video show another empty chair, a picture that is too-often available to take.
"If the Republican Party of Iowa had said Braley missed 74 percent of full committee hearings, the claim would be true. In fact, we found Braley missed 78 percent of the full hearings in 2011 and 2012," The Gazette recently reported.
PPD's 2014 Senate Map Predictions model currently rates the Iowa Senate race a "Toss-Up" for a number of reasons, including several that PPD Senior Political Analyst Richard D. Baris says are "demons of Braley's own design." Braley, a trial lawyer and an establishment-picked nominee, "suffers from a bad case of foot-in-mouth disease," Baris said.
"The media tends to focus on primary battles in the GOP, but Braley is a perfect example of how dangerous it can sometimes be to shut down intra-party debate," Baris said. "The Democratic Party bosses picked Braley and admonished potential challengers, which denies candidates and their campaigns the opportunity to smooth out any rough edges before the general election."
A video shared with the Des Moines Register showed Braley claiming to be a farmer during a Fourth of July parade at Iowa Falls. Of course, Braley is not a farmer, and was misleading a voter to her face in a terrible attempt to rectify another, more politically damaging mistake.
Braley was first caught on video back in March trashing Iowa's most popular senator, Republican Chuck Grassley, and he did so in full elitist fashion, belittling Iowa farmers. Braley was clearly insinuating that Iowans shouldn't send a less intelligent farmer over a trial lawyer to the U.S. Senate.
Joni Ernst, the Republican nominee for U.S. Senate and potentially the first woman senator ever from the Hawkeye State, has a new ad out highlighting her record of service to Iowa and the nation. The ad represents a new direction for the self-described "mother, soldier, conservative," who will soon return from a two-week deployment with the Iowa National Guard.
(Remember "Where's Waldo?" Let's play "Where's Bruce Braley?" during the hearing his campaign said he attended in lieu of the Veterans' Affairs Committee hearing.)