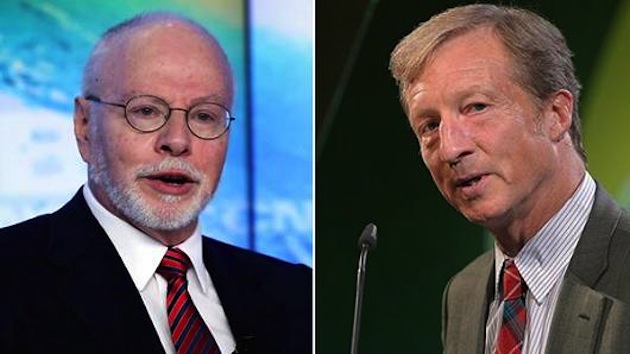 Super PACs used the month of July to load up on dollars to bombard the opposition in the fall campaign. American politics are still getting adjusted to these new entities, so it isn't at all surprising to see how many new groups filed disclosure reports at the end of August. From this paper trail filled with big money and big names, we can draw some really interesting conclusions regarding where parties really stand on issues and principles.
The results may surprise you.
For a party that supposedly hates Citizens United and the formation of super PACs that followed, Democrats sure dominated the list of top super PAC donors in July. Democratic dollars pouring in to outside groups this year have far surpassed their Republican counterparts, and the dough is coming in from everywhere from Wall Street to radical environmentalists; not the typical Main Street values the party tends to espouse.
We have compiled a list of July super PAC donations that readers may just find interesting.
TOM STEYER
Radical climate-change activist Tom Steyer gave the biggest super PAC donation, a whopping $7.5 million to his own group, NextGen Climate. Steyer, who first made his money as a hedge-fund manager, gave a half-million dollars to Senate Majority PAC, the biggest Senate Democratic super PAC orchestrated by Senate Majority Leader Harry Reid. He also kicked out another $150,000 to the League of Conservation Voters Victory Fund, which is another environmental group.
Steyer made headlines when he promised that he would give $50 million of his own money — and bundle $50 million more — which could be used for any Democratic campaign that is anti-Keystone XL. The president delayed the construction of the project despite several reports from his own State Department showing more carbon gases would be emitted without it.
I wonder is that hedge fund hedging against traditional energy resources? Yup, indeed.
MICHAEL BLOOMBERG
Michael Bloomberg has been pretty active since the 2012 elections. He has been self-funding his anti-gun super PAC that even attacked Alaska Democrat Sen. Mark Begich and Arkansas Democrat Mark Pryor. Now, Bloomberg is throwing big money at the Senate Majority PAC to keep Harry Reid in charge of the upper chamber. Conservatives will have a canary to hear this, but Bloomberg was also funding super PACs that backed Republican Sens. Thad Cochran and Lindsey Graham during their primary battles.
The former New York City mayor donated $2 million to Women Vote!, which is the record-holder for largest contribution the EMILY's List super PAC has ever bagged. In fact, if it wasn't for Tom Steyer giving over $7 million in one sitting, no one else would have given more money to super PACs this election season, including the Democrats' favorite villains, the Koch brothers.
GEORGE SOROS
George Soros, the billionaire financier who creates financial crisis for fun and profit, is also a socialist and ardent supporter of the Democratic Party. The prolific donor gave $500,000 apiece to House Majority PAC and the League of Conservation Voters Victory Fund. But the million-dollar apple doesn't fall that far from the tree, as his daughter, Andrea Soros Colombel, gave $250,000 to Planned Parenthood Votes (see more of that below).
As PPD previously reported, Soros is backing Democratic PACs that hope to data mine voters and recreate a GOTV organization that propelled President Obama to reelection. It's been a long-term effort to change the expected outcome of the 2014 election, which is the loss of the upper chamber for the Democratic Party.
PAUL SINGER
Finally, we get to a Republican donor and no, the Koch brothers are still nowhere near close to those on this list. Hedge-fund manager Paul Singer is the top super PAC donor for Republicans so far this cycle. The founder of Elliott Management kicked out a whole $750,000 to the conservative super PAC, Ending Spending Action Fund. The group has spent nearly $4.5 million in five different races in 2014. Singer also gave $100,000 to Karl Rove's rather unsuccessful group, American Crossroads.
In total, Singer has contributed $1.4 million to Ending Spending and $1.35 million to Crossroads this cycle.
STEVE AND AMBER MOSTYN
The Mostyns are Texas's biggest Democratic power couple, who single-handedly funded the start-up of Battleground Texas after being deeply demoralized by repeated defeats. The uber-liberal Amber Mostyn, a Houston lawyer profiting off the Democrat-backed frivolous lawsuit industry, and her husband Steve, were also at the top of the Democrats' biggest super PAC donor list in 2012. The Mostyns' $1 million gift greatly contributed to the rise of the pro-Obama super PAC Priorities USA Action. In July, Amber Mostyn gave $250,000 to the Planned Parenthood super PAC, which mirrors the other quarter-million she gave the committee in 2013. The group plans to distort the Hobby Lobby decision to distract women voters from larger issues.
JAY BERGMAN
After throwing the $1 million he gave to American Crossroads in 2012 out the window, Jay Bergman, the owner of Illinois-based Petco Petroleum, stayed away from outside-spending for months. However, in the month of July he finally gave in and coughed up to Rove for American Crossroads, again. He gave a $500,000 contribution to the super PAC in one sitting.
Still, Bergman is known for hedging his own bets. Even though Bergman gives mostly to Republicans, he refers to himself as an "independent," and in the past he has contributed to embattled Illinois Democrat Gov. Pat Quinn and the former Democrat governor — now convicted felon — Rod Blagojevich.
HAIM SABAN
When digging in to this paper trail, one can't help but to think that billionaire Univision owner Haim Saban owns a propaganda channel, aimed at putting Hispanics on the Democratic plantation along with black voters for decades to come. Saban has already thrown his "full might" behind Hillary Clinton if — sorry, when — she decides to run for president in 2016.
Saban gave $250,000 to Senate Majority PAC in July to save the upper chamber and, as an extension, amnesty.
ERIC SCHMIDT
Speaking of Mr. Reid's best friends again, a $250,000 donation came from Google Chairman Eric Schmidt, a man who claims he supports the free movement of information while at the same time backing the party who wants to regulate the Internet.
Strange, isn't it?
The latest donation is actually the second contribution made by Mr. Schmidt in 2014. In June, Schmidt gave $100,000 to the super PAC formed to help Democrat Sen. Mark Warner get reelected in Virginia this year.
BOTTOM LINE
If voters want to know where the big money is going and what each party or individual politician stand for, then contributions rather than rhetoric are the way to go. As far as we can easily tell, the money is headed to the Democratic Party from billionaire hedge fund managers who want to keep corporate welfare by reauthorizing the Ex-Im Bank and opposing tax reform, those who want cheap labor in the form of so-called "immigration-reform" and other issues.
Unsurprisingly, when we watch President Obama's agenda on climate change, the largest amount of money is coming from Steyer and others who make their living off of government controlling the energy sector, betting in favor of them doing so in the future, and those who want corporate profits to remain at record highs by decreasing the cost of labor.
Are there any on the Republican side that are equally dubious? Of course, but they are far fewer in numbers and cash. That's pretty surprising considering the incessant attacks on the Koch brothers, billionaire businessmen philanthropists who didn't even make the list.