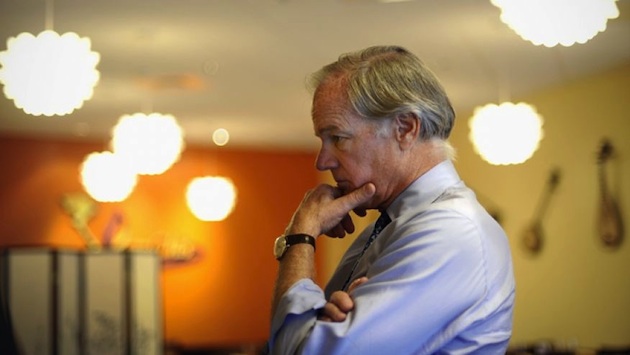 With their guy trailing in the average of polls less than six week until Election Day, Connecticut Democrats are accusing Republican nominee Tom Foley of plagiarism. Plagiarism can be a campaign-ender, to be sure, but the charge falls short of other clear cases of plagiarism this cycle, including Democrat Sen. John Walsh and Republican nominee for U.S. Senate in Oregon, Monica Wehby.
The Connecticut Democratic Party is accusing Republican gubernatorial candidate Tom Foley of plagiarizing passages in his newly released urban policy proposal. Foley's urban action plan was unveiled Wednesday in New Britain and includes Foley's ideas for improving the economy, reducing crime and fixing under-performing schools, long-held issues of importance to urban voters.
The Connecticut Post reported that the Democratic Party claims Foley copied passages from various sources, including The Pelican Post, Heartland.org and the Connecticut Policy Institute. But, regarding the Connecticut Policy Institute, Foley's campaign is offering a pretty solid explanation.
"The urban policy agenda released today is largely drawn from the work of the Connecticut Policy Institute, a think tank Tom Foley founded and he has said from start would be the foundation of his urban policy agenda," Foley's communications director Mark McNulty wrote to FoxNews.com in an email.
"We'd like to know which of the ideas the state [Democratic] party thinks are bad ideas. For example, do they think we should reduce the car tax in cities or not? What does the governor think?"
Foley is currently leading incumbent Democratic Gov. Dan Malloy by 6 points according to the latest poll, which was conducted by independent pollster Quinnipiac University. The Connecticut governor race is actually a rematch, as two ran for the governor's mansion in 2010. It was one of the closest races in the country, with just a half-percentage point separating the two when the total votes were tallied.
When examining the records, aside from the policy institute, only the Pelican Post passage couldn't be described as tenuous at best. Still, even if the plagiarism charge was even a bit more credible, it is unclear whether Malloy could get the voters in Connecticut to dislike Foley more than they dislike him. Even though Connecticut was just named the third-least business friendly state and Gallup's state scorecard shows just 23 percent say taxes aren't too high, something else is weighing Malloy down more than taxes, which is the focus of McNulty's message.
"A difficult problem for Malloy to overcome is his high negative favorability rating, as 53 percent say they have an unfavorable opinion of him, including 40 percent who say they have a strongly unfavorable opinion," said Douglas Schwartz, PhD, director of the Quinnipiac University poll.
"It is tough for a well-known incumbent to change voter opinion once formed. In contrast, only 33 percent have an unfavorable opinion of Foley."
The Connecticut Governor race is currently rated a "Toss-Up" by PPD's 2014 Governors Map Predictions model (Read Expanded Analysis).
(Please note: PPD average is calculated using PPD's Pollster Scorecard, which rates and weighs pollsters on past accuracy. The RCP average, for instance, is currently Foley+4.)