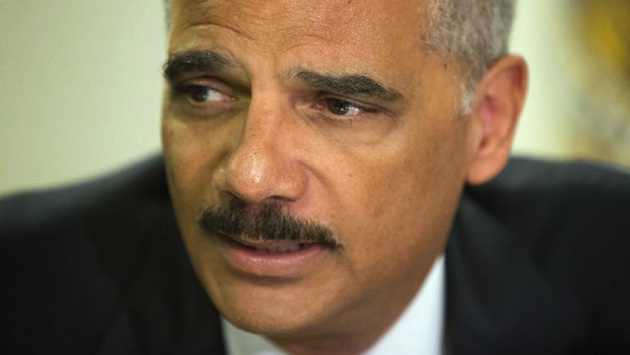 Eric Holder will announce Thursday that he is resigning as attorney general from the Obama administration, a Justice Department official has confirmed.
The resignation ends a controversial six-year term for the nation's top law enforcement official.
Immediately after taking over at the Justice Department, Holder drew harsh criticism for dropping the voter intimidation case against New Black Panther Party leaders who were caught on tape wielding a billy club and hurling racial slurs at elderly white people as they attempted to enter a polling station in Philadelphia. The Bush administration opened the prosecution, but despite threats about killing white babies and several threats using the word "cracker," Holder decided the case didn't warrant prosecution.
Racial tensions and the arbitrary administration of justice in racial cases was telegraphed in his "a nation of cowards" comment, while addressing how the U.S. deals with issues of race. "Though this nation has proudly thought of itself as an ethnic melting pot, in things racial we have always been and I believe continue to be, in too many ways, essentially a nation of cowards," Holder said on February 18, 2009, while addressing the Justice Department in commemorating Black History Month.
And it never ended.
"There's a certain level of vehemence, it seems to me, that's directed at me and directed at the president," Holder said on ABC's "This Week with George Stephanopoulos" on July 13, 2014. "You know, people talking about taking their country back … There's a certain racial component to this for some people. I don't think this is the thing that is a main driver, but for some there's a racial animus."
Attorney General Eric Holder was held in contempt of Congress for lying under oath during a congressional hearing. While investigating the gun-running scheme "Fast and Furious," which led to the death of a U.S. Border Patrol agent, Holder and the Obama administration claimed executive privilege in an attempt to conceal documents at the center of the controversy.
U.S. District Judge Amy Berman Jackson, an appointee of President Barack Obama, recently ordered the Justice Department to provide Congress with a slew of documents that Eric Holder had long tried to keep from Congress. However, the Justice Department officials who confirmed Holder's resignation offered little response when asked if the documents played a role in the AG's decision to resign.
Federal agents lost control of some 2,000 weapons and many of them wound up at crime scenes in Mexico and the U.S., and two of the guns were eventually found at the scene of the December 2010 slaying of U.S. Border Patrol agent Brian Terry near the Arizona border city of Nogales. The ATF and the Justice Department also attempted to block the whistleblower, John Dodson, from writing a book on the gun trafficking scandal, "because it would have a negative impact on morale," according to the agency.
Ironically, Holder also headed-up the administration's unique push for new gun control measures. He asked the House Appropriations Subcommittee back in April to consider new smart gun technology as a means to curb gun violence. Opponents not only say there is a cynical motive behind the government's push that has nothing to do with gun safety, but also that the technology is a logistical and practical nightmare.
Holder also refused to prosecute former IRS official Lois Lerner despite the House Ways and Mean Committee voting 23 – 14 to refer her to the Justice Department for a criminal investigation. It was revealed she corruptly used the IRS to target conservative groups seeking tax-exempt status.
House Republicans learned that the Justice Department's investigation into the IRS targeting Tea Party groups had been "compromised" after the Obama administration outrageously appointed an Obama donor to head up the probe. In a January letter to Holder, lawmakers said they've learned that Barbara Kay Bosserman, the trial attorney appointed to investigate the IRS scandal, is a long-term donor of both the Democratic National Committee and President Obama.
The attorney general did nothing.
Holder reportedly has agreed to stay on the job until his successor is confirmed, but is now the fourth-longest serving attorney general in history.