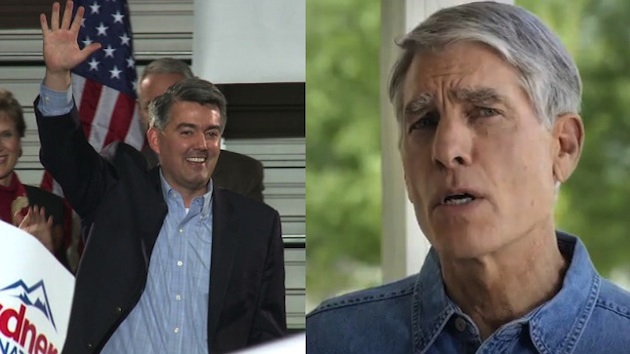 Citing legislative paralysis and hyper-partisanship, the Denver Post endorsed Republican Rep. Cory Gardner over incumbent Democratic Sen. Mark Udall Friday.
"Congress is hardly functioning these days. It can't pass legislation that is controversial and it often can't even pass legislation on which there is broad agreement," the Denver Post Editorial Board wrote. "Its reputation is abysmal, and even its members rarely dispute the popular indictment."
"It needs fresh leadership, energy and ideas, and Cory Gardner can help provide them in the U.S. Senate."
The endorsement ran down Gardner's leadership qualities and heralded that he was obviously not "a political time-server interested only in professional security," noting he gave up a safe House seat in order to take on the challenging odds of defeating an incumbent senator. They contrasted Udall's move to the left while representing an otherwise still-purple state.
"Udall is a fine man with good intentions, and on some issues our views are closer to his than to Gardner's," the endorsement added. "But he is not perceived as a leader in Washington and, with rare exceptions such as wind energy and intelligence gathering, he is not at the center of the issues that count — as his Democratic colleague, Sen. Michael Bennet, always seems to be."
The Colorado Senate campaign has been one of the nastiest in the country, with both sides burdening their fair share. Yet, Udall's strategy of distorting Gardner's record on women's issues, as well as putting those issues center-stage, has led many pundits to question whether that typical Democratic attack line has lost its appeal. To be sure, to the Denver Post Editorial Board, it is a strategy that centers on attacks that are not only unwarranted but also petty considering the challenges we are currently facing as a nation.
"Rather than run on his record, Udall's campaign has devoted a shocking amount of energy and money trying to convince voters that Gardner seeks to outlaw birth control despite the congressman's call for over-the-counter sales of contraceptives," it added. "Udall is trying to frighten voters rather than inspire them with a hopeful vision. His obnoxious one-issue campaign is an insult to those he seeks to convince."
Though the Denver Post Editorial Board made clear that they disagree with Rep. Gardner on same-sex marriage and abortion, they viewed the former as irrelevant and the latter as overblown. They elevated Gardner's ideas on tax reform, energy, and economic policy above social issues as issues of greater importance, which they note "are critical to the nation's economic health and a long-awaited boost for middle-class incomes."
But ultimately, the Post felt there was too much at stake to allow the status quo to continue and, though they'd "be remiss in not giving credit to Udall" on a host of issues, "it's time for a change."
"Many Coloradans are no doubt sick of the overload of negative ads that have assaulted them from both sides, painting Gardner as an extremist and Udall as a mindless vote for the president's policies. Neither portrait is fair. But in their irritation with the campaigns, voters should not lose sight of the fact that a great deal is at stake. A dysfunctional Congress calls for action when voters have an attractive option to the gridlocked status quo. And in Colorado, thankfully, they do in Cory Gardner."
Perhaps the Denver Post senses which way the wind is blowing in the Centennial State, or perhaps they are breaking with the Democratic candidate for the same reason Leon Panetta and other Democrats are openly criticising the president's failures — they're truly concerned. Nevertheless, the dynamics of the Colorado Senate race have changed dramatically since the National Journal released a May article entitled, "Colorado's Forgotten Senate Race."
As of now, Rep. Cory Gardner is slightly favored to defeat incumbent Sen. Mark Udall in Nov., and with a 56 percent statistical advantage on PPD's 2014 Senate Map Predictions model, the race is currently rated "Leans Republican."