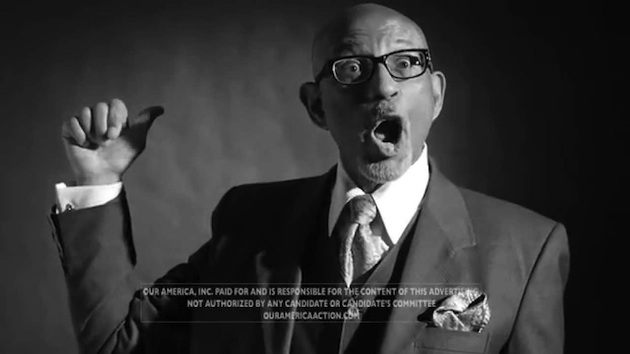 In a new hard-hitting ad targeting black voters in North Carolina, Elbert Guillory hammers vulnerable Democratic incumbent Senator Kay Hagan. In the extended 1-minute ad dubbed "Send Hagan Home" produced by Our American PAC, Guillory says "Democrats have created the allusion that they are the salvation of the black community."
"But who among us have they saved?" he said. "In North Carolina, the poverty rate for blacks has risen to 34 percent."
Guillory, a black Louisiana State Senator and former Democrat, captured national headlines during the summer of 2013 with a viral YouTube video Why I Am a Republican. He announced in August that he would serve as honorary chairman of the Free At Last PAC, a political action group established "as an effort to support black Republicans who run for federal office and also to educate black Americans about the values of the Republican Party."
Louisiana Democratic Sen. Mary Landrieu was also the target of an ad featuring Guillory, which topped PPD's list of best political ads of 2014. Now, armed with the same brutally honest rhetoric, Guillory set his sights on Kay Hagan.
"You see, black people are just being used by limousine liberals who have become our new overseers," he says in the ad. "We've only traded one plantation for another."
"You are not Kay Hagan's cause, and you are certainly not her charity," Guillory said. "You are just a vote."
Guillory used a similar line to hammer Landrieu on her record with black voters, but this time, he left out "nothing more, nothing less" for another damning line.
"She has stepped your backs on her way to fame and fortune, and left you behind on food stamps, deprived of the American dream," he said. "Fifty years of this so-called 'Great Society' has nearly destroyed the black community. But now we have a chance to return the favor."
Hagan and other vulnerable Democrats across the country are relying on a strong black vote to salvage their Senate majority. But they have had a difficult time balancing between those efforts and efforts to distance themselves from President Obama. Too harsh of criticism could easily result in turning off black voters. However, in the latest ad, Guillory offers the black community another option.
"It has come time to send Kay Hagan home."