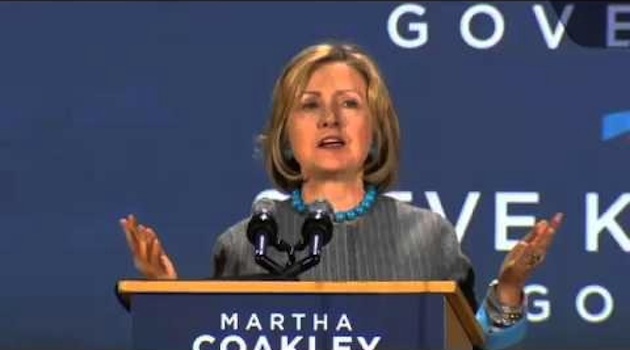 https://www.youtube.com/watch?v=r12OhGGhOSU
Hillary Clinton currently leads her closest fellow-Democrat Vice President Joe Biden by a whopping 52 percent, 63.4 – 11.4 percent, in 2016 Democratic nomination polls. If you speak to any number of D.C. Democrats, then it quickly becomes clear that — to them — her ascension to the presidency is a foregone conclusion. However, for those of us who fixate on political prognostication for a living, there are a number of reasons to have serious doubts about her certain electoral success.
First, right around this point in 2007, a little-known junior senator from Illinois began polling just above "–" in a crowded Democratic nomination field, in which Hillary was presumed the frontrunner.
We all know the rest of the story.
Now, early in the presumed 2016 cycle, and Mrs. Clinton has already made a number of verbal mishaps.
"Don't let anybody tell you that its corporations and businesses that create jobs," Clinton said at a campaign event for Martha Coakley, the Democratic gubernatorial nominee for governor Massachusetts. "You know that old theory, trickle-down economics. That has been tried, that has failed."
This is not a small gaffe.
"It will be played again and again. It's a signal to Democrats," Charles Krauthammer said Monday night. "I mean, if you can't make the elementary liberal argument about the role of government without having this ridiculous statement that jobs are not created by corporations, then you are not going to be a good candidate as she showed in 08."
The sad performance she put on attempting to sound poor also underscores Clinton's unpredictable ability to sound cold, while trying to seem like she "feels" our pain, a gift her husband most certainly had. On her book tour, she complained her and Bill were poor when they left the White House because they were struggling to pay their "mortgages."
"She is a person who said in the White House we were dead broke. We had trouble paying the mortgages on our houses. If you are going to plead poverty, you don't refer to your homes in the plural," Krauthammer added. "That's pretty elementary. She is not getting the elementary stuff."
In her statement, which her and supporters vigorously rushed to defend, Hillary was attempted to criticize the economic policies of President Reagan, policies many contend built an economy her husband simply enjoyed during his tenure. She went on to say, "One of the things my husband says when people ask him what he brought to Washington, he says I brought arithmetic."
Speaking of arithmetic, I am been doing some myself, and it points to a simple conclusion: Americans never really liked Hillary Clinton until her husband cheated on her. And the more they get to know her, the less they like her, again.
According to a June Gallup poll, 54 percent of Americans have a favorable opinion of Clinton, down from 59 percent in February and the lowest measured since she conceded the nomination to Obama. Those figures are lower than when she served as President Barack Obama's secretary of state, when she averaged a favorability rating of 64 percent.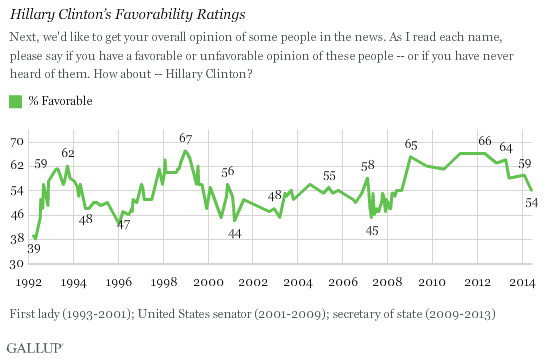 The Gallup poll has actually been much more favorable to Mrs. Clinton, as an Economist/YouGov poll recently found her slightly underwater. The poll was conducted over the summer during chatter about the Benghazi hearings. The issue is laughed at by the Left, but the data show it is no joking matter to the American people, in total. We have previously examined the question of whether Benghazi will hurt Hillary Clinton in a general election and, not surprisingly, it poses a serious problem.
Nearly 6 in 10 voters blame Hillary for the terrorist attack, and more believe the "cover up" should be investigated further. Of course, Republicans have a keen sense of how to overdue political pursuits, but one thing is still certain.
Democrats appear to love her and, even in the unlikely event she walks through the nomination, they are still overestimating her electability in a general election.