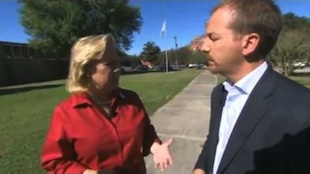 http://youtu.be/uwz-neNZd_I
The DSCC will be completely withdrawing their support for Democrat incumbent Senator Mary Landrieu as she heads into her runoff election on December 6. Sources close to the Landrieu campaign say the DSCC are not only pulling ads from the state, but support altogether.
A source close to the Landrieu inner-circle received a call from the Democratic powers-that-be earlier today to let her know that they will not be "wasting their 2016 money on a long-shot." Landrieu failed to receive 50 percent of the vote in the state's jungle primary, and even underperformed the polling that suggested she would run a least a few points ahead of her Republican challenger Rep. Bill Cassidy.
"We all king of saw this coming," the official said. "We've been waiting for this call since it became clear she couldn't top 42 percent. Now, they just want the Senate back in 2016 when the map is better for us."
The committee canceled buys planned from Monday through December 6 in the Lafayette, Baton Rouge and New Orleans markets, which would be desperately needed if she was going to mount a serious defense via black voters. However, according to the official, they know she simply doesn't have the white support she needs, no matter how many black voters go to the polls.
Rob Maness, a veteran and tea party candidate, served as a lifeline for Landrieu throughout the cycle. However, as the cycle began to come to a close, it became clear that his support had fallen, leaving Cassidy roughly tied to the three-term senator.
Landrieu made headlines days before the election claiming that the state of Louisiana, which reelected her not once but twice, was rejecting her reelection bid in 2014 because they were racist and sexist.
"Let me be very, very honest with you," said Landrieu. "The South has not always been the friendliest place for African-Americans. It's been a difficult time for the president to present himself in a very positive light as a leader."
The comment was widely denounced by Republicans, and widely seen by political prognosticators as a desperate attempt to increase black voter turnout. But she didn't stop there, claiming women were treated unfairly in the state, as well.
"It has not always been a good place for women, to be able to present ourselves," she added. It's more of a conservative place. So we've had to work a little bit harder on that. But, you know, the people trust me, I believe. Really, they do."
Louisiana Gov. Bobby Jindal blasted Landrieu's comments as desperate and out of touch.
"She appears to be living in a different century. Implied in her comments is the clear suggestion that President Obama and his policies are unpopular in Louisiana because of his ethnicity," said Jindal. "That is a major insult by Senator Landrieu to the people of Louisiana, and I flatly reject it."
Sensing a race that is a complete lost cause, the DSCC is apparently telling donors and financial advisors to go ahead and put a fork in her, because she is done.