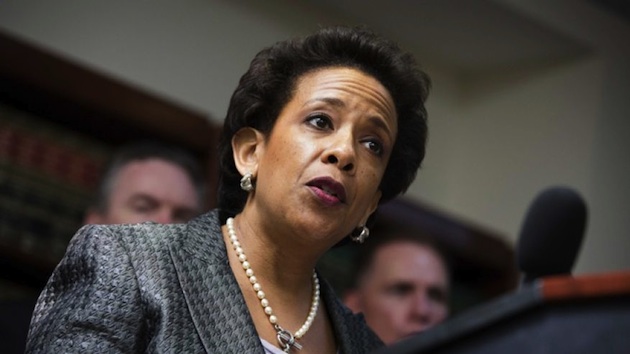 WASHINGTON – President Obama has chosen Loretta Lynch, the U.S. attorney in Brooklyn, N.Y., as his nominee to replace outgoing Attorney General Eric Holder. The decision sets up a potential nomination debate during the lame-duck session before the newly-elected Republican majority assumes power in the U.S. Senate.
Naturally, Republicans wanted the president to wait to nominate and the Senate to wait to consider any successor until the new Congress is seated, but the president plans to announce his pick on Saturday.
"Ms. Lynch is a strong, independent prosecutor who has twice led one of the most important U.S. Attorney's offices in the country," White House Press Secretary Josh Earnest said in a statement. "She will succeed Eric Holder, whose tenure has been marked by historic gains in the areas of criminal justice reform and civil rights enforcement."
Lynch, 55, is a Harvard Law School graduate and prosecutor serving her second tenure as U.S. attorney for Brooklyn, Queens, Staten Island and Long Island. She was appointed by Obama in 2010. If confirmed to fill Holder's post, she would be the first black female attorney general.
Senate Minority Leader Mitch McConnell (R-KY), the presumptive new majority leader in the Senate next session, issued a statement Friday night urging the Senate to wait until January to vote on the nomination.
"Ms. Lynch will receive fair consideration by the Senate," he said. "And her nomination should be considered in the new Congress through regular order."
Iowa Republican Sen. Chuck Grassley , who currently serves as the ranking member of the Senate Judiciary Committee, which must approve Obama's nominee, struck a welcoming tone in his comments Friday night.
"Being selected to serve as our nation's top law enforcement officer is both a tremendous honor and responsibility. As we move forward with the confirmation process, I have every confidence that Ms. Lynch will receive a very fair, but thorough, vetting by the Judiciary Committee," he said in a statement."I look forward to learning more about her, how she will interact with Congress, and how she proposes to lead the department."
While Lynch doesn't have a strong connection to President Obama, she does however have a long history with current Attorney General Eric Holder, the single-most political and controversial figure ever to serve in the post. She served on his Attorney General's Advisory Committee of U.S. Attorneys (AGAC), a 20-member body that provides counsel to Holder on policy.
Texas Sen. Ted Cruz, who also sits on the Judiciary Committee, has indicated that he is unhappy Obama is making the nomination now, instead of during the new session, when Republicans will have the majority in both chambers.
Democrat senators who just lost their seats shouldn't confirm new Attorney General. Should be vetted by new Congress http://t.co/y8Rplz3tpd

— Senator Ted Cruz (@SenTedCruz) November 7, 2014
Lynch grew up in Durham, North Carolina, the middle of three children. Her mother was a school librarian, her father a Baptist minister.
After Harvard, Lynch served as a federal prosecutor in New York's Eastern District, receiving several key promotions over eight years until President Clinton nominated her as U.S. Attorney in 1998. After leaving that office in 2001, Lynch went into private practice specializing in commercial litigation, white collar criminal defense and corporate compliance issues before Obama appointed her in 2010 to return to her current post.