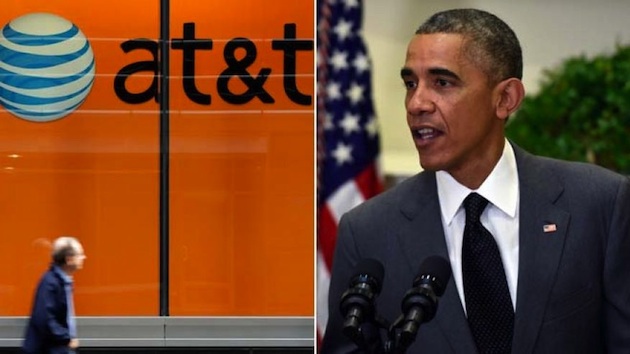 President Obama said Monday that Internet service providers should be regulated as public utilities, declaring they shouldn't be allowed to cut deals with online services like YouTube to move their content faster. Shares of major Internet service providers Comcast Corp (NASDAQ:CMCSA) and Time Warner Cable Inc (NYSE:TWC) tanked after the announcement.
The president, who has been pushing the social justice "net neutrality" argument on the Internet for years, said federal regulators should reclassify the Internet as a public utility under Title II of the 1934 Communications Act.
"For almost a century, our law has recognized that companies who connect you to the world have special obligations not to exploit the monopoly they enjoy over access in and out of your home or business," Obama said in his statement. "That is why a phone call from a customer of one phone company can reliably reach a customer of a different one, and why you will not be penalized solely for calling someone who is using another provider. It is common sense that the same philosophy should guide any service that is based on the transmission of information — whether a phone call, or a packet of data."
Time Warner Cable shares were down 7 percent before closing out down 5 percent, while Comcast closed down 4 percent. The announcement drew harsh criticism from both companies and lawmakers, alike.
"We are stunned the president would abandon the longstanding, bipartisan policy of lightly regulating the Internet and calling for extreme" regulation, said Michael Powell, president and CEO of the National Cable and Telecommunications Association.
This "tectonic shift in national policy, should it be adopted, would create devastating results," Powell said, stating that "only Congress should make a policy change of this magnitude." It is certainly true that others have made similar claims, including the former head of the FCC.
"By classifying broadband access services as 'interstate telecommunications services,' those services would suddenly become required to pay FCC fees," former FCC commissioner Harold Furchgott-Roth explained. "At the current 16.1 percent fee structure, it would be perhaps the largest, one-time tax increase on the Internet."
CTIA-The Wireless Association called Obama's rule a "gross overreaction" that would ignore other facts in a much larger issue. But The Club For Growth came out strongly against the rule following the announcement, stating what is perhaps the most obvious objection to giving the administration the power to regulate another intimidate area of Americans' lives.
"The IRS is corrupt, ObamaCare is a disaster and its website was laughably terrible, the debt goes up year after year, and we're supposed to trust the government to regulate the Internet?" said Club for Growth President Chris Chocola. "Private Internet providers already compete with each other to provide broadband access to millions of Americans, and limiting their ability to sell their products how they see fit will stifle innovation and competition, not encourage it. The Internet is not broken, and there is no need for a team of government bureaucrats to come in and fix it."
In January, Verizon was victorious in federal court after they challenged the Obama administration's previous FCC rule set, which allowed "commercially reasonable" restrictions of traffic. While the court did affirm regulation of broadband, they said the FCC mission creep was evident, particularly regarding the arbitrary treatment of ISPs.
"Reclassification — which for the first time would apply 1930s-era utility regulation to the Internet — would be a radical reversal of course," Verizon Communications Inc (NYSE:VZ) said in a statement. They also said the "gratuitous" maneuver would not stand up in court, and they intend to prove it.
"The president's call would turn the Internet into a government-regulated utility and stifle our nation's dynamic and robust Internet sector with rules written nearly 80 years ago for plain old telephone service," said Sen. John Thune (R-SD), the Republican expected to lead the Senate Commerce Committee in the new Congress.
AT&T (NYSE:T) and ISPs have said they would participate in another legal challenge with Verizon, as well.
"Net neutrality is ObamaCare for the Internet," said Sen. Ted Cruz (R-TX). "It puts the government in charge of determining Internet pricing, terms of service, and what types of products and services can be delivered."
Most know the president will likely veto any legislative measure from the Congress, but industry allies cite harsher FCC oversight as a possibility to fight back against the overreach.
"All this administration does well is mission creep," said one Time Warner executive. "It is never about consumer protection, it is always about consumer control."
Meanwhile, FCC Chairman Tom Wheeler has said he is open to a "hybrid" ruling, which would encompass both Title II and the 1996 Telecommunications Act. However, Wheeler admitted these pose "substantive legal questions."
"We found we would need more time to examine these to ensure that whatever approach is taken, it can withstand any legal challenges it may face," he said.