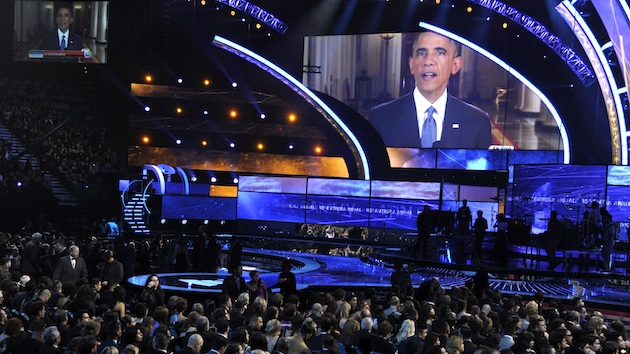 I am a data guy, an editor and senior political analyst of an Internet news outlet that boasts the most accurate election projection model of 2014. Because my role requires readers trust that my projections are a result of impartial analysis, I typically refrain from writing opinion or offering excessive commentary.
However, today I am breaking my own rule, and joining an expanding list of number-crunchers, who have offered their own take on the president's recent decision to sign an executive order contrary to current immigration law. While I am a data guy, I am also a liberty-loving American, an admirer and defender of the rule of law that once took precedent in the decision-making processes of our nation's great statesmen of yesteryear. I am a truth-seeker, who — in the event I am privileged to stumble across it — feels compelled to share it with my fellow-Americans of all colors.
Introspection has led me to believe on more than one occasion that I chase and digest data because, unless it has been blatantly tainted, it can be trusted to tell me the truth. Unfortunately, the same can no longer be said of the media fourth estate, who have completely abdicated their once-solemn responsibility to the public to act as a watchdog to those in power. Perhaps, if they weren't too busy faking public opinion polls, spinning or ignoring stories and generally covering for their big government masters, they would tell you what the data are telling me.
Data trends don't lie, but President Barack Obama does, a lot.
Despite Obama's claim he cares so deeply for "undocumented workers" that he felt compelled to reverse his stance on the legality of his executive decree, without offering so much as an explanation to the American public, the factual record and data suggest he doesn't give a damn about Hispanics.
Undocumented workers of all races are nothing more than a vote to President Obama and the Democrats — no more, no less.
In 2006, then-Sen. Barack Obama sat in the Oval Office and pledged his support and his vote to President George W. Bush on comprehensive immigration reform. The day the vote went down in the Senate, the jaws in the White House dropped when news arrived that it was idealistic Illinois Sen. Barack Obama who cast the deciding vote against the bill. Obama's 24-hour evolution back in 2006 is largely seen as a cave to the unions. But there is more to it than that.
Fast-forward to 2014. The midterm election results were historic and significant, as was the Democrats' response to them. In Top Midterm Myth: Low Turnout Doomed Democrats, I recently demonstrated that the low turnout argument is both wrong, and a distraction from the real significance of the 2014 election results. My historical and data-based argument answers all of the questions posed by the president's critics in recent days.
"If he felt so strongly about this, then why did he wait until after the election?" Charles Krauthammer asked shortly after Obama's speech. "Why, if he felt so strongly, if Scripture dictates it, didn't he do this before the 2012 election, his own election? Why did he do nothing in 2009 and 2010 when he had the White House, the Democrats had a supermajority in the House and a filibuster-proof majority in the Senate, when he could have done this constitutionally?"
The answer is simple. Democrats have come to two conclusions.
First, Republican inroads among Northern and Midwestern white voters represents the finality of a long-observed trend line that suggests it is likely they are not coming back to the Democratic Party. They believe these voters are gone for at least the short-term and, even if their nominee and candidates were to move back to the middle, it would only serve to discourage their base (see Hillary Rodham Clinton's declared support of Obama's presidential edict).
Further, Democratic strategists are increasingly fearful that the nearly monolithic black coalition, as well as the 2 to 1 support they enjoyed among Hispanic voters, were an "Obama electorate" phenomena. They believe it is unlikely to be repeated by their 2016 nominee and candidates. The significant Republican inroads among minorities in Florida, Nevada, Colorado, Georgia, Virginia, among others in 2014, has further exacerbated that fear.
While 2012 Republican nominee Mitt Romney and other GOP candidates overwhelmingly won white voters in 2012, the margin was a result of a disproportionate concentration of support in the South and, to a lesser extent, Appalachia. Even if Romney won 40 percent of the Hispanic vote nationwide — mirroring George W. Bush's performance in 2004 — he still would have lost. Only in the state of Florida did the Hispanic vote truly make an election-swaying influence, a disheartening reality considering Gov. Rick Scott's increased support among Hispanic Floridians.
In fact, in my recent aforementioned article, I explain that if Mitt Romney won the same margins demographically that Republican candidates won in 2014, then President Obama would have comfortably lost the 2012 election. Previous polling and pre-2014 election research conducted by PPD suggested just that.
Romney didn't lose because of his poor showing among Hispanics — in fact, he could have won 70 percent of Hispanic voters and still would've lost — but rather he simply did not perform strong enough among Northern and Midwestern whites, a bloc George W. Bush dominated in 2004.
In 2014, Republican candidates, in Colorado and Iowa for instance, not only dominated among these whites once again, but also outperformed Romney among the only group of rural white voters Democrats have stubbornly continued to appeal to — low-income rural whites without a college degree.
And it scared the hell out of Democrats.
While eavesdropping on what Democrats thought was a private conference call following their devastating defeat, during which Minority Leader Nancy Pelosi (D-CA) argued why members should keep her as leader, several times she and other Democratic leaders acknowledged the fact they needed to "find new voters" and, not once but twice, "immigration" was used in the same breath.
From the corrupt 19th century Tammany Hall political machine to modern-day manufactured border crises, the Democratic Party has always sought to exploit what they hoped would be a permanent underclass, which they create and systematically subjugate. It is their true reasoning behind their opposition to school choice, an issue data overwhelmingly show to be an effective anti-poverty policy and a path for minorities to climb the social-status ladder. And, just as I've argued prior, it is also the true reasoning behind their opposition to passing a border security bill first.
Political coalitions in American politics are nothing if not temporary, and the history of Democratic Party coalitions tells a story of one underclass from another abandoning their message of grievance as they have socially and politically matured over generations. In 2008, black voters began to show signs of political and social maturation before the radical leftwing of the Democratic Party derailed Hillary Clinton for a junior senator, a historic figure who would reign in large numbers of black voters who strayed from the coalition in 2004, and they are in search of new underclass now strictly as a means of political survival.
That's why the all-but-certain 2016 presidential hopeful Hillary Clinton released a rare statement in support of the president's immigration action — she won't be railroaded, again — and why it was taken in the first place.
"So, to everyone who voted, I want you to know that I hear you," the president said at a press conference the day after Election Day. "To the two-thirds of voters who chose not to participate in the process yesterday, I hear you, too."
Don't let the president fool you. He heard the American voters, alright — all of the voters — bet on it. That's why he and Democrats know they need to "find new voters" in the short- and long-term. This is the prelude to amnesty and its sole purpose — politics — pure and simple.