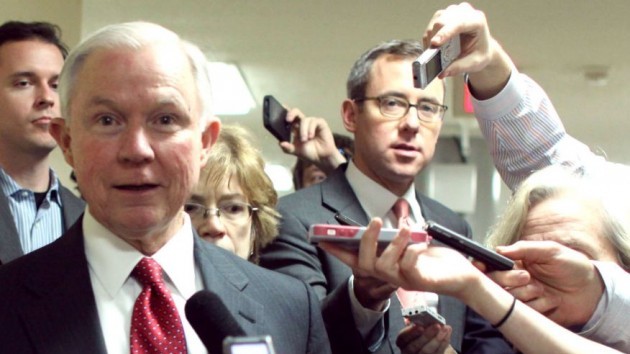 WASHINGTON – The Senate will have a rare Saturday session after negotiations to pass a $1.1 trillion bill to fund the government Friday night progressed. However, lawmakers failed to hatch out a deal after two Republican senators demanded the bill be stripped of money that could be used to implement President Obama's new immigration policy.
While Senate Republican leadership pledged to fight Obama's executive action on immigration next year — when they take control of the upper chamber — but after the spectacle in the House of Representatives, Sen. Ted Cruz (R-TX) doesn't trust them to keep their pledge.
"We will learn soon enough if those statements are genuine and sincere," Cruz said of presumptive Majority Leader Mitch McConnell and House Speaker John Boehner (R-OH).
Regardless, leadership in both parties contend the bill remains on track for a Monday vote after a nearly-empty House passed a second stopgap measure Friday afternoon, buying the Senate additional time to discuss and vote on a $1.1 trillion government-wide spending bill.
However, it is a potentially unneeded measure, as Senate leaders say they are hopeful the CRomnibus — as it has been dubbed — House budget bill can be resurrected. Speaker Boehner and President Obama corralled enough votes to overcome an outright Democrat rebellion by a slim 219 – 206 vote margin in the House of Representatives Thursday, leading to "Fallout Friday." Both liberal Democrats and conservatives are outraged that Obama and Boehner twisted members' arms together to get a less-than-palatable bill through.
"These leaders betrayed their campaign promises as well as their oaths to support and defend the Constitution," Ken Cuccinelli, President of Senate Conservatives Fund said in an email to PPD. "Now, they must be held accountable."
Conservatives wanted to force a short-term continuing resolution so that the fight could again be waged with a far larger Republican majority in the House and new majority in the Senate. Now, the current plan would fund the government through September 2015, but immigration services would only be funded through late February.
The Saturday Senate session will also address President Obama's nominees, which Sen. Ted Cruz and others wanted to hold up until the immigration order was defunded.