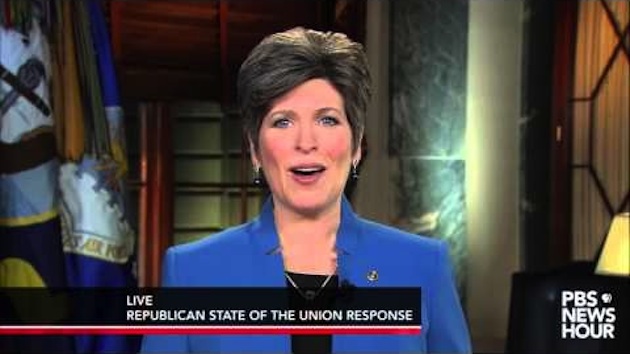 Freshman Sen. Joni Ernst of Iowa (R-IA) not only avoided past disasters while delivering the GOP's State of the Union response, but actually earned bipartisan praise. In a speech given after one of the most difficult acts to follow, Ernst talked directly to Americans about the contrasting visions of President Obama and the new Republican majority, as well as her childhood growing up in Iowa and the dysfunction in Washington D.C.
"Tonight, rather than respond to a speech, I'd like to talk about your priorities," Sen. Ernst said. "I'd like to have a conversation about the new Republican Congress you just elected, and how we plan to make Washington focus on your concerns again."
With 7 minutes to deliver a compelling argument, a good SOTU response should simply compare and contrast visions, which Ernst did well. However, it was her attempt (a rather successful one) to humanize the Republican Party that perhaps only Ernst could have done as effectively. She said she was "raised to live simply, not to waste," and that "was a lesson my mother taught me every rainy morning" when she would put a bread bag over her only pair of shoes to keep them dry.
"But I was never embarrassed," Ernst said. "Because the school bus would be filled with rows and rows of young Iowans with bread bags slipped over their feet."
The story drew a clear contrast with the message of waste and excess coming out of Washington, while "many families feel like they're working harder and harder, with less and less to show for it."
"I think tonight a semi-star was born, I think Senator Ernst from Iowa helped put a fresh face on the Republican Party," George Will said immediately following her SOTU response Tuesday night. "I think the president gave a curious speech saying we're all going to get along and I'm going to veto any important thing you send to me."
The president issued no less than four veto threats in his State of the Union speech, but Ernst made clear the Republican Congress will force him to do so on a Keystone (Jobs) pipeline bill, "ideas that aim to cut wasteful spending and balance the budget," and to "repeal and replace a health care law that has hurt so many hardworking Americans."
"Congress is back to work on your behalf, ready to make Washington focus on your concerns again," she said. The Iowan senator even explained how Republicans have brought regular order back to the Senate, which under Harry Reid (D-NV) was nonexistent, and decried it as an important first step to ending Washington dysfunction.
That's a break from the message heard by some in the party, who say the more dysfunction the merrier, because government operates best when it operates less. It's a message even liberals took notice of, and think it's a strong one for Democrats to counter.
"If you look at the polls, the American people — whether it's Republicans, Democrats or independents — believe that Washington dysfunction is actually hurting them," liberal pundit Juan Williams said. "I think she did a great job, but when she was talking about getting Washington to work for the American people again, she knocked it out of the park."