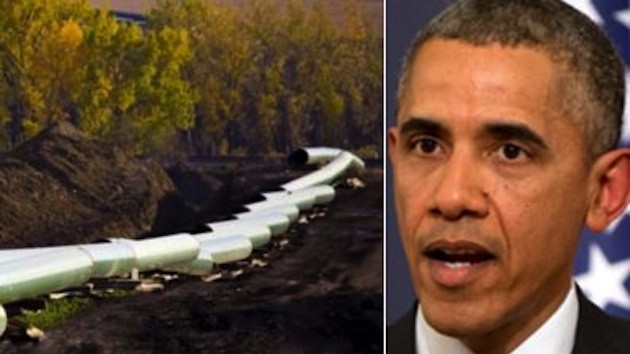 The Republican-controlled Congress voted 270-152 to approve construction of the Keystone XL pipeline, giving President Obama just 10 days to sign or veto the bill. The vote ends weeks of debate on a top priority for Congress after the Republicans took control last month.
The House voted 270-152 on Wednesday to send the bill to the president. While neither chamber currently has enough votes to overcome a veto, 29 Democrats joined Republicans to approve the bill in the House and a growing number of Senate Democrats are urging President Obama to sign the bill.
House Speaker John Boehner, R-Ohio, said the President is "standing with a bunch of left-fringe extremists and anarchists." And according to public polling on the project, he's right.
A recent PPD Poll of 694 registered voters found 69 percent support the pipeline outright, up from 65 percent measured last year. However, 72 percent support its construction when respondents are told of the administration's own findings.
Construction of the Keystone pipeline had been delayed indefinitely despite State Department reviews concluding the environmental impact of not building the pipeline would be worse than if the energy resources were transported via the pipeline.
First proposed in 2008, the Keystone XL pipeline would connect Canada's tar sands to Gulf Coast refineries.
"This project has been awaiting approval for more than 2,300 days. The Nebraska Supreme Court struck down the challenge against it, 58% of Americans said they support it, and a bipartisan majority in both chambers of Congress approved it," Rep. Diane Black, R-Tenn., said on the House floor on Wednesday.