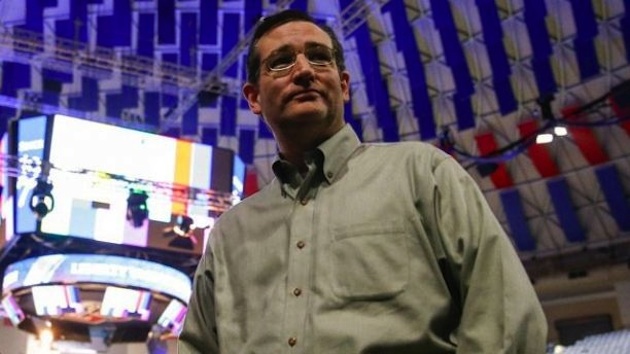 Sen. Ted Cruz, R-TX, became the first Republican to officially announce his 2016 presidential bid, voicing his opposition to a litany of President Obama policies. He promised a roaring crowd Monday to return to a constitutional government by, for, and of the people that will "stand for liberty."
Cruz made the announcement during a speech at Liberty University in Lynchburg, Va, where he touted his campaign's theme of "courageous conservatism." He earlier declared his candidacy via a Twitter post early Monday, becoming the first major candidate to officially declare. Liberty University is not only the largest the Christian university in America, but the world.
"I believe God is not done with America yet," Sen. Cruz said. "I believe in you and the power of millions of courageous conservatives rising up to reignite the promise of America, and that is why today I am announcing that I'm running for president of the United States."
Sen. Cruz noted it was the 240th anniversary of Patrick Henry's "Give Me Liberty Or Give Me Death Speech," as well as the 5th anniversary of ObamaCare, which he vowed to repeal. In fact, the Texas senator vowed to abolish the IRS.
I'm running for President and I hope to earn your support! pic.twitter.com/0UTqaIoytP

— Ted Cruz (@tedcruz) March 23, 2015
The 30-second video accompanying the tweet featured Cruz speaking over a montage of farm fields, city skylines and American landmarks and symbols, calling on "a new generation of courageous conservatives to help make America great again."
"I'm ready to stand with you to lead the fight," Cruz says as the video concludes. Shortly after midnight Monday, the campaign had launched its website.
(UPDATE: Because of the extraordinary amount of ignorance, we are forced to update this article with following information, which addresses the "Birther" issue. We hope these two Justice Department authorities satisfy some of your concerns.)
In recent weeks, and more so following the speech on social media, a question of Cruz's own citizenship arose. Two former Justice Department lawyers said just last week there is no doubt the Canadian-born senator is eligible to run for the White House.
"There is no question that Senator Cruz has been a citizen from birth and is thus a 'natural born Citizen' within the meaning of the Constitution," Neal Katyal, acting solicitor general in the Obama administration, and Paul Clemente, solicitor general in the President George W. Bush administration, wrote in a joint article.
Anti-Cruz "birthers," ignorant of federal law, challenged his citizenship status because he was born in Canada. It was two years ago when Cruz released his birth certificate showing his mother was a U.S. citizen born in Delaware, satisfying the requirements for presidential eligibility as a "natural born citizen."
Last month, Cruz again addressed the citizenship issue during a question-and-answer session with moderator Hannity at the Conservative Political Action Conference. "I was born in Calgary. My mother was an American citizen by birth," Cruz said. "Under federal law, that made me an American citizen by birth. The Constitution requires that you be a natural-born citizen."