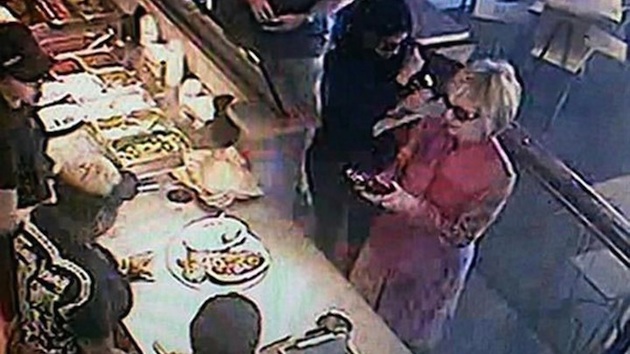 Democratic president candidate Hillary Clinton, sporting dark glasses, headed into a Chipotle restaurant in the battleground state of Ohio Monday — but nobody noticed. The irony of the visit is that — for better or worse — the former secretary of state and first lady has the highest name recognition out of any of the 2016 presidential candidates and even stayed for 45 minutes.
"This truly underscores the difference between Hillary and her husband," says PPD's senior political analyst Richard D. Baris. "Bill would've been serving people food before the end of the visit, which would have lasted for two hours. Instead, secret agent Hillary is reaching out to everyday voters in a battleground state while reading her iPad."
Clinton, seen in the surveillance video footage with aide Huma Abedin, the wife of disgraced congressman Anthony Weiner, ordered the chicken burrito bowl with guacamole at the Mexican-food eatery just outside Toledo. Charles Wright, the Chipotle store manager, said no one recognized Clinton in her dark shades, and he only released the security video of Hillary's nosh stop after he was contacted by journalists at The New York Times.
"She got great food," the manager said. "Everybody loves Chipotle."
Clinton, in an attempt to not recreate the mistakes of 2008, has been trying to appeal to working-class voters as she campaigns for the 2016 Democratic nomination. People did notice her on Sunday when she stopped at a Pennsylvania gas station, where she tweeted an image posing with a a family from Democrat-friendly Michigan.
Road trip! Loaded the van & set off for IA. Met a great family when we stopped this afternoon. Many more to come. -H pic.twitter.com/5Va7zeR8RP

— Hillary Clinton (@HillaryClinton) April 13, 2015
"Road trip!" Hillary tweeted, "Loaded the van & set off for IA."
Meanwhile, according to the Democratic Party Chair Dr. Andy McGuire, Hillary has a lot more work cut out for her when she gets there than conventional wisdom seems to hold.
The latest polling shows voters in the state no longer believe Mrs. Clinton is honest and trustworthy.