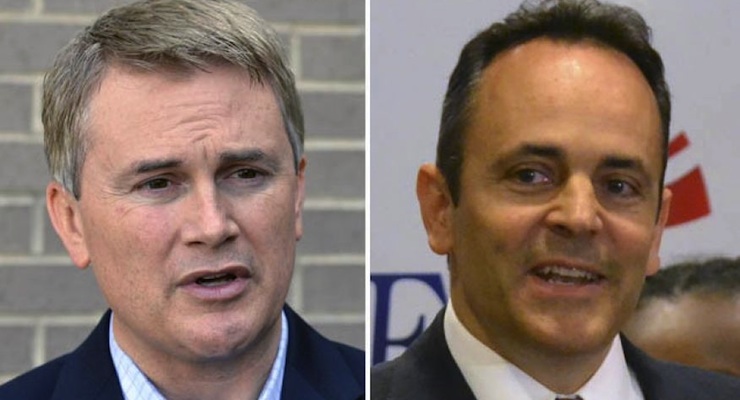 With 100 percent of precincts reporting, Matt Bevin leads James Comer by less than 100 votes in the Kentucky Republican primary for governor, specifically 83 votes. In Kentucky, there are no automatic recounts and no runoff elections, leaving election officials to count ballots from the state's overseas voters, including soldiers, which came in by the 6 p.m. deadline.
Bevin appeared to declare victory on Tuesday night, telling supporters that he had "terrific conversations" with Comer and Heiner. He highlighted his running mate Jenean Hampton, who if elected would become the state's first African-American to hold statewide office.
"We stand before you tonight as a team. We both grew up below the poverty level, but we have both been blessed to live the American dream," Bevin said. "We are Kentucky. We are black, white, male, female, we are Kentucky."
Ben Hartman, Bevin's campaign manager, said they "have a very high confidence that the results as they stand currently will hold."
However, Comer, the state's agriculture commissioner, said late Tuesday that he would ask for a recanvass, which is only allowed if a county clerk or a county board of elections notices a discrepancy or if a candidate makes a written request to the Secretary of State. It is a second review of the vote totals in each county and, according to state law, would take place on May 28.
"This has been a difficult election. We've gone through a lot together in this race," Comer told supporters at the Capital Plaza Hotel in Frankfort. "We overcame so much money, we overcame the bad press with the newspapers in the state. We overcame a lot. And I owe it to our supporters to ask for a recanvass."
Two other Republican candidates, Hal Heiner and Will T. Scott, conceded early in the race when it seemed that Bevin would win an outright victory by a larger margin. But returns from the western counties, including the home county of Sen. Rand Paul, a Republican candidate for president, led to a comeback and tightening of the margins. While a court ordered an extension on the deadline for another 11 days because of a problem with an outside vendor, that extension applies only to 12 specific ballots.
It was a divisive and bitter campaign, with Comer spending the last two weeks denying allegations from Marilyn Thomas, his former college girlfriend, who claimed he emotionally and physically abused her when they were in a relationship at Western Kentucky University more than two decades ago. That left Bevin, who used his name recognition gained during his failed primary bid for U.S. Senate against Majority Leader Mitch McConnell, to raise $5 million.
True to his outsider form, Bevin ran TV ads starring actors depicting themselves as Comer and Heiner, two career politicians, sitting at a table and throwing food at each other like children taking a tantrum.
Yet, there was a good degree of common ground between Bevin and Comer on several major issues, including passing laws to ban companies from forcing its employees to join a labor union and vowing to dismantle the state-run health insurance exchange authorized by the federal Affordable Care Act.
The winner will fact Democratic nominee Jack Conway. Despite the morning media hype, the Bluegrass State has trended deeply red in the last six years. For instance, most pundits — save for the PPD election projection model and Larry Sabato's Crystal Ball — believed that Kentucky Sec. of State Alison Lundergan Grimes had a decent chance of defeating McConnell in the 2014 Senate race. But, as we repeatedly noted, that was always pipe dream and Grimes was defeated by a man with a dismal approval rating by a 14-point margin.
The root of the Democrats' Kentucky problem is largely underscored by the 5th Congressional District, a once-competitive region of the state that is a heavily unionized and historically Democratic coal mining constituency. Since the era of Obama began in 2008, the 5th District has been naturally bailing on the national Democratic Party and bleeding once-loyal Democratic voters. The "War on Coal" may be a sound bite for most media outlets, but it's real life for Kentucky coal miners.
It will once again prove to be a difficult mountain for Conway, no doubt.