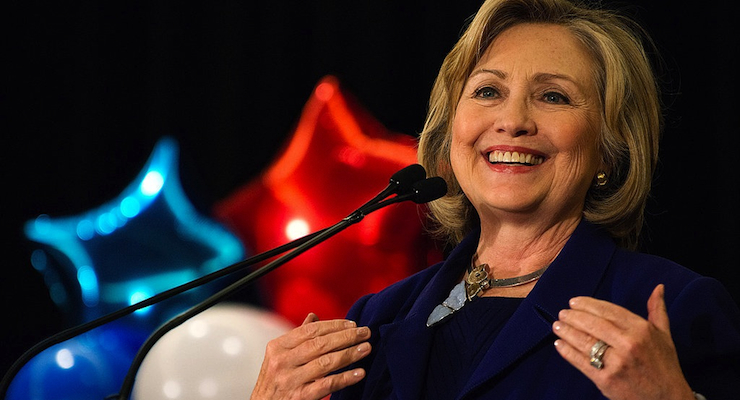 Media Taking Wind Out of Clinton Campaign's Sails
Hillary Clinton officially launched her presidential campaign Friday in an effort to stop the bleeding in the polls, but it didn't satisfy a frustrated media. Growing concerns over honest and trustworthiness, unanswered questions surrounding the Clinton Foundation and deleting of state department emails, as well as Clinton's refusal to weigh in on the big issues of the day all helped to overshadow the candidate's message over the weekend.
"If you distill what people are looking for now in a president, it is somebody who can govern and who thinks about them, and Hillary Clinton made a credible case for that, but they want somebody who is a truth teller," Bob Woodward said on CNN's State of the Union. "And they have got some distance to cover on that. I did books and involved her, one of her little mottos, her personal motto was, 'fake it until you make it,' and that's clever, but you can't fake your way into the presidency."
Woodward's comments echoed previous claims made in reports by National Journal's Ron Fournier, who was one of the first to make public Democrats' very real concerns over Hillary's falling popularity, likability and support among the general electorate.
"Most of this country right now is populist, I think a populist message would be successful," Fournier said. "Her problem is nobody knows what her position is and nobody trusts her to come forward with an authentic message."
Populism is a central tenet in the message voiced by all of the candidates in the crowded GOP field in 2016. And although the campaign and their partisan surrogates frequently tout the former secretary of state's experience, Republicans' choices for criticizing her foreign policy record are numerous. Despite the public comments to the contrary, this is something the Democratic frontrunner and her advisors are keenly aware of, which is why they largely ignored the record during her tenure at state during the rollout speech.
"This was a speech with a lot of domestic policy, as you point out, wrapped around what to do with the middle classes, what to do with wages. But almost nothing specific about foreign policy, which is surprising for a former Secretary of State," said Ryan Lizza of the very-liberal New Yorker. "I think there will be some pressure — maybe not from voters, there is really not a clamoring for talk about foreign policy right now, but certainly from the press. But there are big issues on foreign policy that she needs to clarify… What to do about these free trade agreements, what to do about Iran, the Keystone pipeline, these big issues that she needs to explain her position."
While it has long been obvious that the Clinton camp wants to avoid hot potatoes on foreign policy — such as Russia, the attack on the Benghazi consulate and annex, or even her support for toppling former dictator Muammar Gaddafi — they also don't want to drum up the shady circumstances surrounding the Clinton Foundation and the Keystone pipeline.
The now-infamous iconic imagery of the former first lady and secretary holding a prop reset button with her Russian counterpart in light of Vladimir Putin's aggression — namely seizing control of the strategically vital Crimea, and efforts to depose the Ukrainian government — is a picture the campaign hopes American voters soon forget.
But, attempts by Clinton to rewrite history during the speech didn't go unnoticed.
"It struck me as well that it is not much to brag about in terms of Putin," said Fox News Sunday anchor Chris Wallace. "I think most people are not going to remember her standing up to Putin, but instead giving that red reset button and talking about the Russian Foreign Minister. In terms of being in the situation room, that's an odd thing to cite as an accomplishment."
Wallace's guest earlier in the show, USA Today columnist Susan Page, also weighed in on the challenges Clinton will face on the campaign trail, calling her "aloof, powerful and disconnected."
Further, the presumed frontrunner hasn't uttered a single word on the Trans-Pacific Partnership, one of the top issues for her party's base. Despite an alliance between President Obama and GOP congressional leaders, the House overwhelmingly rejected giving the president the authority on the deal conservatives and liberals alike say will hurt American workers. Primary rival, the self-proclaimed Vermont socialist Sen. Bernie Sanders, has been demanding Clinton maker her position on TPP known to the party's primary voters.
"We're going to win this nomination because we are talking about issues that American families want to hear discussed and want us to deal with," Sanders said Sunday. "For example, we have got to create millions of decent-paying jobs in this country, because real unemployment is close to 11 percent. That means rebuilding our crumbling infrastructure. We've got to raise the minimum wage, we need pay equity for women."
Sanders, who is rising in the polls in early voting states, will assuredly force Clinton to the left, which some in the Clinton camp worry may be too far for a general election. So, they have decided to avoid answering the difficult questions for as long as possible. But scrutiny is building and whether the candidate can afford to continue to remain silent is becoming a growing worry among donors and supporters.
CNN's Jake Tapper ripped into campaign spokeswoman Karen Finney on the Friday broadcast of his show over Hillary's inability to give a straight answer on TPP.
"Isn't this exactly what people hate about politicians?" Tapper flat-out asked. "That they won't take a position because as soon as they take a position they are so fearful of what the response is going to be."
"She was part of this administration," Tapper said to Finney. "This administration supports this trade bill. What I don't understand is why you won't just say we oppose it now. In it's current form we don't support it anymore?"