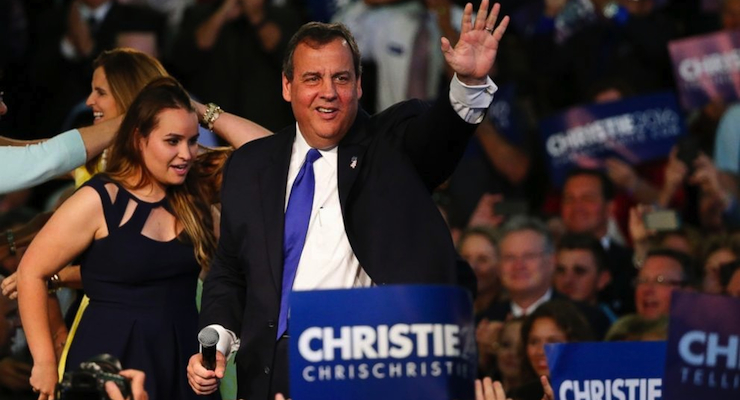 New Jersey Gov. Chris Christie announced his run for the presidency at from a podium at Livingston High School, where he served 3 terms as class president. Standing with his wife and children in front of a jam-packed crowd, the once-considered early frontrunner hoped to use the event to mark a new beginning in his campaign, by charting a new course for the country.
"I mean what I say and I say what I mean, and that's what America needs right now," Christie said during his speech, which he delivered without a teleprompter. He promised to run a campaign "without spin or pandering," and to expect him to start "telling it like it is" — which is the official theme of his campaign — "whether you like it or not, or whether it makes you cringe."
Christie has become the 14th candidate to enter a still-growing Republican nomination field, and he'll have a steep hill to climb. As of now, the New Jersey governor is current polling at just 4 percent in the PPD average of national polls.
Christie had choice words for both Republicans and Democrats.
"Both parties have failed our country," he said, adding both political parties and branches of government "don't talk with each other anymore." Compromise, Christie said, "is now considered a dirty word."
"If Jefferson and Adams didn't believe in compromise we would still be living under the Crown of England," he added.
But Christie, a former U.S. attorney who is serving his second term as governor of the Garden State, suffered as a result of the so-called "Bridgegate" scandal that severely deterioted his national profile. Despite multiple investigations clearing the governor of any wrongdoing, which alleged he ordered lane closures as retaliation against Democrats who refused to endorse his reelection, he has not been able to recover.
A recent Monmouth University Poll found his approval rating at home at an all-time low, down from the high 70s in the aftermath of Hurricane Sandy. He had enormous bipartisan appeal in 2013 and overwhelmingly defeated his Democrat opponent in 2013, carrying Hispanics, whites and nearly 25 percent of the black vote. For months, early polling found him crushing the likely Democrat nominee and former secretary of state Hillary Clinton.
But the liberal media pile on both nationwide and in the Garden State was relentless, spending nearly all of his political capital. As a result, the governor's agenda suffered and, according to his supporters, so did the state. Under Gov. Christie, the state has seen some nine credit downgrades and faces debilitating debt from unfunded pension liabilities, despite him balancing the budget, and his pension reform efforts recently won a major victory at the New Jersey State Supreme Court.
Still, his supporters insist Bridgegate will have little impact on GOP primary voters, noting that he is the only candidate to willing to engage in "straight-talk" with the voters on unsustainable entitlements.
"The issues that other candidates have are much greater than that, when you're talking about what Hillary Clinton has done with the emails and the deals that were made, and money," Geraldine Finnegan, a retired teacher who lives in Manchester, N.J., told RCP. "A traffic jam in New Jersey is nothing new and the governor had nothing to do with it."
Christie, who was born in 1962, is from a working-class family in which his father paid his way through college by working at a Breyers ice cream plant, while his Sicilian mother "set the tone" at home. He brought their stories up in his speech Tuesday, though his mother has passed away.
In 2009, Christie rose to the national scene when he defeated former Gov. John Corzine, the personification of Democrat corruption in the Garden State. In 2013, he was also elected that year as chairman of the Republican Governors Association, succeeding another presidential candidate and governor, Louisiana Gov. Jindal.
[brid video="10524″ player="1929″ title="Telling It Like It Is Chris Christie Presidential Announcement Video"]