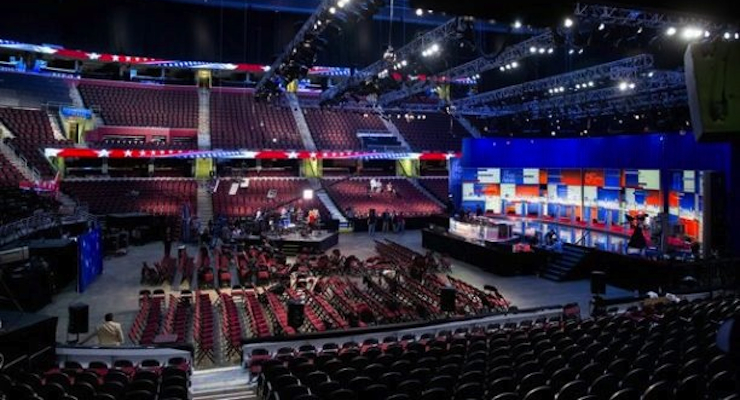 The seven underdog Republican presidential candidates for president took the stage in Cleveland Thursday and slammed President Obama and Hillary Clinton, rather than each other. While the Republican primary underdogs downplayed their relatively low poll numbers, each was clearly seeking a break-out moment in the first of two presidential debates.
As usual, PPD will break it down. Overall, the candidates gave strong or stronger-than-expected performances. Let's begin with the candidate that many believed was unfairly bumped from the final slot by Ohio Gov. John Kasich, who recently enjoyed a typical polling bump following his announcement a few weeks ago.
Former Texas Gov. Rick Perry was under a great deal of pressure not to have another "Oops" moment, and he did not. Fox News debate moderator Bill Hemmer, who made an inappropriate reference to the prime-time debate at 9:00 PM ET in the beginning of the debate that was condescending to the underdogs, immediately asked Perry about his fight with current frontrunner Donald Trump. Perry's answer was strong, choosing to focus mostly on some of the more questionable stances Mr. Trump has taken on the past such as his support for single-payer healthcare.
"How could anyone running for the Republican nomination be for single-payer healthcare," Perry asked. "I ask that with all-do respect, and nobody, nobody on either one of these stages has done more than the state of Texas to deal with securing that border. We send Texas Ranger recon teams, we sent Parks and Recreation teams. I deployed the National Guard. I stood and looked President Obama in the eye and said, 'if you won't secure the border, Texas will.'"
He also took aim at the president's agreement with Iran, which was announced in July.
"The first thing I will do is tear up that agreement with Iran," he said.
Most of the Republican candidates gave strong opening statements, but former Hewlett-Packard CEO Carly Fiorina and former New York Gov. George Pataki gave stand out introductions. Fiorina focused strongly on her rags-to-riches personal story and private-sector experience, while Pataki focused on his electoral and governing successes in the deep blue Empire State.
"When I took office 1 out of 11 man, woman, and children were on welfare," Pataki said when arguing why he doesn't believe Americans are cultural dependent on government. "There were 1,000,000 fewer people on welfare when I left office."
Continuing on the topic of the economy, the candidates offered surprisingly in-depth proposals aimed at getting Americans working again and increasing wages for those already in the workforce. Former Virginia Gov. Jim Gilmore put forward a tax plan he says is modeled off of the Reagan-era tax cuts that led to unprecedented economic growth in the 1980s, which will allow American companies to compete again in the global economy.
"We are going to give a tax cut to every American," Gilmore said, noting that there would be just three — 10, 15, 25 percent — rates for individuals, while corporations would pay a flat 15 percent. "With a few tweaks, we know what would happen. We would have an explosion of economic growth."
Each of their plans stood in stark contrast to the proposals coming from Clinton and the Democratic Party, which seeks to expand government at the expense of higher taxes. Vermont Sen. Bernie Sanders, a self-professed socialist, has refused to rule out a 90 percent tax rate and Clinton recently proposed an economic plan heavily critiqued by economists in the hope to stave off Sanders flanking her on the left.
"Democrats are working hard to turn the American Dream in to the european nightmare," Louisiana Gov. Bobby Jindal said. "At least Bernie Sanders is honest about that he is. Hillary Clinton and Barack Obama are the same, they just try to hide being a socialist."
South Carolina Sen. Lindsey Graham, who appeared nervous at times early in the debate, argued Clinton is too closely tied to the Obama administration's policies to turn the country around.
"She's not gonna repeal ObamaCare and replace it. I will. She's not gonna build the Keystone pipeline. I will," Graham said, bluntly stating he would re-deploy U.S. ground troops to Iraq and also Syria to defeat the Islamic State (ISIS) and stave off Iran's pursuit of regional hegemony. "Anyone who isn't willing to take the fight to them over there has no business being president."
Beltway pundits have increasingly speculated that Graham, despite the backing of the 2008 Republican nominee, Arizona Sen. John McCain, is running solely because he wants to push the party back into a more interventionist platform. Graham boldly and unapologetically repeated talking points to advance what has been referred to as the neoconservative narrative.
"Whatever it takes," Graham said in response to a direct question regarding the War on Terror. "As long as it takes to defeat them."
The 2012 runner-up, former Pennsylvania Sen. Rick Santorum, downplayed his weak standing in the polls and noted that the numbers are not as weak juxtaposed to 2012. Santorum touted his congressional career on issues such as welfare reform, which was vetoed three times by then-President Bill Clinton before he was forced to sign it. Santorum said "it's a one-two punch" to get Americans working again, referring to the need for both economic growth and entitlement reform to reverse the growing dependency problem in the country.
"I would say the message that got us the win in Iowa and ten other states is the message that will deliver us," Santorum said.
Next up is the prime-time debate at 9 p.m. ET, with the 10 top-polling candidates, based on their showing in the last five national polls. Perry almost made the cut, but now leads the second group with an average of 1.8 percent among the latest polls on Real Clear Politics.
Both debates are hosted by Fox News and Facebook in conjunction with the Ohio Republican Party.