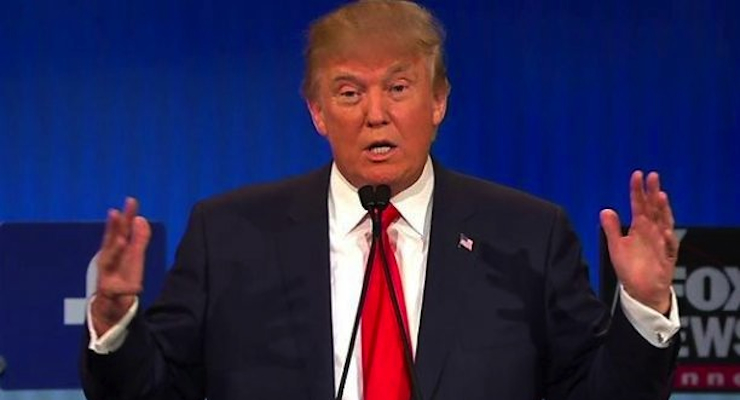 The top 10 Republican presidential candidates met on the stage Thursday for the Fox News debate at the Quicken Loans Arena in Cincinnati, Ohio. While PPD doesn't see a clear winner after the two-hour long event, we can certainly project a clear loser — Fox News — who shafted viewers and voters deserving of and expecting a serious debate on the issues.
Instead, social media was buzzing — or rather, fuming — over the moderators handling of the debate forum, their questions and their obvious tactics. From the "raise-your-hand" stunt by Bret Baier at the open of the debate, to roughly an hour in to the debate when Wisconsin Gov. Scott Walker graciously told the moderators to focus on Hillary Clinton and the issues, it was ploy-after-ploy to take down frontrunner Donald Trump, and set off fireworks. They threw heavily weighted softball questions at Govs. Jeb Bush and John Kasich, and the room was artificially packed with their supporters.
#trump didn't have to call people stupid or leave open independent run. @LLH713: Tonight wasn't a debate it was a witch hunt #gopdebate

— Todd Feinburg (@toddtalk) August 7, 2015
Baier opened the debate asking each candidate to 1) pledge to support the eventual Republican presidential nominee and, 2) not to run as an independent if they are not the nominee. It was a clear attempt to sandbag Trump from the beginning — which lends more credibility to an earlier report claiming donors, Fox News and the Republican Party colluded prior to the debate — and people were on to it.
As if we wouldn't notice. Really, @megynkelly @FoxNews @BretBaier ? https://t.co/n0AgafSI9G

— B.Z. (@bzaz) August 7, 2015
Their headline immediately after the debate, "DEBATE LIGHTNING ROD: Sparks fly among GOP rivals after Trump opens door with 'pledge' refusal," was only outdone by a narration by Megyn Kelly that asked "Who Soared and who faltered?" overlapped by the footage of Trump raising his hand.
And to perfectly finish the evening @megynkelly colludes with DWS to trash the "misogynist" candidates. #GOPDebate

— Carolina Girl #MAGA (@carolinagirl63) August 7, 2015
As if that wasn't obvious enough, notoriously inaccurate pollster Frank Luntz, who also hosted the forum that attempted to trip Trump up on the controversy surrounding Sen. John McCain's war record, brought in one of his notoriously inaccurate, cherry-picked focus groups. They, of course, were alleged Trump supporters now wanting to testify to their sudden disillusion with the billionaire real estate mogul.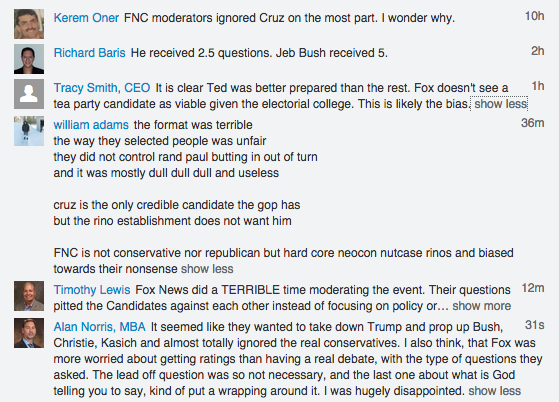 Following the debate, Trump complained specifically about Fox anchor Megyn Kelly's question about derogatory statements Trump has made about "women," largely focused on tweets to and about America-hating comedian socialist actor Rosie O'Donnell.
"I thought it was an unfair question," Trump said. "They didn't ask those questions of everybody else. Those weren't even questions. They were statements. The questions to me were not nice. I didn't think they were appropriate. And I thought Megyn behaved very badly, personally."
https://twitter.com/CzarofFreedom/status/629502892257361922
And if that wasn't bad enough, to make it more obvious, Kelly interviewed DNC Chair Debbie Wasserman Schultz — the women who twice last week could not distinguish between a Democrat and a socialist — and didn't take issue with her calling Trump — and the party at large — a party practicing "misogyny."
#GOPdebate ~ OMG !!! Now @megynkelly seeks approval from Liberal quack–> Debbie Wasserman Schultz??? pic.twitter.com/ZjrbnUUhHk

— Jose (@JoeTheMailman) August 7, 2015
The second-tier candidate debate forum earlier in the evening was hosted by Bill Hemmer and Martha MacCallum, who earned praise from voters and political junkies on social media. In just over an hour of debate, the seven candidates had a substantive discussion that included detailed economic plans, proposals for a Middle East NATO and entitlement reform.
.@marthamaccallum @BillHemmer You two are the REAL @FoxNews stars tonight! #GOPDebate

— Carolina Girl #MAGA (@carolinagirl63) August 7, 2015
According to a snap poll conducted after the debate, nearly 35 percent say Trump won, with Texas Sen. Ted Cruz in a distant second at 15.5 percent. Dr. Ben Carson, who gave strong answers to the limited number of questions he received throughout the night, came in third with 10 percent. When Kelly directed a second question toward Dr. Carson he actually thanked her and said, "I didn't think I was going to get to talk again."