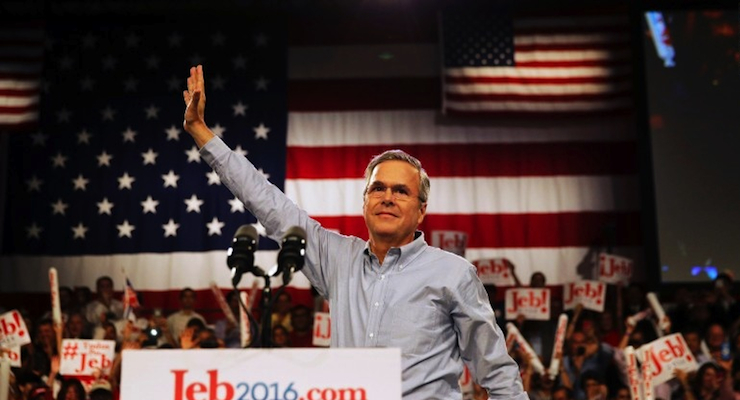 Three major fundraising consultants have left Team Jeb Bush following a persistent and consistent drop in polling numbers over the Trump-dominated summer. Politico named multiple sources in a report claiming Kris Money, Trey McCarley and Debbie Alexander, all voluntarily left the campaign Friday. Campaign spokesman Tim Miller tried to downplay the development in the former Florida governor's campaign.
"Governor Bush has the widest and deepest fundraising operation of any candidate in the field."
To be sure, the Bush campaign and the super-PAC Right to Rise raised a combined $114 million in the first quarter of this year, according to federal records. Bush chose not to declare his candidacy until June 15 in order to take advantage of robust fundraising allowances to PACs that are restricted under law for campaigns. However, unlike fellow-Floridian Marco Rubio, who had an impressively low burn rate of just 19%, Bush's burn rate was a significantly-high 27%. Because the vast majority of the once-presumptive frontrunner's donations came from big, wealthy GOP donors, who are limited as to how much they can give directly to the campaign, any loss in fundraising staff with connection to names in the rolodex is bad news.
Bush will need a large war chest for what most have known to be an upcoming ad bomb in the early voting states to help him stand out in a crowded field he has lost traction against. In July, the former Florida governor was clinging on to a small lead against Wisconsin Gov. Scott Walker, but both have fallen dramatically amid a surge by non-politician candidates, including billionaire real estate mogul Donald Trump, child neurosurgeon Ben Carson and former Hewlitt-Packard CEO Carly Fiorina. The latter three all had debate performances far more noteworthy than Bush, who gave a lackluster performance at best.
According to the Post GOP Debate Poll conducted by Gravis Marketing, which asked voters who won the Republican debate, Dr. Ben Carson edged out Donald Trump 22% – 19%. Only 10% said they believed Jeb Bush won the debate, while nearly as many (7%) said they thought he lost. In the latest Gravis Marketing Poll (PPD Pollster Scorecard Grade: A-), Trump hit the 40% mark while Bush dropped just over 3% to 10%. Carson increased 7 points and moved into second with 13.0, while Fiorina experienced the biggest jump, moving from a previous 12th place, non-main stage debate position, into the top five. Trump, Carson, and Fiorina, accounted for 75.3% of the vote in the latest survey, compared to 68.3% on July 31.
Trump, who has slammed Bush as "low energy," is currently leading the pack in the PPD average of national nomination polls with 26.8% of the vote, with Carson slightly ahead of Bush with 10.8% percent. Behind closed doors donors have begun to express frustration that the governor has not shown enough fire and fight against The Donald, who says he doesn't have the energy to take on the inevitable Democratic nominee or "make America great again." Bush has referred to himself as a "joyful tortoise."