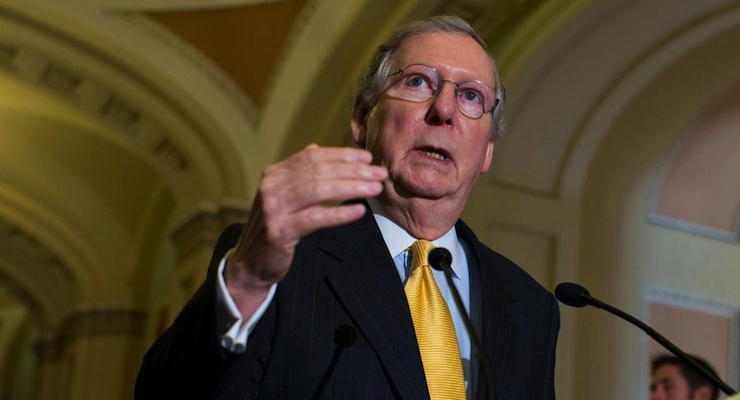 Speaking to a local reporter in Hazard, Kty., Senate Majority Leader Mitch McConnell has capitulated on defunding Planned Parenthood, again refusing to follow through on a promise to Senate Republicans in order to avoid a budget fight with Democrats. The GOP Senate leader once again promised to take further action on fundamental party platform issues and campaign promises if and when a Republican occupies the White House after the next election.
"We just don't have the votes to get the outcome that we'd like," McConnell said. "I would remind all of your viewers: The way you make a law in this country, the Congress has to pass it and the president has to sign it. The president has made it very clear he's not going to sign any bill that includes defunding of Planned Parenthood, so that's another issue that awaits a new president hopefully with a different point of view about Planned Parenthood."
Conservatives, who have been pushing an effort to defund the nation's largest abortion provider following a series of videos exposing PPFA's lucrative trafficking of baby body parts, are predictably furious. On Tuesday, the pro-life Center for Medical Progress released the ninth video in the Planned Parenthood baby parts scandal, in which Perrin Larton, the Procurement Manager at longtime PPFA partner ABR admits that abortion laws threaten their baby body part cash cow.
"McConnell did it again," Senate Conservatives Fund President Ken Cuccinelli said in an email to PPD. "This is exactly the opposite of what Senator McConnell said last year when he was campaigning to be Majority Leader. Then, he promised to use the power of the purse to stop liberal policies."
Cuccinelli said that "McConnell's betrayal goes beyond this one issue. In the past eight months, he has kicked out all three legs of the Republican stool."
Indeed, then-Senate Minority Leader McConnell promised voters in his home state and nationwide he would rip ObamaCare out "root and branch." He further infuriated the fiscal wing of the party when he allowed Senate Democrats to sneak in funding for the Export-Import Bank, much to the surprise of the GOP conference that was ensured it would remain unauthorized. Texas Sen. Ted Cruz, a 2016 presidential candidate, took to the Senate floor in July to say McConnell "looked me in the eye and looked 54 Republicans in the eye" and "flat-out lied" moments after he had lined up a vote to reauthorize funding.
"He betrayed national security conservatives when he broke his promise to defund the president's executive amnesty and gutted the Senate's ability to stop the Iran deal," Cuccinelli said. And now he's betraying social conservatives by refusing to even to try to stop taxpayer funding for Planned Parenthood."
President Obama's negotiated nuclear agreement with the regime in Tehran received the 34th vote needed to ensure approval in Congress after retiring Sen. Barbara Mikulski, D-Md., announced her support on Wednesday. While GOP congressional leaders in D.C. are quietly and privately breathing a sigh of relief–mainly because they are almost certain to avoid a filibuster fight–many lawmakers and pro-Israel activists on both sides of the aisle are furious over the approval of what many believe should have been subject to treaty ratification. Rather than needing 41 votes to approve the deal, President Obama and supporting Democrats would have needed 67 votes in the Senate to ratify the deal.
Though McConnell claims not to have the votes necessary to even wage a half-hearted fight–not counting Sen. Joe Manchin, D-W.V., who opposes funding PPFA–it technically would only take 41 votes in the Senate to block a bill that funds Planned Parenthood. Counting Manchin, conservatives need just 40 Republicans to oppose cloture to defeat the continuing resolution (CR) scheduled for a vote later this month.
"But instead of standing up to the president, McConnell preemptively surrendered," Cuccinelli added, "again."