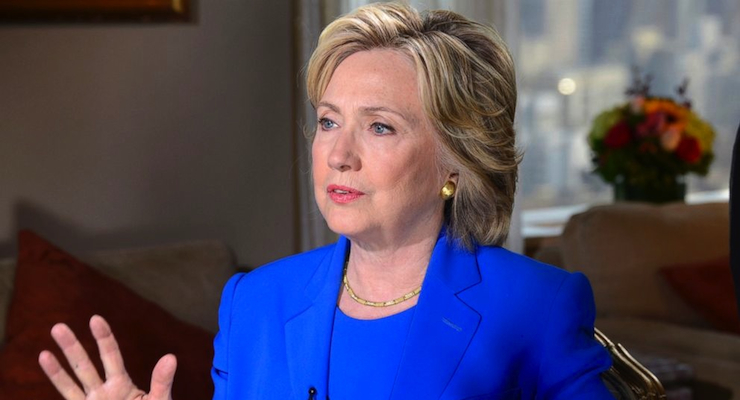 Former secretary of state Hillary Clinton finally apologized for her use of private and public email on a non-secure home-brew server Tuesday, sort of. In an interview with David Muir on ABC World News with David Muir Tuesday, the Democratic frontrunner tried once again to soften her image amid multiple federal investigations, including a criminal probe at the Federal Bureau of Investigation (FBI).
"I do think I could have and should have done a better job answering questions earlier. I really didn't perhaps appreciate the need to do that," Clinton said. "What I had done was allowed, it was above board. But in retrospect, as I look back at it now, even though it was allowed, I should have used two accounts. One for personal, one for work-related emails. That was a mistake. I'm sorry about that. I take responsibility."
The Republican National Committee wasted no time pointing out that the apology was qualified. The former secretary of state avoided answering the paramount questions surrounding Clinton's use of the server, as well as the numerous explanations she has given that have now proven to have been false..
"What's clear is Hillary Clinton regrets that she got caught and is paying a political price, not the fact her secret email server put our national security at risk," the RNC said in a statement. "Hillary Clinton's repeated distortions of her growing email scandal, which now involves an FBI investigation, and her refusal to apologize only reinforce why three-fifths of the country doesn't trust her."
Post-interview criticism has not come exclusively from the right. David Axelrod, former advisor to President Obama, tweeted about a planted puff-piece in The New Times that predictably preceded the interview. Axelrod said it "read more like the Onion," which is a political satire outlet.
.Today's @nytimes story on HRC read more like The Onion: Her detailed plan to show more authenticity and spontaneity. #Justdoit!

— David Axelrod (@davidaxelrod) September 8, 2015
The interview was released as a special intelligence review of two emails that Clinton received on her personal account–including one about North Korea's nuclear weapons program–endorsed a finding by the inspector general for the intelligence agencies that the emails contained highly classified information when Mrs. Clinton received them. In March, Clinton had claimed she never sent or received classified information over the server, but later amended that claim to include material that was "classified at the time."
However, the special review–which was conducted by the Central Intelligence Agency and the National Geospatial-Intelligence Agency–concluded that the emails were 'Top Secret,' the highest classification of government intelligence, when they were sent to Mrs. Clinton in 2009 and 2011.
[brid video="14929″ player="1929″ title="VIDEO Hillary Apologizes for Email Scandal Sort Of… But Not Really"]