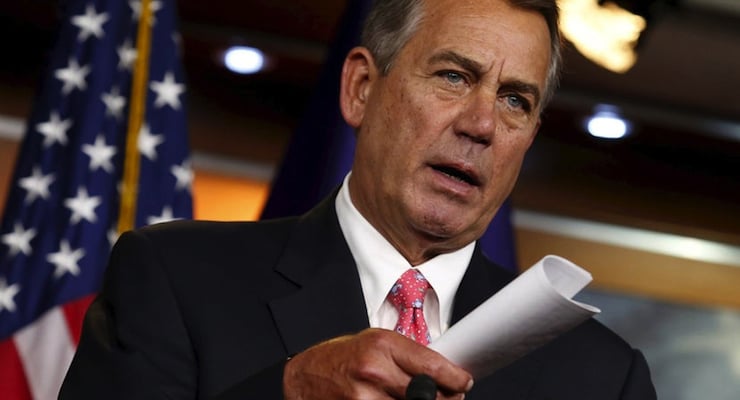 A new fiscal year starts October 1, and this is terrifying news for Republicans in Washington. They're scared that if they don't give Obama everything he wants, they'll get "blamed" when the President vetoes annual spending bills and shuts down the government.
If this sounds like déjà vu all over again, that's for a good reason. There were big shutdown fights during the Clinton years, a near-shutdown fight in 2011, and then another major shutdown fight in 2013, as well as rumors of possible shutdown fights in 2012 and 2014. And Republicans ostensibly were at fault in every case. Now, thanks to big disagreements about whether to renege on the Budget Control Act and/or whether to subsidize Planned Parenthood, it could happen again.
At least if Republicans don't preemptively surrender.
I realize I'm a lone voice crying in the wilderness, but there's a strong case to be made that GOPers should exhibit some backbone and fight for spending restraint even if President Obama decides to pick a shutdown fight.
First, fighting can lead to better policy. During Bill Clinton's presidency, a multi-year period of spending restraint starting in 1995 and ending in the late 1990s paid big dividends. The burden of federal spending dropped from more than 20 percent of GDP to less than 18 percent of economic output, and a big budget deficit became a big budget surplus.
The fiscal fights in recent years (involving not just a shutdown and shutdown threats, but also sequester battles and debt limit conflicts) also led to better fiscal outcomes. There was a de facto spending freeze starting in 2010 and ending in 2014, and the burden of government spending fell during those years, dropping from more than 24 percent of GDP to 20.3 percent of economic output.
Second, it's unclear whether shutdowns actually lead to political blowback. Yes, the polling data seems to show that the GOP gets blamed when there's an actual shutdown in Washington, and they obviously face unified hostility from the media and various interest groups whenever they hold firm.
That being said, there's precious little evidence that they suffer on election day.
Republicans retained control of the House and Senate after their shutdown fight with Bill Clinton, and even picked up two Senate seats in 1996.
The 2013 shutdown fight over Obamacare was followed by a massive GOP landslide in 2014, which rewarded Republicans for opposing Obamacare.
So maybe the lesson is that voters don't really care about shutdowns, particularly if they don't take place close to an election. And I'll pat myself on the back for predicting  – both at the start and the end of the 2013 shutdown – that there wouldn't be any negative political consequences.
That being said, these policy and political arguments apparently aren't very convincing to GOPers on Capitol Hill.
As reported by The Hill, Republican leaders think the possibility of a shutdown fight is a "crisis" to be avoided.
House Republicans will huddle in a pivotal closed-door meeting Wednesday morning as they face mounting pressure to defund Planned Parenthood — including threats to shut down the government. …Boehner and his Senate counterpart, Majority Leader Mitch McConnell (R-Ky.), are in no mood to reprise the shutdown of 2013. They believe another headline-grabbing crisis would severely damage the party at a time when they're trying to show that Republicans can govern and take back the White House.
By the way, this isn't just a fight about Planned Parenthood getting subsidies while selling parts of aborted babies.
Obama also says he'll shut down the government if Republicans don't give him more spending.
Here are some excerpts from a story in the Washington Examiner.
President Obama…called on Republicans to pass his budget when Congress reconvenes next month. He also threatened to veto any budget that did not increase spending. …"And if they don't, they'll shut down the government for the second time in two years," said Obama.
Wow, let's think about what's actually going on. First, the President is reneging onthe deal he agreed to back in 2011, which says something about ethics, character, and honesty. Second, his threatened veto, should it occur, is the only reason there would be a shutdown.
So, why would that be the fault of Republicans?
Even more remarkable, President Obama even claims a shutdown would harm the economy.
President Obama on Thursday warned Congress not to "kill" the growing economy by risking a government shutdown this fall.
He must have a short memory (or no shame) because he made the same Keynesian-based argument that a sequester would hurt the economy. And he was wrong. And he made the same claim about the 2013 shutdown and how it supposedly would hurt the economy. And was wrong then as well.
So, what's the bottom line?
At a minimum, advocates of fiscal responsibility should fight to protect the spending caps. There also should be a natural alliance between libertarians and social conservatives to end Planned Parenthood's handouts.
Simply stated, some fights are worth having.
Though it's important to understand this doesn't guarantee victory. The Wall Street Journal has a sober assessment of the challenge facing the GOP.
…the real GOP problem isn't John Boehner or Mitch McConnell. It's James Madison, who designed a government of checks and balances that is hard to overcome without the White House. …the party simply doesn't have the votes to pass most of its preferred policy outcomes, much less to override a Democratic President.
The editors at the WSJ still think Republicans should fight, but the battlefield should be a separate piece of legislation rather than annual spending bills.
They should still fight and frame the issues to educate the public. They can even use budget reconciliation to send a budget to Mr. Obama's desk with only GOP votes. But the project for the next 14 months should be to achieve what they can within divided government… Another failed government shutdown will make that harder.
I agree and disagree. Yes, not all fights need to be part of the annual appropriations legislation. But unilaterally ceding the fight on the yearly spending bills would be wrong since Obama could successfully impose a higher burden of government spending. I can understand why Obama wants to gut the spending caps. After all, they led to his biggest-ever defeat on fiscal policy. That doesn't mean, though, that the GOP leadership should hand him a victory without a fight.
P.S. There's a humorous fringe benefit to government shutdowns, as you can see by clicking here, here, here, here, and here.