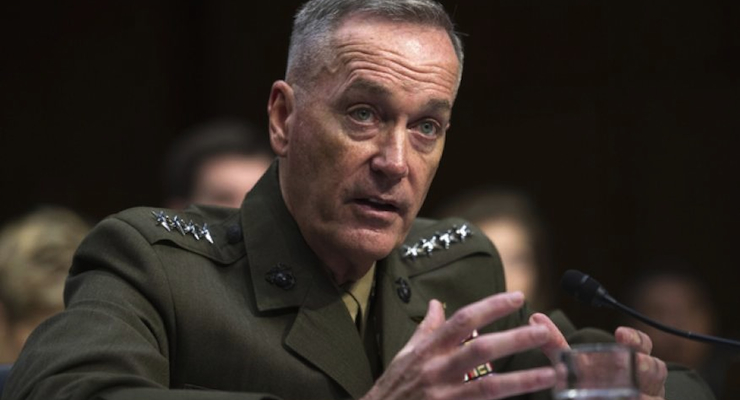 The U.S. Marine Corps will seek a waiver barring women from serving in various front-line combat roles, resisting what has otherwise been a successful PC movement.
The Associated Press, citing U.S. officials who spoke on condition of anonymity because they weren't authorized to discuss the matter publicly, reported Friday that the Corps' decision has put pressure on and tension between Navy and Marine leaders. Now, many members of the military's top brass, as well as a U.S. congressman, are questioning whether Navy Secretary Ray Mabus has the authority to veto the Corps' proposals to prohibit women from serving in certain infantry and reconnaissance positions.
Defense Secretary Ash Carter is reportedly aware of the dispute and will review the Marine Corp plan, but the AP report comes just nine days after the Marines released a study that found that all-male infantry units performed at a higher-level than units with women in them. Worth noting, both the study and the AP report confirm some of the accusations made by military sources to PPD on the issue of women in combat. The study found that the all-male units are more mobile (quicker), are more lethal largely because they fire their weapons more accurately, could carry significantly more weight and suffered fewer injuries than co-op or "gender-integrated" units.
The injuries suffered by female Marines, none of which were able to pass basic infantry training at Parris Island without significantly reducing the physical standards expected of male Marines, included stress fractures that were likely the result of carrying heavy loads (such as weaponry and rucksacks). However, the report did acknowledge that "female Marines have performed superbly in the combat environments of Iraq and Afghanistan and are fully part of the fabric of a combat-hardened Marine Corps after the longest period of continuous combat operations in the Corps' history."
Critics point to a 25-year-old report cited in the study, and have argued the data is outdated. Proponents of the prohibition, however, argue the data is more reliable because it was gathered in an era absent of PC influence.
"Risking the lives of a military unit in combat to provide career opportunities or accommodate the personal desires or interests of an individual, or group of individuals, is more than bad military judgment." the report states. "It is morally wrong."
The debate puts Marine Corps Commandant Gen. Joseph Dunford, who is gearing up to take over as Chairman of the Joint Chiefs of Staff, in a precarious situation. As chairman, Gen. Dunford submitted the waiver request, and now will have to review and pass judgment on it. Further, his branch of service is the only one pushing back on the socially- and politically-motivated movement.
The Army, Navy and Air Force are expected to allow women to serve in all combat jobs and will not ask Carter for any exceptions. They say that Special Operations Command is also likely to allow women to try out for elite units–including the Navy SEALs, Green Berets and Army Rangers–though they say it may be years before women even try to enter those fields.
But Secretary Mabus is also under fire given comments he has made both in the past and Monday. Speaking at the City Club of Cleveland, Mabus said Monday that the Marine Corp study relied on averages, such as the average woman can't carry as much or perform as quickly as a man.
"The other way to look at it is we're not looking for average," said Mabus. "There were women that met this standard, and a lot of the things there that women fell a little short in can be remedied by two things: training and leadership."
However, critics say that has been the military standard for years, and for good reason. The Navy secretary also failed to provide an alternative, let alone argue why targeting the performance of individuals would serve to make a better decision.
"I'm not going to ask for an exemption for the Marines, and it's not going to make them any less fighting effective," Mabus said. "I think they will be a stronger force because a more diverse force is a stronger force. And it will not make them any less lethal."
Mabus' comments, which critics argue is simply not backed by decades of data, angered Rep. Duncan Hunter, R-Calif., who wrote a letter to Defense Secretary Carter urging him to demand Mabus' resignation. Hunter wrote he "openly disrespected the Marine Corps as an institution, and he insulted the competency of Marines by disregarding their professional judgment, their combat experience and their quality of leadership."
Rep. Hunter, who served as a Marine in Iraq and Afghanistan, said Mabus' comments more than suggest he cannot be objective or trusted to lead the Marine Corps. He said Mabus should have no role in any decisions about women in the Marine Corps.
In January 2013, then-Defense Secretary Leon Panetta and Joint Chiefs Chairman Gen. Martin Dempsey signed an order dismantling restrictions on a quarter-million jobs that have for generations been considered inappropriate for women. However, the former Obama administration officials did so before conducting reviews of the physical requirements for these and other combat jobs, which the military now has until January 2016 to complete.