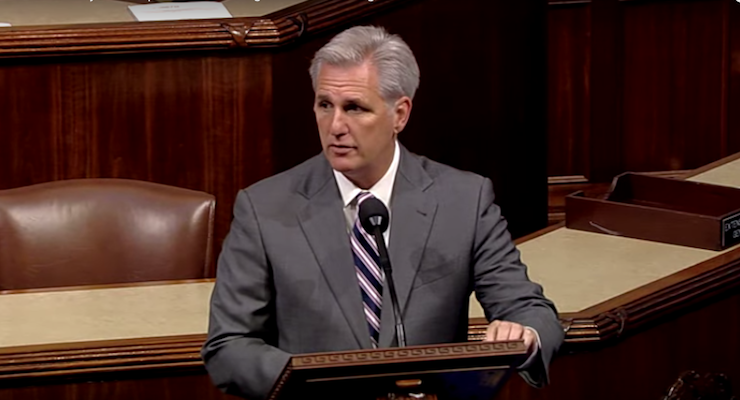 The Republican-controlled House on Friday voted 241-187 to approve a bill to defund Planned Parenthood in response to videos exposing their trafficking of aborted baby body parts. The vote comes just hours after House Majority Leader Kevin McCarthy, R-Calif., urged the Senate GOP leaders to go nuclear to pass the bill and stop the deeply unpopular Iran nuclear agreement.
"I want every member to ask themselves a simple question," McCarthy said on the floor of the House. "In the face of these videos and with all the alternatives women have for health, why would you want to force your constituents to pay for something so evil?"
The vote comes as the tenth and latest video was released by the pro-life group Center for Medical Progress, which featured a top PPFA executive expressing concern that their activities could "destroy" the nation's largest abortion provider if the public became aware. The Senate has not yet to act on the issue, citing not only the opposition from Senate Democrats but veto threat from the White House. "Pounding on the table doesn't turn 54 into 60 in the Senate," said Rep. Tom Cole, R-Okla., referring to the number of GOP senators and the number it would take to end Democratic filibusters.
But McCarthy, who is number two behind the embattled Speaker John Boehner, R-Ohio, and more conservative member of the House say the Senate doesn't need 60 seats or votes. "We have to be able to end Democrats' filibuster, the Senate has to function again," McCarthy said in an interview Friday before the vote. He noted how Senate Democrats used the nuclear option to ram through core issues, even when they were unpopular, but yet Senate GOP leadership won't invoke it to defund baby body part traffickers or to keep Israel and the U.S. safe from a nuclear Iran.
Planned Parenthood gets around $450 million yearly in federal payments and conducts roughly a third of the nearly 1 million abortions that take place in the U.S. each year, or approximately 330,000. The Born Alive Survivors Protection Act, which would impose criminal penalties on doctors who don't attempt to provide life-saving treatment to babies born alive during abortions, cleared the House by a wider 248-177 vote.