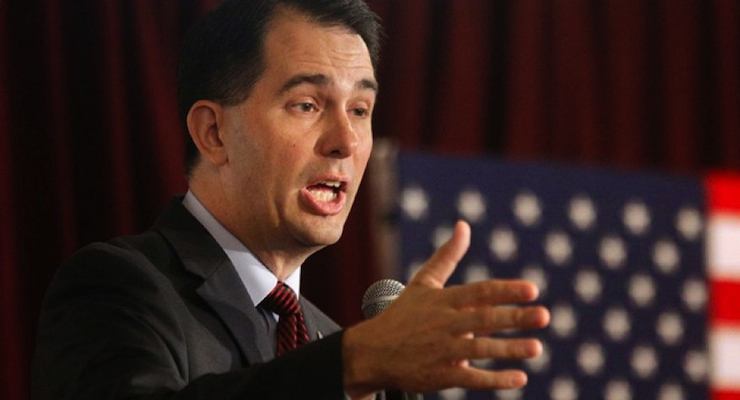 Wisconsin Gov. Scott Walker, once a top candidate in the Republican presidential race, confirmed Monday that he is suspending his campaign. The decision came as a surprise to even Walker's larger donors, as the man who only a few short months back was considered the Iowa caucus frontrunner told supporters earlier Monday he was fighting and laying it all on the line in the Hawkeye State.
Thanks @DanZumbach for the kind words. We're here to fight and win in Iowa! #IAcaucus – SWhttps://t.co/AgZF9QOtCr

— Scott Walker (@ScottWalker) September 21, 2015
Immediately after the decision to suspend the campaign was reported, fellow 2016 candidate Dr. Ben Carson, said Walker was "an outstanding leader with a strong record of fighting for conservative principles."
"I wish him the very best," said Carson, who is currently polling behind frontrunner Donald Trump.
However, the same cannot be said for some of Walker's most staunchest political opponents. AFL-CIO head Richard Trumka released another brief statement, which played off of his unapologetic comments following the governor's announcement.
"Scott Walker is still a disgrace, just no longer national."
Walker needed a big showing and performance going into the second Republican debate hosted by CNN at the Reagan Library, as he began to see his position in the polls precipitate dramatically over the summer, and the campaign struggled to gain traction. PPD's senior political analyst Richard D. Baris issued a stern warning to Walker in the days before the debate.
"If the Wisconsin governor chooses to ignore it, he will do so at his campaign's peril. Walker, who was the odds-on favorite in the Iowa caucus up until July, gave a performance in the first debate in Ohio that might have seemed sufficient in an average primary election cycle," Baris wrote. "But Election 2016 has been anything but average. He simply cannot afford to repeat his prior mistakes–or, the candidate who PPD's election projection model views to be one of the strongest–will sink into permanent irrelevance."
But, even though he told Fox News before last Wednesday's debate at the Reagan Library that he planned to "be aggressive" and show the kind of "passion" that made him the first and only governor in U.S. history to survive a recall election, he didn't deliver. In fact, Baris says he foolishly chose to use his precious time to attack Trump, rather than convey his message, saying to Trump "we don't need an apprentice in the White House … we have one right now."
"He needed to hit it out of the park, fight for his time, and let the supporters he has lost to Carson and Trump know he was still in the fight," Baris said. "But he instead chose to listen to the typical GOP establishment consulting class. He isn't the first one to make this mistake, and he won't be the last."
Texas Gov. Rick Perry, who also chose to attack Trump rather than convey his message, suspended his campaign on Sept. 11 ahead of the second debate. Perry was polling below the top ten, which would have meant a second showing on the second-tier stage. With the exit of Walker and Perry, there are now 15 major candidates remaining in the race for the Republican nomination.
Meanwhile, the Chicago Cubs-owning Ricketts family, one of the largest sources of campaign backing for Walker, has reportedly not yet decided who they will support with Walker out of the race. Joe and Marlene Ricketts gave $5 million to Walker's super PAC, and their son Todd was announced as a campaign finance chair in July.
"No decision has been made," according to a source close to the campaign. "The Ricketts had previously given money to several other of the campaigns including Jeb Bush and Marco Rubio and Chris Christie, to name a few, and they have great respect for the other candidates, but they wanted to support Scott Walker, they supported his record, they thought he had a good path."