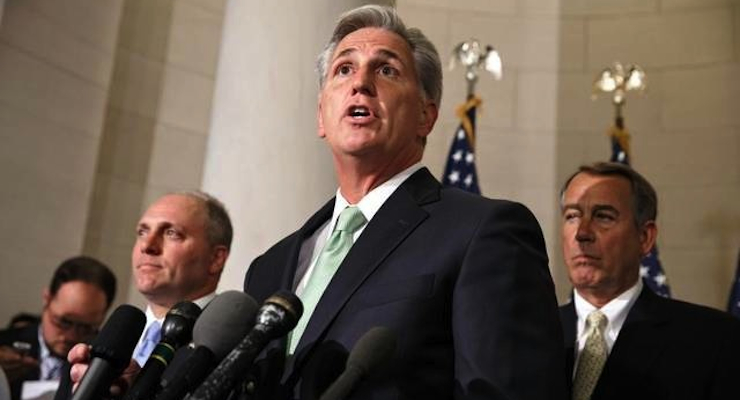 House Majority Leader Kevin McCarthy, R-Calif., is the "odds-on favorite" to replace outgoing House Speaker John Boehner, R-Ohio, who after roughly a quarter century in Congress and eight years with the gavel announced Friday he will resign effective October 30. McCarthy, a 50-year-old Bakersfield native, would be only the second Californian after Democrat Nancy Pelosi to serve as speaker of the House.
To be sure, even many House conservatives who help lead the effort to topple the speaker admit McCarthy is the realistic front-runner to replace Boehner, who became the 61st Speaker of the House on November 17, 2010 when he was unanimously chosen by House Republicans as their nominee. House whip Steve Scalise, R-La., has already announced he would run as majority leader, indicating the leadership fully expects McCarthy to succeed.
"I certainly think he has the inside track," Rep. Mick Mulvaney, R-S.C. said in an e-mail sent before Boehner's resignation announcement. Mulvaney helped found the House Freedom Caucus, which has been a stalwart fighter for conservative principles against a forever-caving GOP leadership team.
McCarthy, formerly House whip, easily ascended to majority leader after Eric Cantor was handily defeated in a 2014 GOP primary against conservative economist and political newcomer Dave Brat. Cantor, a member of the self-proclaimed Young Guns trio along with McCarthy and House Budget Chair Paul Ryan, R-Wis., became the first sitting majority leader to lose his own party's primary in U.S. political history. Most conservatives argue the Republican establishment never learned their lesson after Cantor's defeat and replacing Boehner with McCarthy would demonstrate nothing has changed despite Boehner's resignation.
"The big takeaway is that the next speaker is going to have to be somebody who has deep respect for the conservative base of the party," said Heritage Action for America spokesman Dan Holler. "The party can't be seen as being cozy with Wall Street, being cozy with K Street, doing the bidding of Boeing and GE."
McCarthy simply has not been in D.C. long enough to have amassed what those close to the retiring speaker affectionately call BoehnerLand, a legion of staffers more than a little friendly to K Street and Wall Street. However, an examination of those who surround him more than indicates the revolving door between the business wing of the Republican Party and the K Street & Co. crowd will remain open.
Since he replaced his old boss Rep. Bill Thomas, R-Calif., the longtime chairman of the powerful and influential House Ways and Means Committee in 2007, at least four McCarthy staffers have taken the walk through the revolving door between Congress and K Street lobbying firms. Though an insider Beltway Republican would be quick to point out that is a relatively small number over an eight year period, it is both unacceptable to conservatives on principle and as a matter of quality over quantity.
Erica Elliott, who previously served as McCarthy's former communications director, now works as vice president of public relations for Franklin Square Capital Partners, and continuously travels back-and-forth from the group's Washington and Philadelphia offices. The firm, established in 2007, provides "investors access to alternative asset classes, strategies and asset managers" and uses one of the largest alternative asset managers in the world to sub-advise its funds.
Shelby Hagenauer, McCarthy's very first legislative director, is now a senior policy advisor at Nossaman LLP, a law firm with a "strong foundation" is the majority leader's home state. Yet, their biggest lobbying success didn't even benefit California, nor was it a direct boon for private industry.
In 2014, they announced their client– the Florida Department of Transportation (FDOT)–reached commercial and financial closure on the $2.3 billion I-4 Ultimate Project. By their own admission, it was the result of "a productive relationship" that facilitated negotiation and closing of the $949 million in Transportation Infrastructure Finance and Innovation Act (TIFIA), which provided financing for the largest loan ever secured through TIFIA.
McCarthy's former policy director Stephen Pinkos now works at American Continental Group, a lobbying firm that represents a slew of mid-to-large sized business associations, including the International Franchise Association and the Association of Mortgage Investors. The majority leaders' former coalitions director, Brian Worth, is now leading Uber's federal policy campaign on Capitol Hill. To be fair, Uber has become something of a conservative champion, leading the fight against long-established union monopolies enabled by progressive politicians in their particular sector.
"Democrats hate what labor unions hate, and a taxi drivers' union hates Uber, too," John Stossel wrote on PPD about Uber in July. "The taxi cartels, which provide inferior service and are micromanaged by government, don't like getting competition from efficient companies like Uber."
But McCarthy has relied on the influence industry to staff his own operation, as well, completing the revolving door process. When he first became a member of House leadership, McCarthy convinced several prominent K Street lobbyists to return to what conservatives argue is supposed to be the "People's House." Time Warner's Tim Berry is now McCarthy's chief of staff. Danielle Burr, McCarthy's director of external affairs, used to lobby for Navigators Global LLC, which continues to concern themselves with funds from the TARP bailout for their client–Citigroup.
Yet, in many notable ways, McCarthy is not comparable to either Boehner or Cantor. For instance, while McCarthy is a regular visitor to other members' congressional districts and has taken great steps to understand their districts' concerns, Cantor apparently didn't care about his own. These efforts, along with $1.2 million in contributions to GOP candidates from his leadership political action committee, has earned McCarthy loyalty among many of the rank-and-file, specifically in his own state.
"I don't think anyone would question that the majority leader, the speaker's ally and friend, is well positioned to become the next speaker," Rep. Devin Nunes, R-Calif., said in an interview, adding that "my guess is Kevin is the odds-on favorite. I think we know there will be opposition, but I think it will be token opposition."