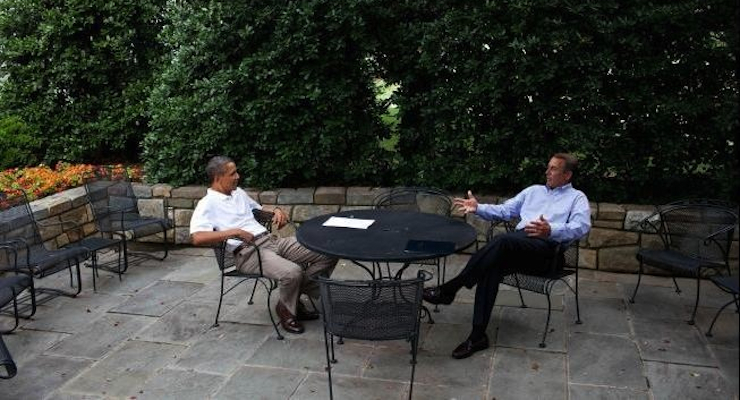 House Speaker John Boehner, R-Ohio, announced Friday morning he will resign his speakership and his seat effective October 30. Reaction to the development, which came as a surprise even to House Majority Leader Kevin McCarthy, R-Calif., has been telling and somewhat fitting for an end to Boehner's turmoil-riddled tenure.
At the Values Voter Summit on Friday, the audience rose to their feet in applause when Florida Sen. Marco Rubio announced the news in a spectacle that quickly made the rounds on social media. However, if the base of the party and the 2016 presidential field of candidates are in near-unanimity, members of the party in the lower chamber are not.
"As our country has weathered difficult times at home and abroad, John has acted as a true statesman, always moving forward with the best interests of the American people close to his heart," said McCarthy, who many hope and believe will be next in line. "He will be missed because there is simply no one else like him."
Yet, McCarthy's statement alone serves as a reminder to many of the party's more conservative conference members and their supporters why he would only be a repeat of prior mistakes. Within moments of the announcement, conservative talk radio host and stalwart Boehner critic Mark Levin made it clear the establishment pick would prove the party hasn't learned from those mistakes.
"Kevin McCarthy is Eric Cantor with ten less IQ points," Levin said in an exclusive interview with Breitbart News. "The Republican establishment never learned their lesson after Cantor… They replaced Cantor with McCarthy, who is a wheeler and dealer—he is not a principled conservative… My concern now is that they will do the same thing again."
Speaker Boehner became the 61st Speaker of the House on November 17, 2010 when he was unanimously chosen by the House Republicans as their nominee. But it has been all down hill for the Ohioan since. Though he faced an internal battle over funding Planned Parenthood in light of undercover videos exposing their trafficking of aborted baby body parts, it was just the latest in a string of disappointments that have outraged conservative members and Republican voters. Boehner saw his first leadership challenge during the fight over the $1.1 trillion cromnibus bill, which funded President Obama's executive amnesty and barely passed the House in Dec. 2014.
Boehner worked with the White House to get around members of his own party. In Jan. 2015, Rep. Louie Gohmert, R-Texas, announced he would challenge Boehner for the speakership, which grew into a movement that only fell 4 votes short. Eventually, the new 246-vote Republican House majority voted to reelect Boehner as speaker to the 114th Congress, giving him a third term with the gavel even though it was far closer than most pols and pundits predicted.
To be sure, McCarthy had conservatives' backs on Planned Parenthood and the Export-Import Bank when it was convenient and politically expedient. But he is nevertheless part of the Chamber of Commerce business wing of the Republican Party, a wing despised by the anti-crony voices in the lower chamber. They see the rise and fall of Boehner's speakership as more easily explained along these lines.
"I served with John Boehner in Congress," Club for Growth President David McIntosh, the head of an organization that helped to lead the fight against Ex-Im, wrote in an email to PPD. "His work on the Contract with America helped Republicans win a House majority when I came to Congress, and his support of a ban on earmarks was an important reform. House Republicans have, unfortunately, strayed from limited government principles, and this transition offers an opportunity for change. The next Speaker must be committed to strong economic conservatism that includes holding the line on sequestration spending caps, and promoting pro-growth tax reform."
The Club for Growth will no doubt have other candidates to get behind, though as of now it would appear the only member to throw his name into the mix is also one of Beohner's leadership team. Meanwhile, Louisiana Rep. Steve Scalise, the House whip, announced he would run to replace McCarthy as majority leader, which did not at all come as a surprise to the 30 or so conservatives who remain adamantly opposed to the hierarchy. While the speaker said he "had no doubt he would've survived" another challenge, House conservatives are billing the news as a win and feel emboldened going forward.
"It was becoming apparent that there was going to be a vote against him and probably removal," said Rep. John Fleming, adding that the GOP base and GOP-leaning independents were sick and tired of the establishment making excuses for why they couldn't stop the "radical liberal agenda of Barack Obama."
Rep. Fleming is certainly on to something, according to the latest poll conducted prior to the release of the PPFA undercover videos. Roughly two-thirds of Republican voters said they wanted Boehner to resign, though whether the next Speaker is more palatable remains an open question. In addition to McCarthy, other likely candidates for the speakership that may or may not satisfy the conservative caucus include Rep. Pete Sessions, R-Texas, Rep. Trey Gowdy, R-S.C., and Rep. Jim Jordan, R-Ohio, the latter of which has been leading the conservative coalition willing to take a stronger stance against the Obama administration. Boehner may have immediately poisoned the well for the majority leader when he signaled Friday that he'd like McCarthy to take his place, but more moderate members are taking a wait-and-see approach.
"John Boehner made a decision that he believes is in the best interest of the nation. As a colleague and as someone who believes in the honor of an institution we call the People's House, I commend his decision and I commend the Speaker for his decades of service," Rep. David Jolly, R-Fla., said in a statement to PPD. "The important question we now face as a party is whether we will be a Congress committed to governing, to giving voice to the people who entrust us to serve, and to actually moving legislation that addresses the issues most important to the country."
An aide to Rep. Jolly said he had not yet expressed which way he might be heading this early into the process, but indicated that he would be open to other options rather than falling in line behind McCarthy.
"It's not clear who will replace Speaker Boehner," said Senate Conservative Fund President Ken Cuccinelli in an email to PPD in response to the announcement."But you can be sure that SCF will hold that person accountable, too."