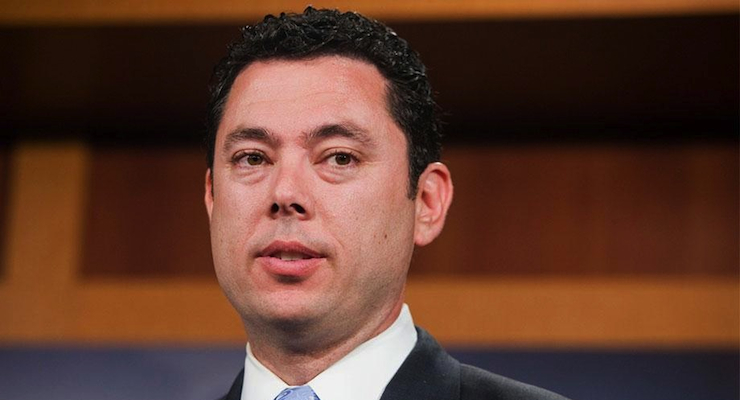 Chairman of the House Oversight Committee Jason Chaffetz, R-Utah, will challenge Majority Leader Kevin McCarthy, R-Calif., and Rep. Daniel Webster, R-Fla., for House speaker. The news comes after McCarthy made a controversial comment about the Benghazi committee investigation, which Chaffetz called an "absolutely inappropriate statement."
Chaffetz, who was elected into Congress in 2008, hasn't been the darling of the conservative base since they helped him get in and retain office. The House Oversign chairman came under heavy fire for stripping Rep. Mark Meadows, R-N.C., of his subcommittee chairmanship after he defied party leaders on a vote granting President Obama fast-track authority on the Trans-Pacific Partnership bill. Meadows was one of 34 conservatives who voted against the rule to move the trade deal forward, which also expanded Trade Adjustment Assistance–a leftwing entitlement program that was added to grease Democrats' palms.
Conservative talk radio host Mark Levin referred to the top three House leaders—House Speaker John Boehner,, R-Ohio, McCarthy and Majority Whip Steve Scalise, R-La.—as "Moe, Larry and Curley," with Chaffetz being the "shrimp in there somewhere." Scalise, worth noting, announced he would run to replace McCarthy as majority leader.
Conservatives accused the outgoing speaker and his leadership team of presiding over "a culture of punishment and fear" in the House. But Chaffetz buckled, and shortly after asking him to resign he reinstated Meadows as subcommittee chairman.
"Obviously I believe in Mark Meadows or I would not have appointed him to this position in the first place," Chaffetz said in a joint statement with Meadows. "It is in the best interest of the committee to move forward together. Therefore, I have asked Mark to continue in his role as subcommittee chairman."
Prior to being named chairman of the Oversight Committee, Chairman Chaffetz, 48, played key roles in investigating the Benghazi terrorist attack, the Fast and Furious gun running operation, IRS targeting of conservatives, and the Secret Service. Still, he is a long shot.
Majority Leader McCarthy is the "odds-on favorite" to replace Boehner, who after roughly a quarter century in Congress and eight years with the gavel announced he will resign effective October 30. McCarthy, a 50-year-old Bakersfield native, would be only the second Californian after Democrat Nancy Pelosi to serve as speaker of the House.
"I certainly think he [McCarthy] has the inside track," Rep. Mick Mulvaney, R-S.C. said in an e-mail before Boehner's resignation announcement. Mulvaney helped found the House Freedom Caucus, which has been a stalwart fighter for conservative principles against a forever-caving GOP leadership team. Yet, he and other Freedom Caucus members have at least suggested he is far more willing to listen as a leader than either Boehner or Chaffetz.