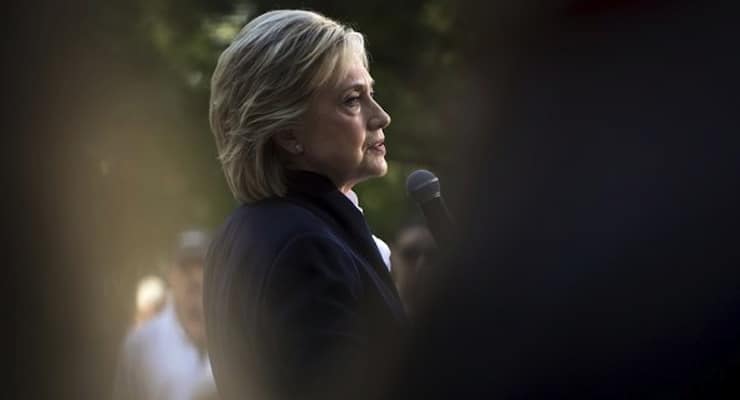 Hillary Clinton on Wednesday said she no longer can support the Trans-Pacific Partnership (TPP), the 12-nation trade deal that she touted as secretary of state. In fact, Hillary called it the "gold standard in trade agreements" as recent as during 2012 speech in Australia, and even listed it in her book as one of her key accomplishments. However, as she has done on so many other issues in response to a left-flank primary assault, Mrs. Clinton has flip flopped on her past position and statements regarding TPP.
"I appreciate the hard work that President Obama and his team put into this process and recognize the strides they made," Clinton wrote in a statement Wednesday. "But based on what I know so far, I can't support this agreement. The bar here is very high and, based on what I have seen, I don't believe this agreement has met it."
The U.S. and 11 Pacific Rim nations agreed Monday on the terms of TPP pact, a historic but controversial and secretive trade deal backed by President Barack Obama. The issue is one that has created a partisan divide in Congress on a level not seen on any issue in years and, without a doubt, Hillary has dealt a significant blow to Obama's efforts to secure approval from Congress, as the liberals in the Democratic Party vehemently oppose it.
"Wow! That's a reversal!" said former Maryland Gov. and 2016 Democratic hopeful Martin O'Malley. Reince Priebus, the chairman of the Republican National Committee, said Mrs. Clinton's flip flop is "a case study in political expediency."
Yet, others point out that the media is just as guilt of dishonesty than Hillary Clinton, who is now seen on average in the battleground states as dishonest by almost two-thirds of likely voters.
"The media loves to talk about how GOP primaries pull Republicans so far to the right they can't win a general election, but that's what's happening in real time to Clinton, who is locked in a bidding war with a Vermont socialist over the progressive base," Ben Domenech correctly noted in The Daily Beast. "Clinton has always been a perfect barometer of where her party is. She is a follower, not a leader. She has correctly perceived that the Democratic base is now a dominated by a coalition of economic know-nothings and culture-war leftists who are less interested in "progressive" policy than in freezing the status quo in place."
TPP is the latest in a string of flip flops out of the Clinton camp in recent weeks, perhaps partly the result of an effort to reinvent the candidate sinking precipitously in the polls. Most recently, Clinton used the historic to America by Pope Francis to quietly announce her new-found opposition to the Keystone XL pipeline. The statement to a small group of supporters in Iowa marked a complete 180 on the former secretary of state's position while she was serving out her tenure.
In 2010, while speaking on the issue that was making its way through the State Department review process, Clinton told a San Francisco audience what the department eventually concluded multiple times–it's better than the alternative.
"We're either going to be dependent on dirty oil from the Gulf or dirty oil from Canada," Clinton said.
With this and other statements weighing on activists and special interest donors like millionaire hedge fund activist Tom Steyer, she began to run out of time on dodging the issue. According to multiple State Department reviews and findings, both from reports conducted during her tenure and now-Secretary John Kerry, the Keystone pipeline would actually benefit the environment, as it would reduce emissions from transporting oil via rail and other methods already in place. The decision no doubt enraged already unexcited labor unions, who support the project and have grown increasing frustrated with the Obama administration.
But flip-flopping on TPP could help to mend Clinton's frail relationships with opposed labor unions, as well as satisfy her left-flank–and to hell with integrity. Complete reversals of this nature have not only become par for the course for the Clintons, but downright irrelevant to an increasingly hard left primary electorate. In 2008,. Clinton also attempted to reverse her position and oppose the North American Free Trade Agreement, which her husband and former President Bill Clinton signed into law in 1993. The deal is still deeply unpopular among base voters on both sides of the aisle and flat-out hated by labor unions.
"The fact is, she was saying great things about Nafta until she was running for president," then-Sen. Obama said of Hillary.
Critics on both sides of the aisle say it will dictate the operations and give control to corporations of 40% of the global economy, as well as infringe on American sovereignty. The deal would completely eliminate tariffs that are considered barriers to free trade, a stipulation everyone from Republican frontrunner Donald Trump to socialist Vermont Sen. Bernie Sanders argues will hurt American companies and workers. White House officials, as well as Chamber of Commerce-backed Republicans in Congress, focus on the removal of more than 18,000 imposed on U.S. exports.