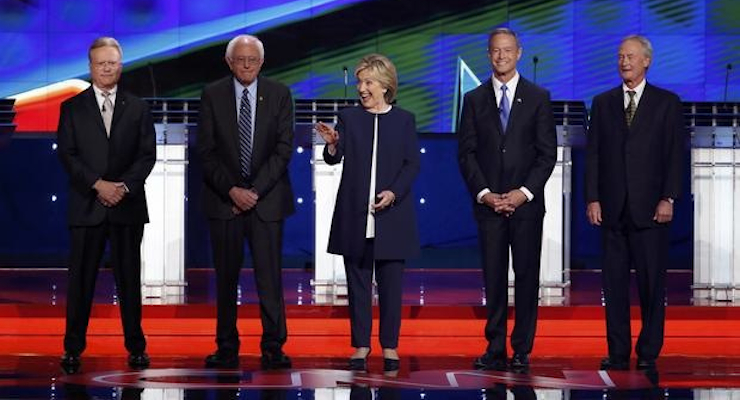 Ron Fournier, of National Journal reporter and known Clintonian Democrat, slammed Hillary Clinton following the CNN Democratic debate in Las Vegas, Nevada.
"Hillary Clinton won . She won be­cause she's a strong de­bater. She won be­cause Bernie Sanders is not. She won be­cause the first Demo­crat­ic pres­id­en­tial de­bate fo­cused on lib­er­al policies—and not her email scan­dal or char­ac­ter," Fournier wrote Wednesday morning in the National Journal. "The em­battled front-run­ner won her­self a news cycle or two, be­cause she stretched the truth and played to a friendly audi­ence. It won't al­ways be so."
Though it wasn't widely reported, Team Hillary and the Democratic National Committee Chair Debbie Wasserman-Schultz put the word out to the other candidates regarding attacking the frontrunner. In short, any serious challenge to Hillary on Benghazi, the email scandal or her prior statements that proved false would not bode well for their political career. Fournier, who has repeatedly reported on Clinton's campaigning shortfalls and crisis mismanagement, noted the candidates took the threats seriously and fell in line.
"It took more than an hour be­fore CNN's An­der­son Cooper asked Clin­ton about the cov­ert email sys­tem she es­tab­lished as sec­ret­ary of State in de­fi­ance of fed­er­al reg­u­la­tions, sub­vert­ing the Free­dom of In­form­a­tion Act, thwart­ing con­gres­sion­al over­sight, and jeop­ard­iz­ing U.S. secrets," Fournier added. "And, even then, her chief rival offered Clin­ton cov­er."
There are many people, in­clud­ing me, who know a side of Clin­ton that is strong (2012: "What I Learned Cov­er­ing Hil­lary Clin­ton") and com­pel­ling (2013: "Best Bet for a Third Clin­ton Term is If She Runs as the 'Real Hil­lary'—warm, open, and hon­est"), which makes her ac­tions this year shame­fully in­ept ("Memo to Hil­lary: You're Still The Prob­lem").
In his article, which served as a continuation of his prior criticism, Fournier noted the moment in the debate when socialist Vermont Sen. Bernie Sanders said "the American people are sick and tired of hearing" about Hillary Clinton's "damn" emails. Except, while that certainly played well to the clapping seals in the crowd, it doesn't to the general election electorate. In the most recent poll, Hillary trails all of the top GOP candidates and 58% of Americans believe she is lying about her emails.
Even though Sanders and O'Mal­ley hit Clin­ton over trade, not­ing that she only re­cently flip-flopped on her prior sup­port of the Trans-Pa­cific Part­ner­ship (TPP) "to curry fa­vor with the party's uni­on friends," her rivals and the moderator once again let her slide on what is a major presidential issue.
"I did say when I was sec­ret­ary of State three years ago that I hoped it would be the gold stand­ard," Clin­ton said.
That's not exactly accurate, and Fournier and others, including PPD's editor and political analyst, caught on.
. @HillaryClinton lied in her FIRST QUESTION! Lol. On TPP, she didn't say she "hoped" it was the gold standard, she said it WAS. Terrible.

— Richard Baris (@Peoples_Pundit) October 14, 2015
"She was mis­quot­ing her­self, adding the 'I hoped' caveat," Fournier noted. "See how she does it? It worked Tues­day night. She won. She sur­vived and won with a per­form­ance that was as dis­hon­est as it was im­press­ive, that be­nefited from a friendly crowd and weak field."
Still, according to most polls, most Democratic voters and obviously the debate crowd don't seem to care much about honesty and character. Here's how Fournier saw it:
When Lin­coln Chafee, the field's Rhode Is­land cipher, dared to cri­ti­cize Clin­ton on the email is­sue, Cooper asked her if she wanted to re­spond.

"No," she replied.

The crowd roared.