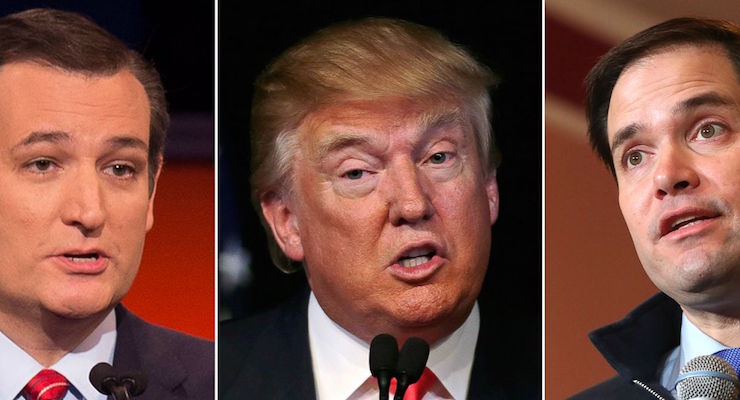 In total, approximately $47,407,000 was spent on behalf of the candidates in the 2016 South Carolina Republican primary, which Donald J. Trump won by 10 points. So, who got the most bang for their buck and how much did each of the candidates spend per vote in the Palmetto State?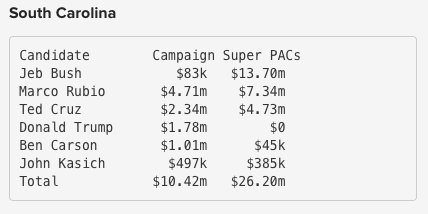 Former Florida Gov. Jeb Bush and his super PAC(s) spent roughly $13,783,000. As of Sunday morning, he is the last candidate in a once 19-strong field to drop out of the race for the Republican nomination. Bush came in a distant fourth place with just 7.8% of the vote and only 0.8% more than Ohio Gov. John Kasich, who spent just $882,000. Kasich finished in fifth place, but Bush paid $238.20 per vote juxtaposed to $15.69 per vote for the Buckeye State governor.
Kasich didn't spend much less than Dr. Ben Carson, who doled out $1,055,000. Dr. Carson says he will continue to Nevada after his last place finish with 7.2% of the vote. He paid $19.78 for each vote he received, which is a respectable ratio, no doubt, for a clearly weak finish.
Florida Sen. Marco Rubio and his supporting PAC(s) spent the second most in the Palmetto State behind Bush. Rubio dished out $12,050,000 and placed second with 22.5% of the vote. That breaks down to roughly $72.64 per vote. Not bad considering his finish and how some of the others spent for less. However, he did have the backing of a popular governor, a senator and the most popular representative. In light of these other factors, it's not as good as they undoubtably will try to spin it.
Rubio will desperately need Bush's donors moving forward.
Texas Sen. Ted Cruz, who has raised the most behind Bush this cycle, spent a total $7,070,000 for what was unequivocally a disastrous third place showing with 22.3% of the vote. While it is true that Rubio finished only slightly ahead, the state is tailor-made for the model the Cruz campaign has staked his entire run on. The electorate was made up of a record-breaking, nearly three-quarter evangelical bloc. But he was beat on his own turf, with Trump carrying the big evangelical Up-Country counties handily.
Still, Cruz paid considerably less than Rubio for each one of his votes–$42.90.
Now, we come to The Donald, who undeniably won a resounding victory with across-the-spectrum appeal. Trump carried all but two counties, which in truth, he barely lost. It's still quite possible he takes all of the state's delegates when it all gets worked out. For his first-place finish with 32.5% of the vote, Trump paid just $7.09 for each one of his 239,851 votes.
That's a 65,970-vote margin in a six-way race. So much for Citizens United allowing big money to take over the country? (As if they didn't already?)