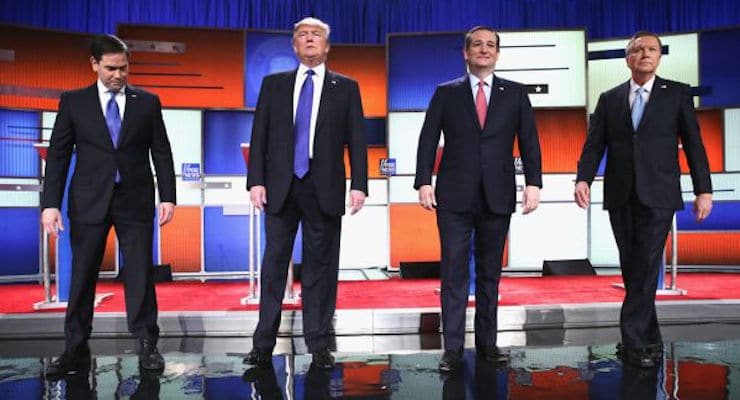 After launching what has been an unprecedented, concerted effort to take down Donald J. Trump, his Republican presidential rivals vowed to support the party frontrunner in Detroit on Thursday, The most important development during the final Republican debate before pivotal rust belt voters head to the polls perhaps came at the very end.
Marco Rubio, Ted Cruz and John Kasich all pledged to support the eventual nominee. And Trump, who has occasionally threatened to mount an independent bid, also vowed, "Yes, I will" support the nominee.
"This is always a tricky thing for rivals in a primary," said PPD's senior political analyst Richard Baris. "You want to support the nominee but don't want to sound too conciliatory or complimentary. Gov. Kasich gave a perfect answer. Sen. Cruz seemed like he was paying lip service to Trump's voters while clearly wants to be uncommitted. But Sen. Rubio went a little too far in his answer."
While Mr. Trump has correctly taken responsibility for drawing in millions of new, previously unattainable voters in the Republican primaries, he undoubtedly has more work to do before he unifies the party in the event he wins the nod before or in Cleveland. Nevertheless, while the attacks continued Friday morning, the acknowledgement from the other candidates comes after former 2012 nominee Mitt Romney gave what many have called anti-Trump betrayal speech.
The debate is the last before the Michigan Republican primary on March 8, which awards a total 59 delegates in an open Winner-Take-All contest. While the margin in the polls has varied, Mr. Trump holds a considerable 18.4% lead in the PPD average of Michigan Republican Primary Polls. There is a 15-percentage point statewide vote threshold that could allow a candidate to receive all of the state's delegates. However, Sen. Rubio 18.2% has also consistently met that threshold in polls, while Sen. Cruz at a softer 16.2% is in doubt.
The first rust belt primary will take place just days after the Louisiana Republican primary, where Sen. Cruz hopes to pick up at least some of the 46 delegates awarded on a proportional basis. Recent polls also show Mr. Trump with a roughly 20-point advantage, with Sen. Cruz trailing on the PPD average of Louisiana Republican primary polls with 23.5%. If the polls are correct, Mr. Trump and Sen. Cruz will be the only two candidates who meet the threshold of support to even receive a share of the state's delegates.