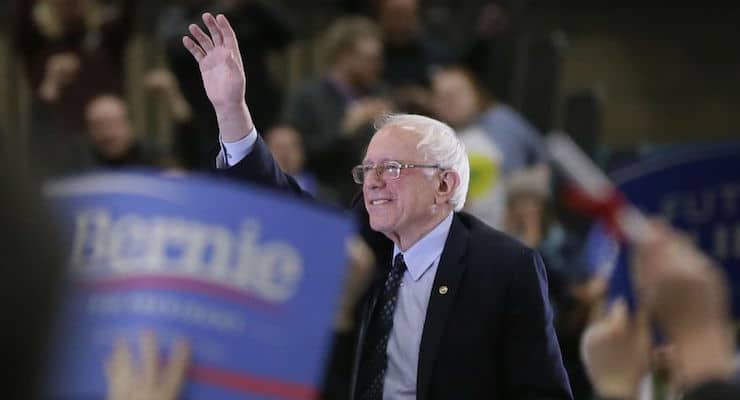 With 61% of the vote in from the Nebraska Democratic caucus in, socialist Vermont Sen. Bernie Sanders has defeated Hillary Clinton. Sanders was at 54.8% to Mrs. Clinton's 45.2%.
Sen. Sanders was looking to jump-start his lagging, underdog campaign this weekend to create momentum moving into Tuesday night's must-win Michigan primary. He was defeated soundly in the Louisiana Democratic Primary, which again gives the Clinton campaign an argument against his appeal among minority voters. Roughly half, if not more, of the electorate in the Pelican State is black.
Nevertheless, the victory gives Sen. Sanders, who says he is taking his campaign all the way to the convention, a justification to carry on and will give him a fundraising boost. The Sanders campaign is also looking to win Maine on Sunday when Democrats hold their caucus.
Candidate
Caucus
Popular
Vote
Delegate Votes
Soft
Pledged
Soft
Unpledged
(source)
Soft
Total
Hard Total
Sanders, Bernard "Bernie"
11,705  54.78%
 
 
 
 
Clinton, Hillary Diane Rodham
9,663  45.22%
 
3  60.00%
3  10.00%
 
De La Fuente Guerra, Roque "Rocky"
 
 
 
 
 
Uncommitted
 
 
 
 
5  16.67%
(available)
 
25 100.00%
2  40.00%
27  90.00%
25  83.33%
Total
21,368 100.00%
25 100.00%
5 100.00%
30 100.00%
30 100.00%
Delegate Selection: Proportional Caucus/Convention,
Polling hours 8:00a CDT (1300 UTC) / 7:00a MDT (1300 UTC) to 8:00p CDT (0100 UTC) / 7:00p MDT (0100 UTC). The polls open and close at the same GMT/UTC time, that is, polls open and close at a particular local time in the advanced time zone and open and close one hour earlier local time in the lagging time zone.
Voter Eligibility: Modified Caucus30 total delegate votes – 17 district / 5 at large; 3 Pledged PLEOs; 5 Unpledged PLEOs