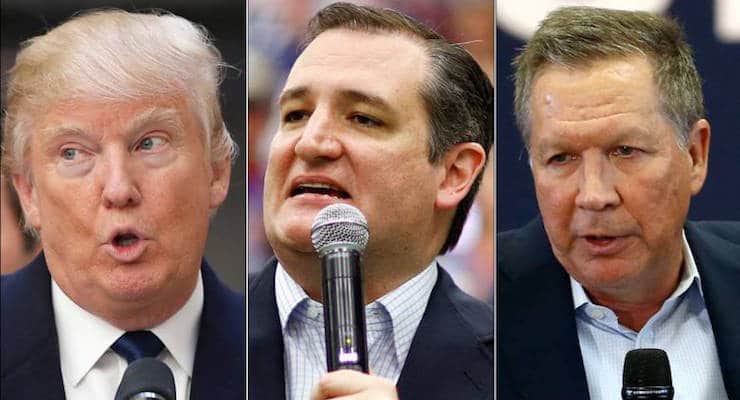 Ted Cruz and John Kasich released coordinated statements revealing a collaboration to stop Donald Trump from getting the 1,237 delegates to secure the nomination. As PPD has previously and repeatedly reported, this is a collaboration that was agreed upon months, except Sen. Cruz reneged on the deal prior to Arizona, Utah and Wisconsin.
The move infuriated the Kasich campaign. But now, with the frontrunner leading in every single state voting on Tuesday, as well as Indiana and California, two states Sen. Cruz staked his claim, the rivals made the collaboration public. The two campaigns announced that Gov. Kasich would pull out of Indiana to give Sen. Cruz "a clear path" to victory in the winner-take-all primary on May 3, while the Sen. Cruz will "clear the path" for Gov. Kasich in Oregon, which votes on May 17. In New Mexico, which votes June 7, Sen. Cruz will withdraw his campaign efforts.
"Having Donald Trump at the top of the ticket in November would be a sure disaster for Republicans," Cruz's campaign manager, Jeff Roe, said. "To ensure that we nominate a Republican who can unify the Republican Party and win in November, our campaign will focus its time and resources in Indiana and in turn clear the path for Gov. Kasich to compete in Oregon and New Mexico, and we would hope that allies of both campaigns would follow our lead."
In April, John Weaver, the chief strategist for Gov. Kasich, slammed the Texas senator and said that there is a major difference between what Sen. Cruz says in public and what he says in private. Mr. Weaver accused Sen. Cruz of backstabbing the Kasich campaign by not making good on their end of the first deal. Basically, they were angry that Sen. Cruz was competing in states that he previously agreed he would not compete in because Gov. Kasich had a broader appeal in the Rust Belt and Northeast.
Former Massachusetts Gov. Mitt Romney, the 2012 nominee and outspoken critic of Donald Trump, had endorsed Sen. Cruz before Utah in exchange for his cooperation. However, he tried to reach out to the Cruz campaign after complaints were voiced by the Kasich campaign, but received no response from the senator.
Mr. Trump said the collaboration was "desperation" in a series of tweets in response to the statements.
Wow, just announced that Lyin' Ted and Kasich are going to collude in order to keep me from getting the Republican nomination. DESPERATION!

— Donald J. Trump (@realDonaldTrump) April 25, 2016
"Collusion is often illegal in many other industries and yet these two Washington insiders have to revert to collusion in order to stay alive," Mr. Trump said in a statement. "They are mathematically dead and this act only shows, as puppets and donors of special interests, how truly weak and their campaigns are."
The development comes as Mr. Trump has sought to make the endorsements and delegate selection process front and center in the nomination battle, painting the system as rigged against a true outsider. With party elites and pols lining up to endorse him and award him their state's delegates without a vote, it would appear that he has managed to damaged Sen. Cruz's standing among GOP primary voters.
A new YouGov survey conducted for the Huffington Post finds Republican primary voters no longer see Sen. Cruz as an outsider. More voters than not and ever (62%) now say he is more of an establishment candidate, rather than an outsider. The results represent a marked shift among primary voters since December of 2015, when just 36% considered him part of the Republican Establishment.
Meanwhile, Mr. Trump leads in the latest polls by double digits. In Indiana, which will award 57 delegates in a winner-take-all primary, he leads Sen. Cruz by a smaller percentage still outside the margin. Oregon and New Mexico have 28 and 24 proportionately awarded delegates at stake, respectively.