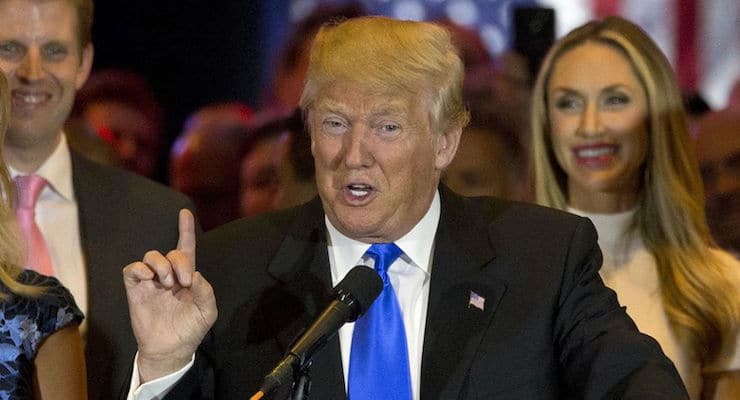 Donald Trump, the billionaire real estate mogul from New York City who was repeatedly dismissed, ridiculed and mocked by the punditocracy, is now the presumptive Republican nominee. Make no mistake, Mr. Trump has accomplished the extraordinary. The 2016 Republican presidential field was the deepest bench the party put in front of the voters in recent memory, perhaps ever.
From Texas Sen. Ted Cruz to Wisconsin Gov. Scott Walker, the voters chose from movement conservative icons to sitting governors to the brother and son of two former presidents. Yet, it was a political novice who emerged the winner currently on track to receive more popular votes than any other Republican primary candidate in history. And he did it with a 17-strong field.
For the pundits, we will release the promised and highly anticipated list exposing the "Worst Pundits of 2016." Before we do, let this be a warning to the talking heads: Stop pretending you know what you're talking about. You don't. Now that Mr. Trump has sown it up beyond your grasp, it's time for your mouths to close and your ears to open. Network and cable news panelists, pontificators and prognosticator have proven themselves to be the most incompetent group of professionals in any sector of the U.S. economy.
Let me attempt to provide some clarity as to what was behind this historical event because, let's face it, Donald Trump made fools of the professional pundit class. With the exception of only a handful of voices, such as former House Speaker Newt Gingrich, not one of you geniuses saw this coming. To his credit, Charles Krauthammer, the former speechwriter for Walter Mondale now-turned "conservative" syndicated columnist, at the very least displayed an ability to admit he was wrong.
Still, Speaker Gingrich, who is first and foremost a historian, is truly the exception. Pretentious, condescending and hubris are a few words that come to mind as I wrestle with how to describe the punditry's reaction to the Trump phenomena. What we witnessed this cycle was nothing less than the machinations of a desperate class of elitists forced to face the reality of their own increasing irrelevance. Election 2016 will go down in history as the cycle all of you mediates figured out you didn't matter and would no longer be permitted to manipulate voters.
What did you miss?
The very first mistake you made was failing to take a man who built a multi-billion dollar business seriously. In fact, you took him for a fool, a "clown" and a "baffoon." The Huffington Post relegated coverage of Mr. Trump, still a major party candidate who led in national polling since the summer, to the entertainment section. The only cable news station Republican primary voters bother to turn on booked and lined up one tool after another to attack Mr. Trump over his positions on immigration, trade and the economy.
Believing phony polling numbers, as all of you in the Beltway do, you were blind to the fact everyone outside the Beltway supports those positions. Worth noting, the left-to-right pile on that followed his call to temporarily ban non-U.S. Muslim immigration was widely popular, something I explained before a single caucus or primary vote was cast.
The same was true of the phony outrage that followed remarks by Dr. Ben Carson, who flat-out said what most average Americans know to be true–by the book Islam isn't compatible with the U.S. Constitution. The vast majority of Americans–not just Republican primary voters–agree with Dr. Carson.
Well, who are the fools, the clowns and the baffoons now?
The bottom line is that Mr. Trump championed the issues that Main Street Americans care most deeply about won the debate months ago. Exit polls repeatedly found Mr. Trump dominating among voters who made up their minds a month or more before the election and they almost always outnumbered late-deciders.
The issues Mr. Trump was brilliant enough to raise are the same issues career politicians have been afraid to support for years, particularly Republicans. If the Republican consultant class has learned anything about the politics of immigration this cycle, it should be that voters view immigration as an economic issue. Trade workers in Michigan don't believe illegal immigrants only fill jobs American workers aren't willing to fill because they are too busy watching their friends and family get outbid by a crew who will work for half the pay.
Working class Americans in Indiana don't want to hear about how afraid of a trade war you are with China because, unlike them, you don't have to worry about your job being in jeopardy. While your biggest concern may be how much money you have left in your pocket for a latte in the event the cost of goods rises, they have to worry about having the money to buy a new pair of pants, never mind how deep their pockets are.
In the future, don't ever prematurely mistake anger for irrational behavior. That is to say, simply because voters are angry doesn't mean that their anger isn't justified or even rational. American national government is a representative republic, but for too long the ruling class has not only failed to represent those they feed off of like parasites, but have actively worked to subvert their happiness and way of life.
Last but not least, you forgot your place. Ultimately, you deluded yourself until thinking you matter more than you truly do. For too many years, Americans no doubt have allowed members of the media to do much of the thinking for them. But that's was never because they are incapable of making their own decisions, but rather what I referred to in my book as "rational ignorance." They are simply too damn busy to follow politics on a daily basis, which is the way politicians and your media sycophants like them.
But when policy (or a lack thereof) begins to personally impact their lives on a negative level, it is inevitable for them to begin to care. Donald Trump inspired them to care again, to engage in a process many had abandoned because they didn't have a champion. With a champion, they awoke from their slumber to force you to realize you mistook that lack of engagement for stupidity.
The difference between stupidity and ignorance is the ability to learn and understand. Which one are you?
[mybooktable book="our-virtuous-republic-forgotten-clause-american-social-contract" display="summary" buybutton_shadowbox="true"]