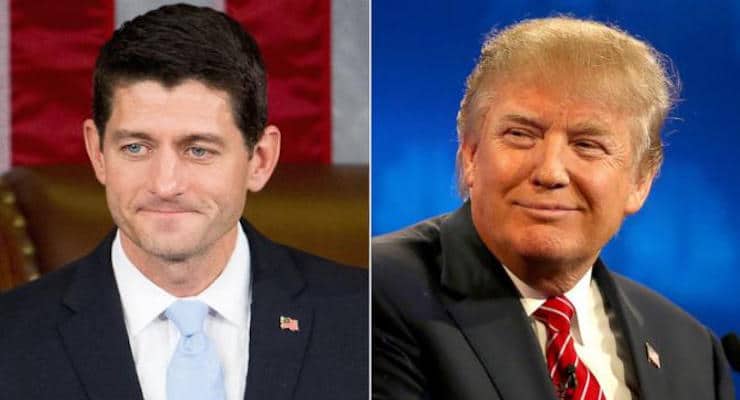 Trump to Ryan: Oh Yeah? Well I'm Not Ready to Support You, Either!
Donald Trump, the presumptive Republican nominee for president, responded to House Speaker Paul Ryan, R-Wis., saying on CNN Thursday he "not ready" to support him. In a statement released a few hours after the speaker's remarks, Mr. Trump responded to the House speaker.
"I am not ready to support Speaker Ryan's agenda," Mr. Trump said in a statement released a few hours after the remarks. "Perhaps in the future we can work together and come to an agreement about what is best for the American people. They have been treated so badly for so long that it is about time for politicians to put them first."
Speaker Ryan, who will serve as chairman of the Republican convention in Cleveland indicated he first wanted Mr. Trump to do more to unify the party and said he is not endorsing the all-but-certain nominee just yet. He at least acknowledge him as the party's presumptive nominee.
"I hope to [support him]" and "want to," Speaker Ryan said.
Republican National Committee (RNC) Chairman Reince Priebus, a close friend of the speaker and fellow-Wisconsinite, confirmed he had spoken with both Mr. Ryan and Mr. Trump later Thursday afternoon and brokered a meeting between them. While no further details were released, the meeting is allegedly going to take place sometime next week. Following his overwhelming win in Indiana on Tuesday, Chairman Priebus tweeted out that Mr. Trump was "going to be the presumptive @GOP nominee" and urged the party to unify behind #NeverHillary.
Speaker Ryan, the 2012 Republican vice presidential nominee, has several times joined along with his good friend and 2012 GOP nominee Mitt Romney in being a vocal critic of Mr. Trump. When the soon-to-be leader of the Republican Party called for a temporary ban on non-U.S. Muslim immigration last December, shortly after the Islamic terror attack in San Bernardino, he took the unprecedented step for a speaker by condemning the then-frontrunner.
"This is not conservatism," Speaker Ryan said.
Yet, data from one exit poll after another, which was preceded by public polling, have all conclusively demonstrated that the voters agreed with Mr. Trump over Speaker Ryan, who also voted in favor of funding the president's executive order on immigration. In fact, Speaker Ryan refused to defund sanctuary cities and has come out in strong support of the leftwing version of immigration reform, something Mr. Trump adamantly opposes.
But he has worked to outline a legislative agenda the Republican majority can take to the American people and offer it up as a choice in November. The simple truth is that Mr. Trump's success is largely a result of the voters not believing promises from the Republican majority anymore. In fact, almost immediately following the interview, the hashtag #DumpRyan began trending on Twitter.
That aside, Mr. Trump previously criticized Speaker Ryan's budget reform efforts, expressing support instead for a version of the One Cent Solution, also known in D.C. as "The Penny Plan."
The Penny plan, legislation introduced by former Rep. Connie Mack, R-Fla., and Sen. Mike Enzi, R-Wy., mandates the federal government cut one cent out of every dollar of its total spending each year for five years, and caps overall spending at 18% of national income.
While those cuts exclude interest payments and Congress is permitted to determine that some programs are too critical to cut, the target is to reduce federal spending by $7.5 trillion over 10 years and balance the federal budget by 2019.
The mandated cuts exclude interest payments and not all programs must be cut by one percent. Congress is permitted to determine some programs that are too critical to cut, but that would require other programs to be impacted more so that the total amount cut is equal to one cent for every dollar each year for six years.